Boating industry honors Craig
Chris Craig, a sales consultant at Hagadone Marine Group, has been named to the 2020 Boating Industry 40 Under 40.
He has worked in the marine industry for nearly 20 years. Before Hagadone Marine Group hired him 10 years ago, he was a pro wakeboarder for Malibu. Prior to that, he worked on yachts for his dad, a professional yacht captain. He is currently a member of the Malibu Advisory Council. As a brand manager for Axis, Malibu and Chris-Craft, he has helped his dealership expand and improve.
An introvert by nature, Craig has deliberately crafted his weaknesses into strengths. Today he's known throughout the company for his innovative thinking and excellent communication. His love for boats, water and people is undeniable and contagious.
"The knowledge Chris gained on the top boats in the industry as a pro rider served him well here," said Craig Brosenne, president of Hagadone Marine Group. "His passion shows. He embodies the boating lifestyle and is a great ambassador for our sport."
Because of his dad's career, he was on a yacht by the time he was in kindergarten. He learned to surf on a kneeboard at age 5, and was a sponsored wakeboarder by age 13. He lived in Holland for three years in grade school while his dad completed a new build. Then during winters when he was not wakeboarding, he worked as a deckhand on Skat, the 233-foot Lürssen. He also did two Atlantic crossings as crew on Skat.
He's brought the teamwork he learned as a yachtie to benefit the Hagadone Marine Group.
"There always seems to be a barrier between sales and service at a dealership," Craig said. "Having worked on yachts, where you have outside and interior crew, I know that taking down that wall and bridging the gap makes everything work better."
Tragedy came close three years ago when he and his wife, Ashley, lost everything in a house fire.
"We ran into the backyard with just our dog. It was a total loss," Ashley said. "Today, Chris is especially grateful for everything in his life, and that gratitude is a magnet for others. I can't explain how great it is to see Chris working with people. He helps them to be the best version of themselves."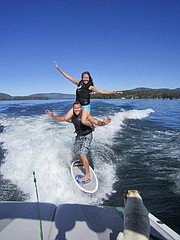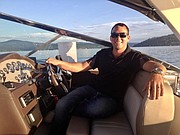 Recent Headlines
---