At Gone Fishing Artistries shop, Cd'A veteran turns passion to art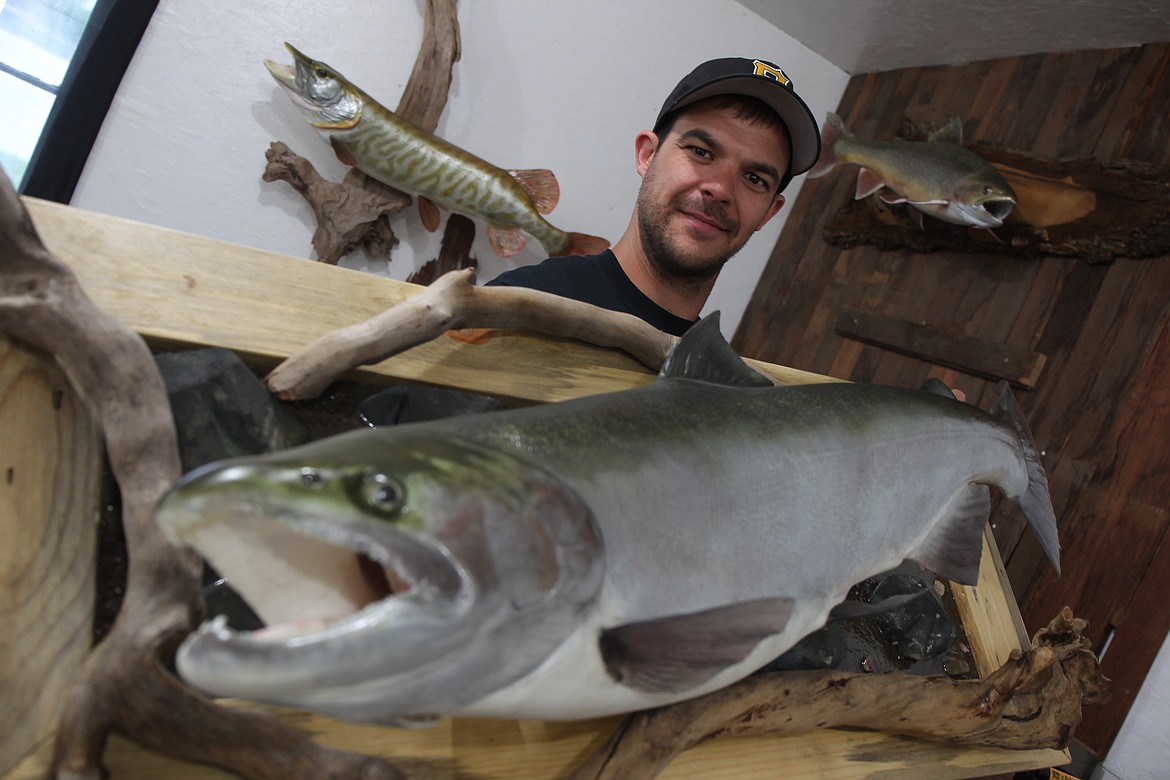 Coeur d'Alene fishing guide and Army veteran Gregory Ford uses his knowledge, and the photographs and stories of others to turn plaster casts into lifelike fish reproductions.
RALPH BARTHOLDT/BJNI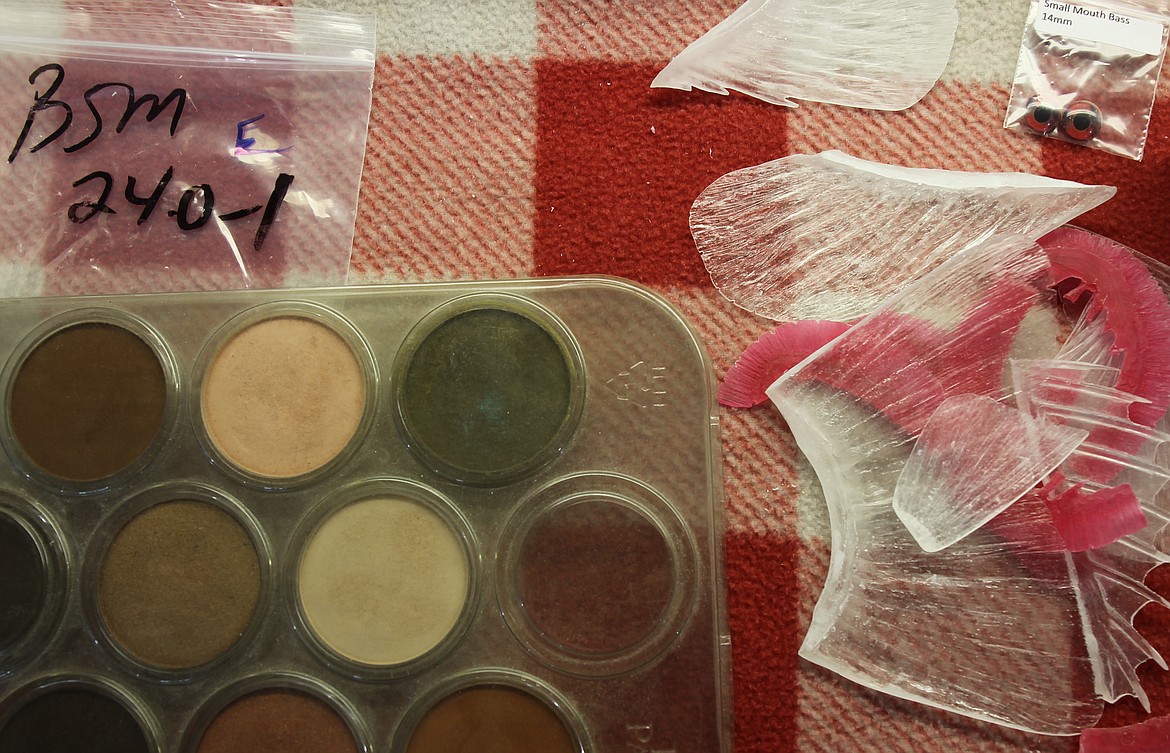 Ford combines paints, blushes and heat with purchased parts to reproduce fish that seem to swim on a wall.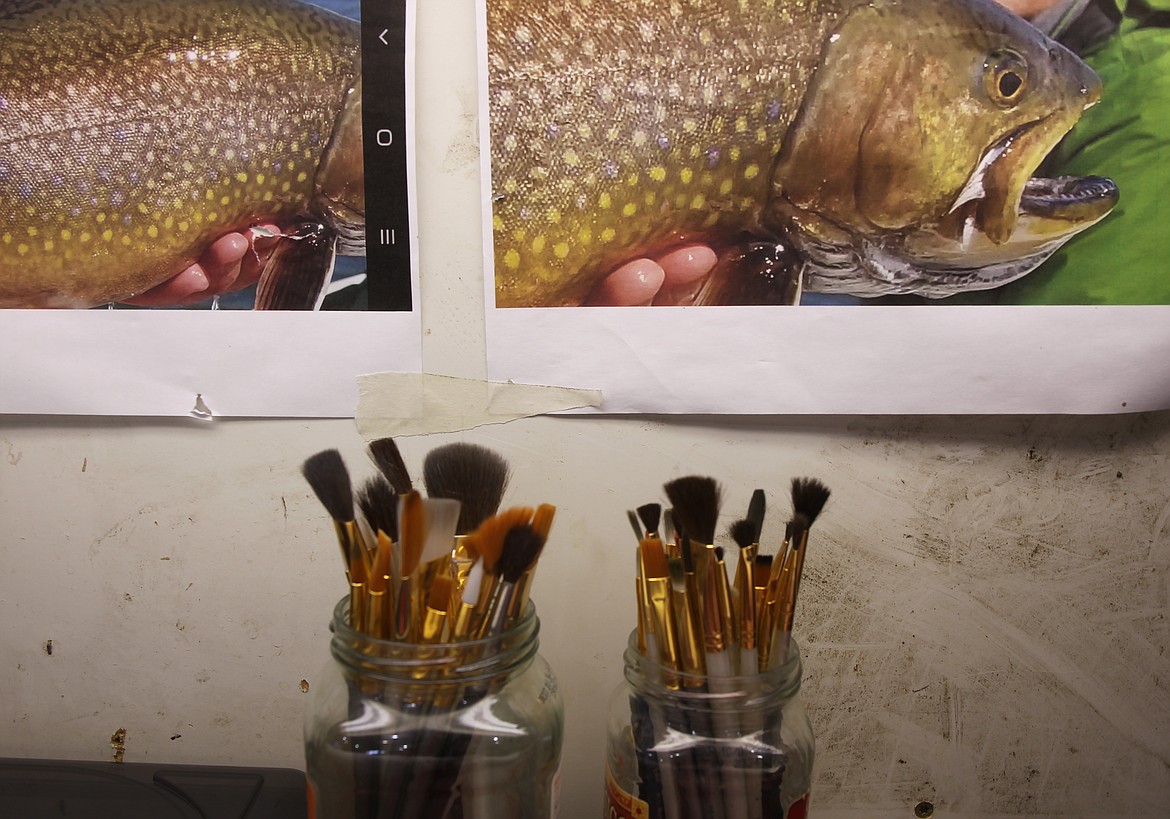 Above: For a recently completed project, a large brook trout, Ford used a cell phone image and his own artistry to reproduce a wall hanger of the 26-inch brookie for a client. Left: Ford combines paints, blushes and heat with purchased parts to reproduce fish that seem to swim on a wall.
Photos by RALPH BARTHOLDT/BJNI
Previous
Next
by
RALPH BARTHOLDT
Staff Writer
|
May 26, 2020 11:06 AM
Gregory Ford was introduced to fishing on the dock at Fernan Lake.
He and his cousin pedaled their bicycles along paved streets carrying fishing poles and plunked bait into a glassy lake. Ford caught a trout that was longer than his forearm.
Driven by a desire to broaden their fish-catching resumes, the youngsters later on ventured to Avondale and Hayden lakes.
If the experience was an awakening for a boy, its repercussions lay dormant until many years later.
As a teenager, Ford was introduced to fly fishing, casting bug imitations on many of North Idaho's rivers and streams. He graduated from high school, joined the Army, and didn't reconnect with the initial impulse, the creative surge and newness of catching fish, until his return from two deployments in Iraq.
He left the Army as a staff sergeant 12 years after joining, settled back into civilian life in Coeur d'Alene and found himself spending a lot of time in fly shops.
"I didn't really have anything else to do," Ford said.
But he saw newness in the water, and in the fish he caught, a certain sparkle and color, a vibrancy that he may have missed those years ago as a kid with a fly rod.
Ford used money from the GI Bill to attend a taxidermy school where he reconnected with a creative impulse by reproducing glistening, river-wet fish from mold castings and paint.
At his Gone Fishing Artistries, Ford focuses on the fish that have become his new direction.
"I've always had a passion for fishing," Ford said.
He just wasn't aware how much pleasure he would glean from making fish.
Being a fishing guide at Orvis Northwest Outfitters allows Ford to pursue one passion while building up a visual repertoire for his other passion — reproducing fish in his Coeur d'Alene studio.
His studio for now is a garage behind his house that the fish share with a Harley Davidson motorcycle and piles of driftwood, pine and rough-sided cedar.
It's what he uses to reproduce the habitat his wall-hanging fish swim through, and it adds to the imaginative quality of the art.
"I love doing the habitat, finding the driftwood … Creating the habitat is another aspect I enjoy," Ford said.
And just like fishing a remote stretch of river far from the fray, where anglers get lost in the task of hunting fish, reading water, hatches and holds, painting a fish is a multifaceted experience in which Ford immerses himself.
"There's so many layers to it," he said.
He means it literally, too.
On his work bench along with plaster molds of fish bodies and heads, glass eyes, flame-red plastic gills, fins and gill plates, are two jars of brushes. He keeps the paints and make-up kits nearby, as well as the lacquer and heaters he uses to blend paint, bend fins and flare gills.
"I can't even tell you how many layers of paint go into it," he said. "Every one is different."
A brook trout may have 20 layers of an assortment of paints and lacquers that are heated and blended to reflect and refract light before more coverings are added to enhance the quality of the image, and bring flesh tones to life.
He uses pictures as models, but if an angler didn't shoot a snapshot of the fish he or she caught, it's OK, because Ford knows fish.
And he'll bring out the color of their scales, the nuances of their native rivers or water bodies and the excitement of the catch.
"There's a lot of depth in there," he said. "It brings the other colors out and gives it character."
And he's still learning. In addition to continuing his education as a fish taxidermist, he teaches classes at a Montana taxidermy school.
Since retiring from the Army, the fish that he once chased and often took for granted have returned, but with a new purpose.
"I get excited talking about it," he said. "I get to guide people, and teach people to fish and I get to paint fish."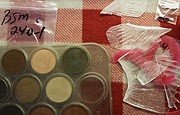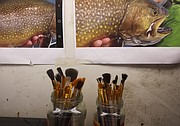 Recent Headlines
---