Anne Frank: Why her memory matters
by
Christie Wood
|
May 26, 2020 1:13 AM
After the tree in memory of Anne Frank at G.O. Phippeny Park in Coeur d'Alene was vandalized and a new Japanese stewartia tree and the original plaque were recently moved to McEuen Park, we believe this is an important opportunity to share Anne Frank's remarkable story as we pay tribute to her in the hope that her powerful words remain in our thoughts and hearts.
We express a deep appreciation to those who in 2006 established the original site in tribute to Anne Frank.
Anne Frank was born on June 12, 1929, in Frankfurt, Germany. She lived a normal life with her parents and sister Margot until Adolph Hitler came to power in 1933. Anne's father Otto and mother Edith immediately recognized the threat to the Jewish community, causing the family to move to Amsterdam, Netherlands, in 1934.
In June 1940, Hitler's troops occupied the Netherlands and soon all Jews in the Netherlands became targets. By 1942, Hitler's forces had begun placing all Jews living in the Netherlands under curfew in preparation for a plan to transport all Jews to concentration camps.
Once again under dire threat, the Frank family went into hiding in the attic above where Otto had worked (Prinsengracht 263), remaining in hiding for the next 25 months, gradually sharing the small space with another Jewish family and a Jewish dentist. They survived by courageous neighbors providing them food and other essentials.
A momentous event took place on Anne's 13th birthday when she was given a diary as a birthday gift. For the next two years, Anne produced what would become one of the most powerful writings by any young person in world history.
On Aug. 4, 1944, Germans discovered the hideout. The Franks were arrested and gradually separated, with Anne and her sister, Margot, sent to the Auschwitz-Birkenau Concentration Camp in Poland. Over 1.1 million men, women and children lost their lives at the Auschwitz-Birkenau Camp. In February 1945, Anne and Margot died of typhus. Anne was only 15 years old. By the end of the war, Otto was the only member of the family to survive.
After the war, Otto returned to Amsterdam and reconnected with family friend Miep Gies, who had often been the one to provide them food during their time in hiding. After their arrest, Gies had managed to secretly store five notebooks and 300 pages of the Franks' papers, including Anne's diary, which Gies returned to Otto.
Anne's diary was published in the Netherlands in 1947 and in the United States in 1952 under the title "Anne Frank: The Diary of a Young Girl." Her diary has been published in 70 languages and used all over the world. It continues to reach millions of school children each year. Her message and spirit lives on.
Among Anne's many messages to all humanity in her diary are:
"Everyone has inside of him a piece of good news. The good news is that you don't know how great you can be. How much you can love. What you can accomplish! And what your potential is!"
"Those who are afraid, lonely or unhappy is to go outside, somewhere where they can be quite alone with the heavens, nature and God."
"Those who have courage and faith shall never perish in misery."
The Kootenai County Task Force on Human Relations Board is honored to partner with The Salvation Army Ray and Joan Kroc Center to fund the $1,000 for the purchase of the Japanese stewartia tree for the McEuen Park in honor of Anne Frank. The new site at McEuen will continue to be a permanent reminder to us of Anne's message of love.
We also encourage you when in Boise to visit the outdoor $1.4 million Anne Frank Exhibit in Boise City Park, largely funded by philanthropist Greg Carr.
The Anne Frank original diary is housed at the Anne Frank Museum at Prinsengracht 263, Amsterdam, Netherlands.
•••
Christie Wood is president of the KCTFHR Board. Tony Stwart is secretary of the KCTFHR Board.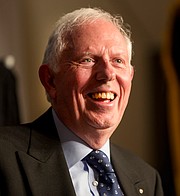 Recent Headlines
---