A season like no other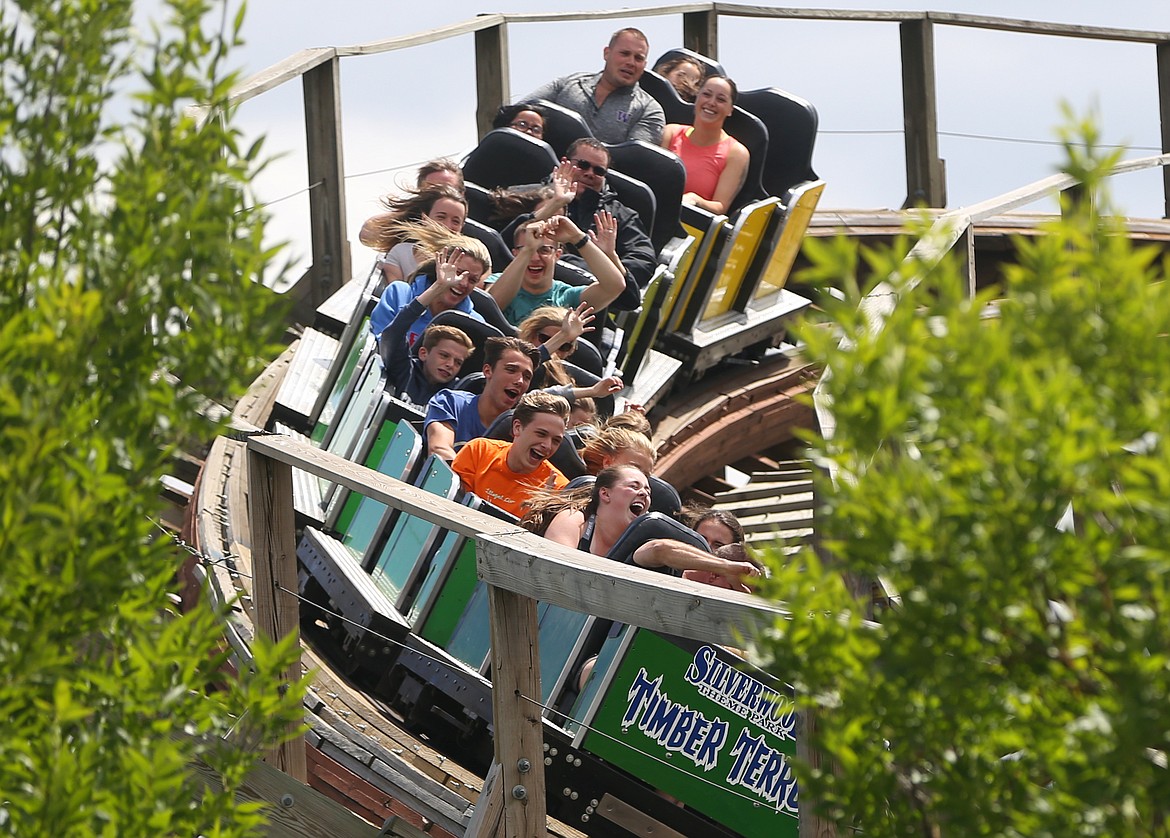 Park guests rip around a turn on Timber Terror at Silverwood Theme Park in Athol during the 2018 season. Because of coronavirus restrictions, Silverwood this year is expecting the park to be at a limited capacity with rigorous sanitation and social distancing requirements to keep its guests safe.
Photos by LOREN BENOIT/BJNI File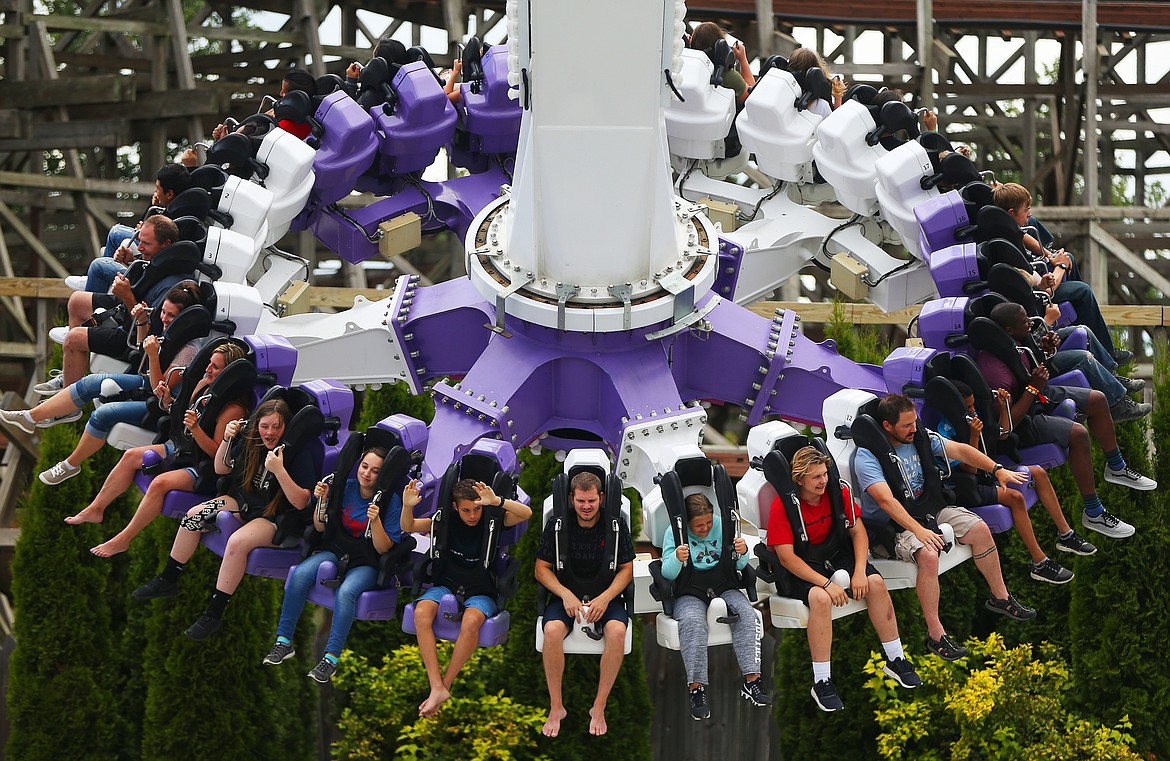 Park guests go for a spin on Spincycle at Silverwood Theme Park in 2018. This season will look a little different because of coronavirus restrictions. Marketing and communications director Jordan Carter said he expects shorter lines as fewer people will be allowed into the park each day.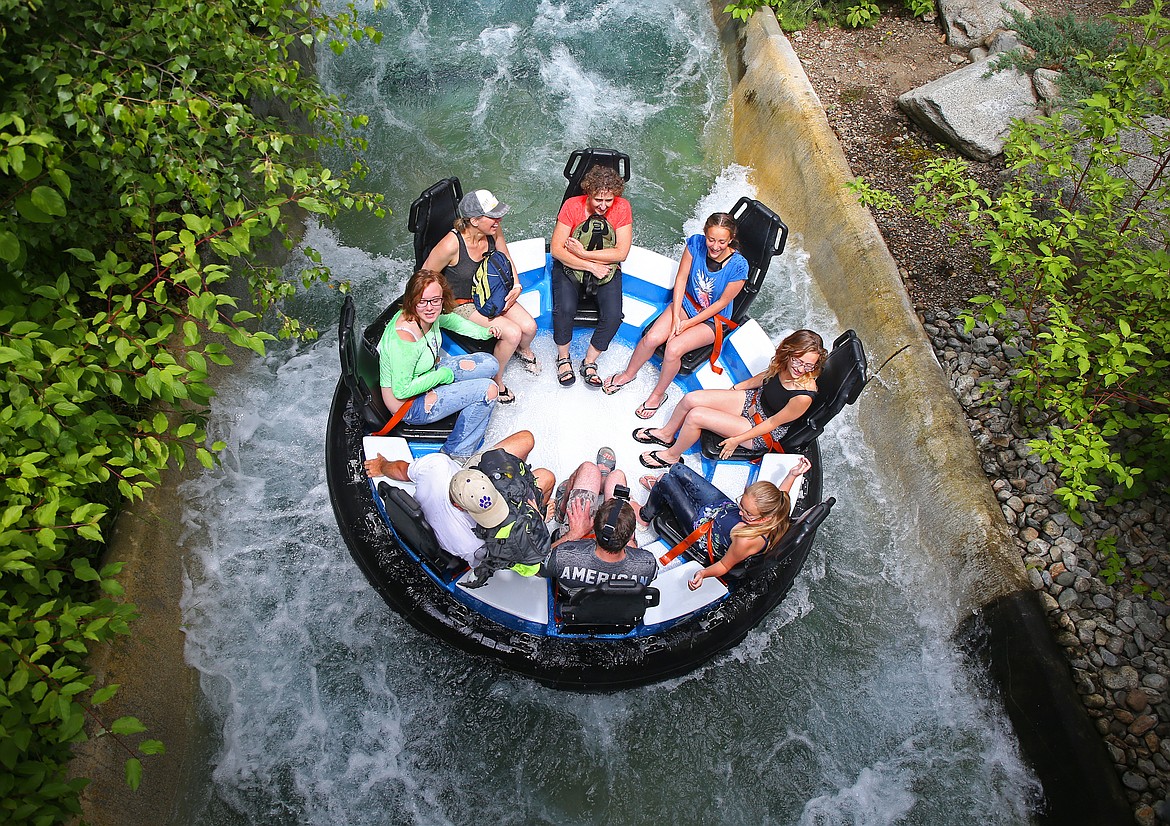 Guests ride down Thunder Canyon at Silverwood Theme Park on a sunny June day in 2018. The theme park will be opening this weekend during Phase 3 of the Idaho Rebounds pandemic recovery plan.
Photos by LOREN BENOIT/ BJNI File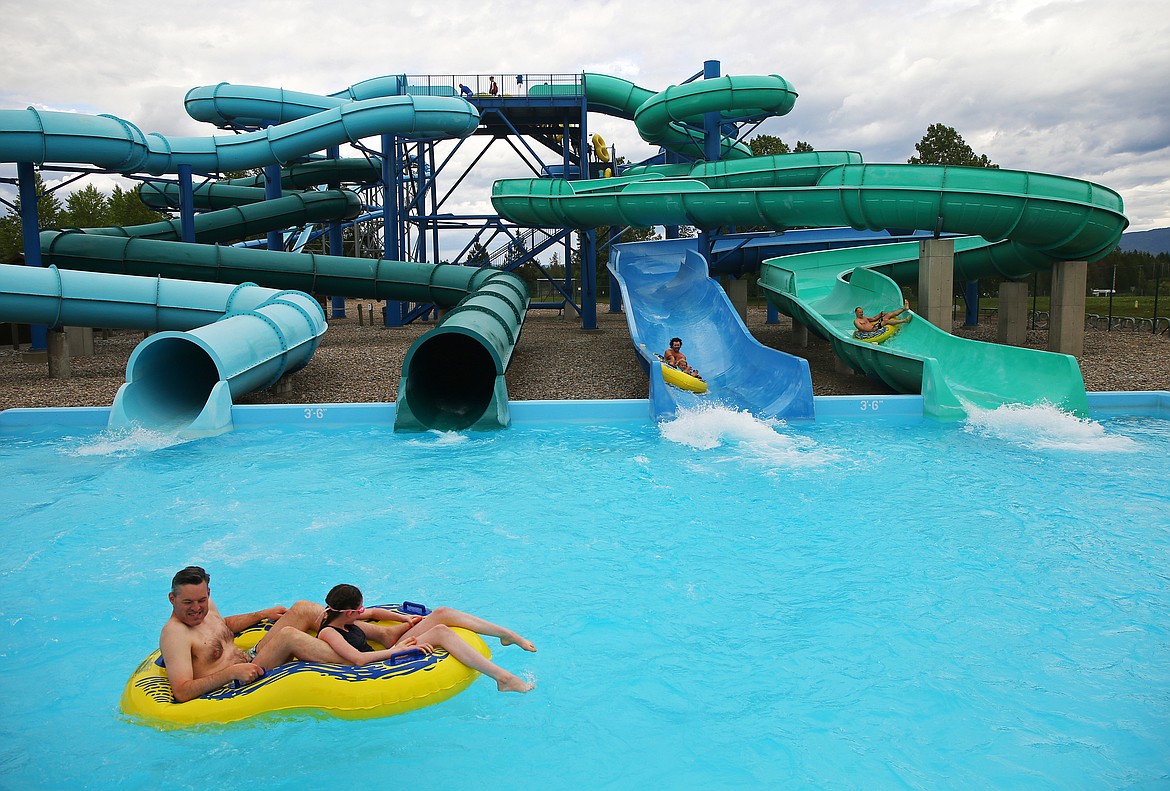 Park guests spin, slide and splash their way down to the end of Rumble Falls in Silverwood's Boulder Beach in 2018. Boulder Beach is scheduled to open in June. The theme park and water park will have strict cleaning and social distancing protocols in place to keep guests safe as Idaho begins to ease pandemic restrictions.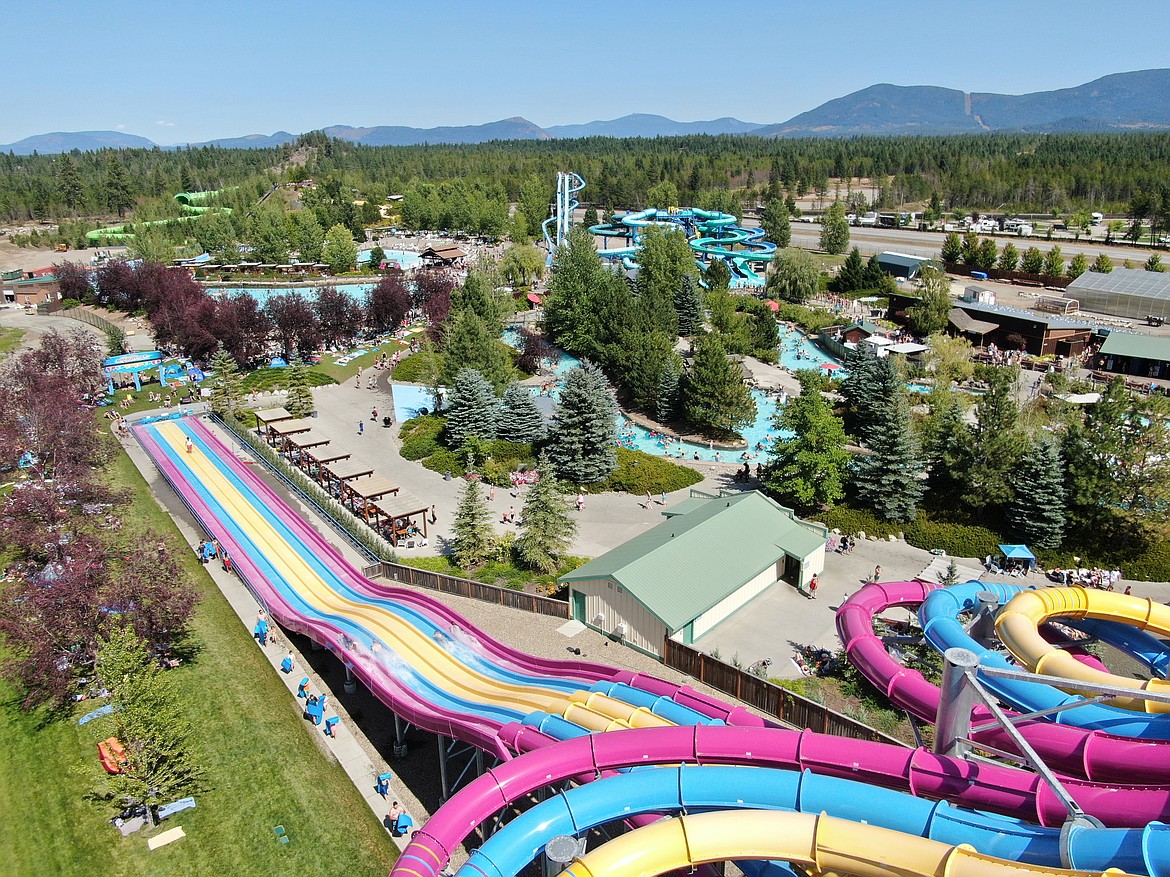 This aerial view of Silverwood's Boulder Beach shows swooping slides and refreshing pools that guests will be able to enjoy when the water park opens June 6. Silverwood Theme Park opens this Saturday.
Photo courtesy of SILVERWOOD THEME PARK
Previous
Next
Silverwood prepares to open as pandemic restrictions begin to lift
The 32nd season of the Northwest's favorite amusement park won't be quite the same as its predecessors.
Silverwood Theme Park is doubling down on safety measures, sanitization and signage to remind guests to keep a safe distance from others as it opens its gates this weekend for the first time since coronavirus shutdowns. It will be opening in Phase 3 of the Idaho Rebounds pandemic recovery plan.
"We're going to limit capacity at the park," said Silverwood marketing director Jordan Carter. "We're going to have signs throughout all our queues as a reminder for social distancing and keeping family groups separate.
"There's some unique challenges for sure," he continued. "But we're working with the local health department and we're making sure management is involved in creating a safe space for our guests and cast and crew."
Hand sanitizer stations will be sprinkled throughout the park. Cashless transactions will be used at most of Silverwood's retail and food venues to limit person-to-person interaction. Credit and debit cards will be accepted, as well as Silverwood's VIP debit card and reloadable cash card, which is available for purchase online or at any of the park's cash register locations.
Only a few designated locations will allow the purchase of these cards through a cash transaction. Cash will be accepted at the front gate to buy tickets and reloadable cash cards. Visit www.silverwoodthemepark.com/tickets/cashless.php for information on cashless options.
Tables and seating have been rearranged and divider panels have been added to food venues to facilitate proper separation between groups.
In a May 12 message to guests, park owner Gary Norton said safety is Silverwood's No. 1 priority.
"That is why we have developed extensive social distancing and cleaning protocols to reduce the risks to guests and employees as much as possible during their time at the park," he said.
The tourism powerhouse, at 27843 N. U.S. 95 in Athol, was up nearly 30 percent in e-ticket pre-sales in February before the COVID-19 pandemic began to rage around the world, Carter reported.
As the global economy began to tank, Silverwood was ahead of the game. It announced in April that 2020 tickets and season passes will automatically transfer to 2021 if ticket-holders aren't able to visit the theme park this season. Those who do come out will be rewarded with special discounted rates when they renew to a 2021 pass.
For those with pre-purchased one- or two-day tickets that won't be used this year, Silverwood will add a bonus day in 2021 — one-day tickets will be good for two, and two-day tickets will be good for three. These deals will be good until the gates officially open on Saturday.
"We're starting to see a resurgence in ticket sales since we made our announcement last month," Carter said. "We want people to be confident in their purchase with us."
On its busiest days, Silverwood welcomes close to 14,000 guests. That won't be happening this year. Physical distancing requirements and state and local health guidelines mean the park will be limiting the number of people allowed in at once, so it won't be maxing out any time soon.
"Numbers is a tricky one to forecast because of people that don't want to go out, and there's people that want to get out no matter what," Carter said. "It's hard to really tell what that's going to be, especially with us operating at a limited capacity. We're not going to have those really big Saturdays like we have in the past."
On the bright side, attendance won't be the same, "but the experience will be better because the lines aren't going to be as long," Carter said.
Marketing has changed some, too. Carter said Silverwood's strategy during quarantine has been to really dive into social media while pulling back on other advertising outlets, such as mailers and billboards. Using social media, his team has encouraged past guests to share photos and memories of the park while also thinking ahead for future visits.
This tactic is mainly targeted on local and regional markets as people most likely won't be willing to travel far this year. Canadian border closures mean northern neighbors probably won't be visiting, and residents in COVID-19 hotspots to the west who are still under restrictions also won't be traveling for some time.
"We are going to really start ramping up some of our advertising, but we're most likely going to stick with social and other outlets and keep it east of the mountains as far as Washington goes," Carter said. "We're going to hit those markets at shorter distances."
The Silverwood RV Park opened May 16. Boulder Beach is scheduled to open June 6.
Silverwood, which normally hires 1,300 seasonal employees, is still hiring lifeguards, cashiers, ride operators and other positions. All employees will be expected to contribute to the constant cleaning that will be taking place.
This year's tagline is, "You'll have a screamin' good time."
"If you lose your voice at Silverwood, you've had a great day," Carter said. "We're just excited to be able to open. We're really ready and itching for people to get here and have a good time."
Info: www.silverwoodthemepark.com
Recent Headlines
---