THE CHEAP SEATS with STEVE CAMERON: Sports Sundays looking closer to normal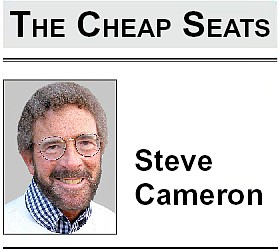 Just in case you wanted more…
Here are 10 things to put in your scrapbook following "The Match," Sunday's made-for-TV celebrity golf outing involving superstars Tiger Woods, Phil Mickelson — and their football-famous amateur partners, Peyton Manning and Tom Brady.
1 That was a hell of a commitment by Tiger and Phil to stick it out for 18 holes.
These guy aren't used to playing in the driving rain (warm, but still plenty wet) that just blasted the Medalist Golf Club in Hobe Sound, Fla. — not without caddies to hold umbrellas over their heads until about two seconds before they hit a shot.
If one of them gets pneumonia from this affair, it would really unfair since they only STARTED the soggy match because it ultimately raised $20 million for a COVID-19 relief fund.
2 Mickelson said he was nervous beginning the round, during which he was paired with Brady against Woods and Manning.
Phil played like it, too, spraying the ball around several acres until he got comfortable.
When Phil admitted to early nerves in a post-match interview, Peyton said: "If you were nervous, think how Tom and I felt."
No kidding.
Brady could barely hit Florida for the first nine holes — although he did hole out a miraculous wedge shot on No. 7 to keep the match reasonably close.
But for eight of the nine holes, the GOAT was just a goat.
3 If any of you out there were laughing when the two quarterbacks knocked one into the trees or water, imagine how you'd feel standing next to Tiger and Phil with millions watching across the country — including everyone you'd ever known.
I'll admit it up front: I wouldn't be able to pull the clubhead back to swing.
Most likely, if I'd won some lottery and were given the chance to play with those guys, I'd fake illness in the men's room just before we teed off.
4 Anyone who's watched TB12 play well enough to win six Super Bowls probably knew what was coming on the back nine.
Yep, another comeback.
Brady relaxed and hit the ball crisply, not to mention pretty much exactly where Mickelson directed — though Tom missed a huge putt near the finish that would have evened a match that Tiger and Peyton survived to win 1-up.
5 If the PGA Tour resumed tomorrow, Tiger Woods would be ready.
He's said for some time that his back — miserable early in the year — now feels great, and golf's GOAT proved it by hitting every single fairway with his driver.
When Tiger does that…
Look out, world!
6 The most amazing hole was a par-3 when all four players hit the green, yet Woods was furthest away.
Manning knocked one to 17 inches from the cup, breaking the hearts of Mickelson and Brady, who had each just drilled shots to about four feet.
7 I wouldn't have the courage to swing a club for 18 holes with Phil, but brother, you could learn a lot by just walking around with him.
Mickelson gave Brady a lesson on something we all forget, advising him not to try a high pitch shot because the grain of the grass was against him.
"Look at the color," Phil said. "If the grain is against you, it's better to pitch the ball low and bounce it on the green."
Both Mickelson and Woods, by the way, hit some breathtaking shots from tough spots around the greens.
I guess they've won a combined 126 PGA tournaments for a reason.
8 The boys had a lot of fun on a par-4 that the rules obliged them to play with just one club.
Tiger was needled by Mickelson, plus commentator (and No. 4 player in the world) Justin Thomas, for choosing a 4-iron.
But Woods came the closest to winning the hole, barely lipping out a 6-foot putt for par.
9 Best remark for the TV audience…
After commentator Charles Barkley began hammering Brady during that poor performance on the front nine (offering $75,000 if Tom could par one of the last three holes), and TB then canned that wedge for birdie: "Take a suck of that, Charles!"
10 Man, it was great to see some live sports again — exhibition or not.
And once the golf was done, more than half of NASCAR's rain-delayed Coca-Cola 600 from Charlotte was zooming across our screens.
Loved being a Sunday couch potato again, and won't even bother to deny it.
Email: scameron@cdapress.com
Steve Cameron's "Cheap Seats" columns appear in The Press on Mondays, Wednesdays and Fridays. "Moments, Memories and Madness," his reminiscences from several decades as a sports journalist, runs each Sunday.
Steve also writes Zags Tracker, a commentary on Gonzaga basketball, once per month during the offseason.
Recent Headlines
---