'The need is great'
15,000 pounds of spuds given away in 3 hours
COEUR d'ALENE — Thirty-minutes before potatoes were scheduled to be given away starting at 11 a.m. Saturday, people were lining up.
And for the next three hours, hundreds kept coming, until all the spuds — at least 15,000 pounds — were gone.
"The need is great," said Chad Catron, Bonner County leader with the Real 3% of Idaho, a nonprofit group that organized the event in front of Heart of the City Church. "People are happy to be given something. We've actually had some people come up crying because it's all they're eating right now. There's definitely people hurting."
The Real 3% of Idaho picked up the potatoes from a farmer in Reardan, Wash., who had last year's crop in cold storage. He couldn't sell them, as restaurants and schools are still closed in Washington, so he gave them away in hopes they would go to feed the hungry.
They did.
By 2 p.m., the spuds were gone. Even at 2:30, cars and trucks were stopping by, asking if any were left.
"It's been nonstop flow and as you can see, people are still stopping in trying to get some," Catron said.
The same group gave away about 15,000 pounds of potatoes last weekend at two locations, Priest River and Coeur d'Alene.
This week, they combined forces and everyone came to Coeur d'Alene.
They may return next weekend.
"We're just trying to help fill that void in the community," Catron said.
Most people left with at least 50 pounds of spuds.
"We were loading people up with as much as they could possibly take," he said. "People were kind of bashful about getting some. They'd want just a couple bags."
And many donated, with the money going to the Reardan farmer. Last week's giveaway brought in $2,000 and about the same came in Saturday.
Catron said it was good to help so many people who were so thankful.
"For those people who really need it, we're thrilled to do it," he said.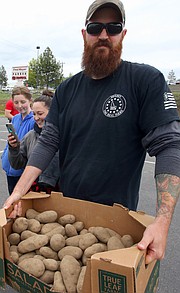 Recent Headlines
---