'More than a paycheck'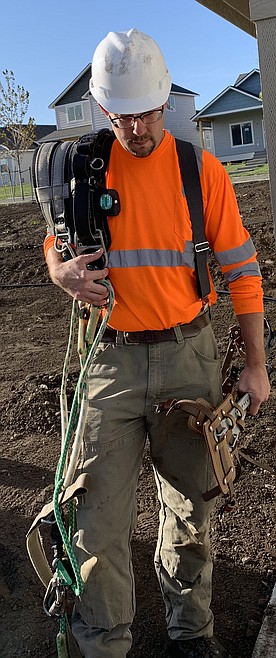 Chris Howard finds his North Idaho College degree in education useful in his work as a telecom lineman.
Courtesy photo
by
MAUREEN DOLAN
Staff Writer
|
May 24, 2020 1:00 AM
Your calling might not be what you think it is
Earning a degree in the field of education could easily lead to a career teaching in a classroom, but it doesn't have to.
Chris Howard, a 2013 North Idaho College graduate, finds his two-year education degree to be useful in an unlikely work environment. Howard is a lineman in the telecom industry, working on crews building underground and overhead communications lines throughout the Idaho Panhandle.
The skills and knowledge he gained at NIC come in handy when he helps train new crew members, he said.
"A lot of companies need people who know how to teach and train people," Howard said.
Howard said his studies at NIC under instructors like Gail Ballard, associate professor of education and assistant dean of general studies, helped position him for success in the telecom field. He transferred from NIC to the University of Idaho where he earned a bachelor's degree in general studies.
"Everything I learned under Gail and at the University of Idaho has made me a better employee in my field," Howard said.
Solid communication and organizational skills are just a few of the qualities developed while studying teaching in college, Howard said.
"With an education background, a person has learned how to understand and analyze people," he said. "That knowledge of how to work with people is, in my opinion, a real asset for any company. There's real value in that."
The ability to collaborate is also important, a trait that translates well into being able to work well as part of a high-functioning team.
"Chris is a very good example of a student achieving a degree with one career path in mind and then transferring those skills to a career he didn't anticipate when he was attending NIC," Ballard said. "This illustrates the great return on investment in higher education and the value of an associate degree."
Gail Laferriere, assistant director of NIC's Career Services office, said it's not uncommon for people to work in fields unrelated to their college programs of study, but it's unlikely those careers would be possible without that college degree.
But people don't always know what type of work they want to do, or what would be a good career fit for them. That's where career counseling can make a huge difference.
"We hear from students who want to discover their purpose and find a career that's more than a paycheck," Laferriere said.
Career counseling helps people, including people already in the workforce, understand themselves by exploring their interests, values and personality characteristics, often through assessments like the Strong Interest Inventory, offered at NIC's Career Services office.
"Then we help them learn what careers might be a good fit, and help them make the connections needed to achieve those goals," Laferriere said.
Going through this process increases the likelihood of being hired and being successful in that job.
"Employers can tell you're going to give it 100 percent because you're interested and you want to do that type of work, and you're not just looking for a job," Laferriere said.
For students, career counseling offers extra motivation to make it to graduation, Laferriere said, and pointed to a study by the Community College Research Center at the Teachers College at Columbia University.
"They found students with career goals are 50 percent more likely to be successful in college and in life," Laferriere said.
Career guidance from NIC's Career Services office is available to all students and anyone in the local community. The office is upstairs in the Edminster Student Union Building on NIC's main campus in Coeur d'Alene.
For more information, visit nic.edu/career.
Recent Headlines
---