Model behavior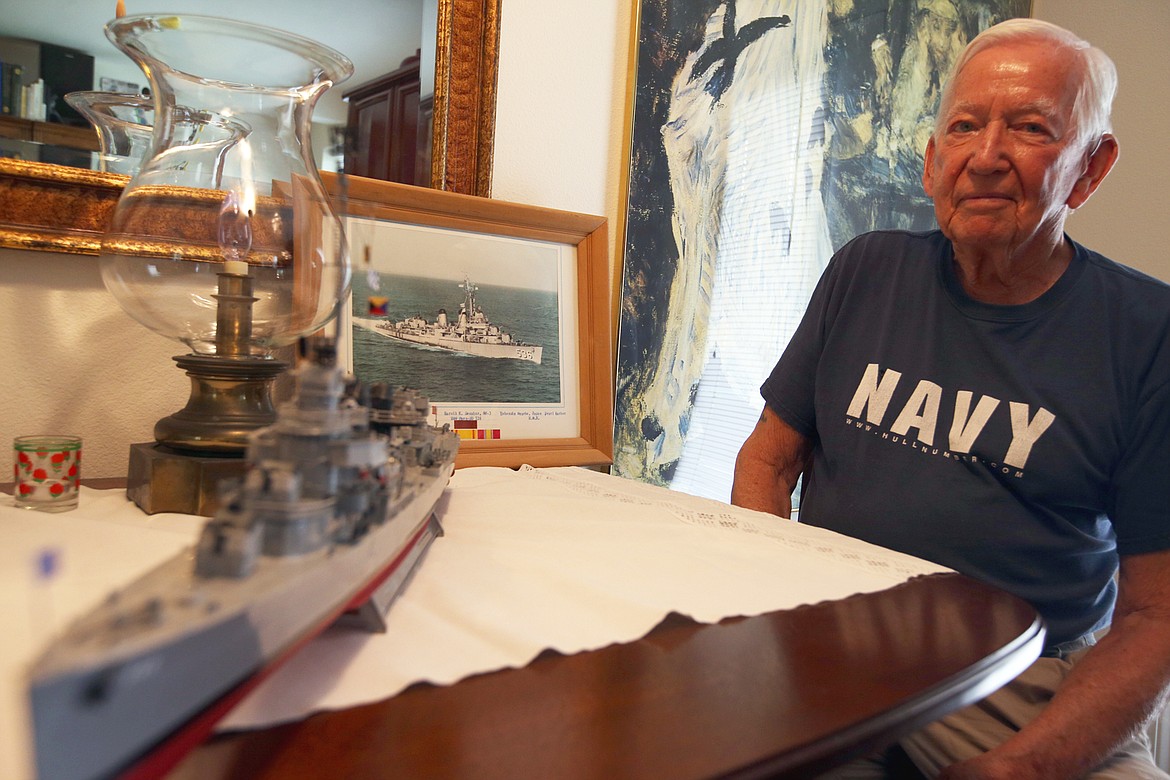 Hal Donahue with the model he pieced together of the USS Frank Fletcher battleship. Pictured is the USS Owen 536, a Fletcher-class destroyer that Donahue served on.
File Photo: Bill Buley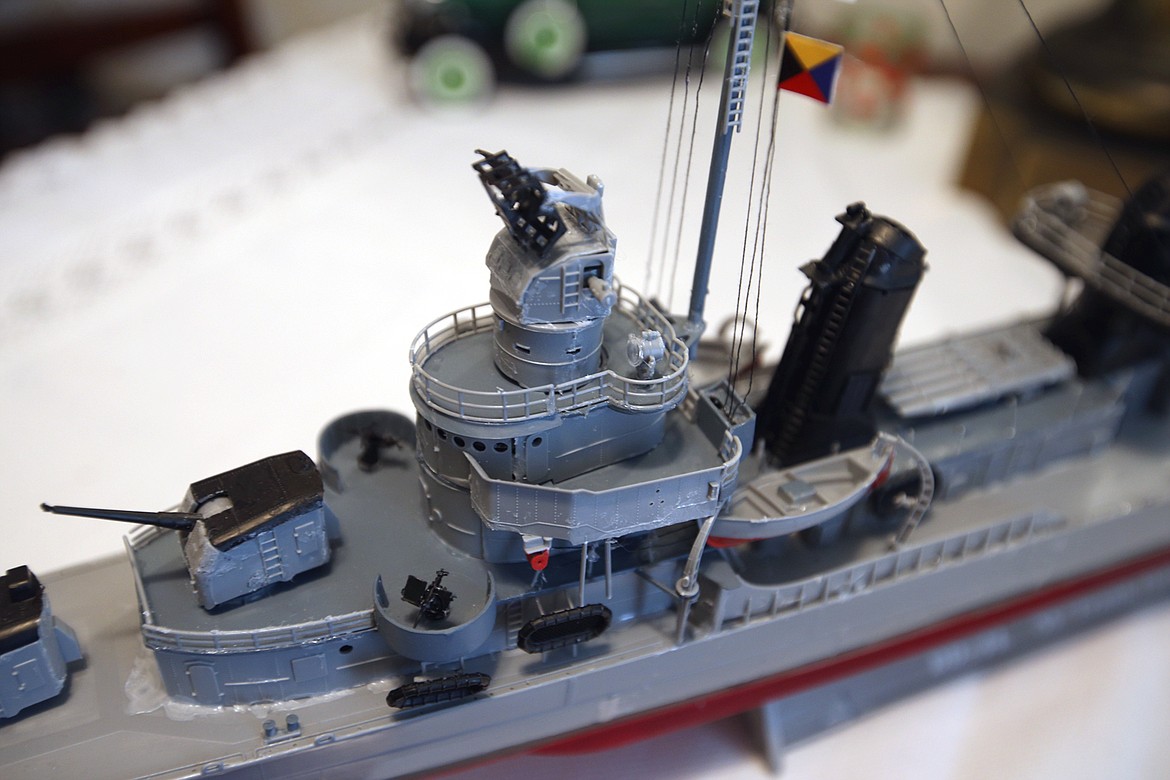 BILL BULEY/Press A detailed look at the model of the USS Frank Fletcher.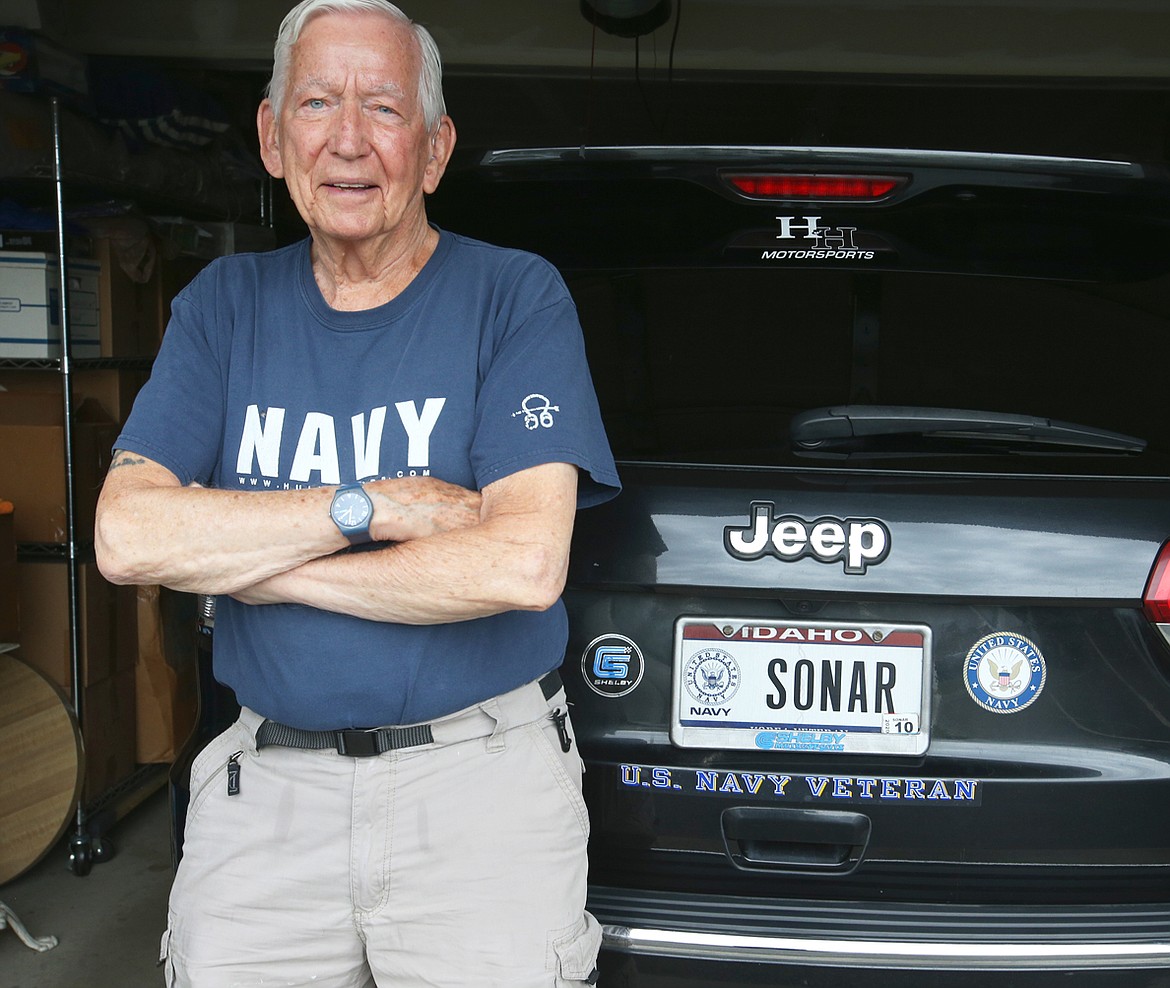 BILL BULEY/Press Hal Donahue's vehicle license, "SONAR," makes clear his role with the Navy.
Previous
Next
by
BILL BULEY
Staff Writer
|
May 24, 2020 1:30 AM
The USS Frank Fletcher was 300 feet long and 27 feet wide.
In peace time, it had a crew of 175 with 12 officers.
It had five-inch guns, anti-aircraft cannons, carried depth charges and 10 torpedoes.
"She was built for speed," Hal Donahue said. "Very little armor, but a lot of armament."
And she managed to fit into Donahue's living room.
All 1,300 pieces.
The Coeur d'Alene man served in the Navy from 1952 to 1960. Four of those years were active duty on the USS Owen 536, a Fletcher-class destroyer. His role was manning the sonar and watching for enemy submarines.
"I've always been looking for a model that was the same type of the destroyer that I was on," he said. "For some reason, I could never find them. I came across this in a catalogue and I bought."
That was the easy part.
Donahue, 87, hadn't actually built a model in more than 70 years.
"When I was a kid I built model airplanes like every other kid during the second World War," he said.
And this particular model called for a class-five skill level.
Plus, there was another problem: There were no instructions. Just pictures.
Donahue didn't care. He began building.
"Like everybody else, I've got a lot of time on my hands," he said. "I don't know. It's hard to explain. It's just something to do."
He laughed as he talked about trying to put the two halves of the hull together using glue and rubber bands.
"I didn't have enough hands," he said.
He began the project about two months ago and finished it about two weeks ago.
"It just about drove me crazy, there's so much detail in it," he said, chuckling. "I had to use tweezers for a lot of the things."
Donahue is used to challenges and rising to meet them.
He was born and raised in Glendive, Mont., and joined the Navy at age 19. He was working on an oil crew when he received notice to report for duty.
A friend who had served in the infantry in World War II told him, "Don't worry Hal. I'll get you exempted. This is defense work."
"No, I want to go," Donahue responded.
"Are you nuts?" the friend said.
"I said, 'No, I want to go," he answered.
Donahue went.
He was assigned to USS Owen and found himself in sonar, anti-submarine.
"Our compartment was up here on the bridge," he said, pointing to the model ship on his living room table.
His bunk was right below a five-inch gun mount.
"When they started firing I would run down and unscrew the light bulb because it would shatter," he said, laughing.
Depth charges rolled off the fantail, Donahue said.
"And these are the K guns," he said as he motioned toward an area of the ship. "They fired the depth charges out to the side."
During and after the Korean conflict, he said the USS Owen played "cat and mouse with the Russian and Chinese subs."
"I saw more action in 1955. We spent eight months patrolling the coast of Red China, and at that time, the Chinese nationalists were fleeing Red China," he said.
Donahue spoke of a clandestine encounter with a black sub that surfaced near them, as he had been told was going to happen by his skipper.
Men from that sub took a small boat and boarded the USS Owen as the sub disappeared. Later, the sub reappeared, the men returned to it, and the black sub silently vanished into the deep blue.
"Skipper said, 'I don't want you writing home about this,'" to which Donahue replied, "Write home about what?"
The USS Owen was capable of about 40 knots.
"Interesting enough, the fastest ship in the Navy is an aircraft carrier, which is the largest," Donahue said. "This is the only ship that could keep up with it."
The destroyers flanked the carriers to protect them. In one encounter, a piece of shrapnel ended up inches from Donahue's head.
There were times, as planes launched and landed, one would end up in the sea. Crews would quickly rescue them.
They were dangerous and exciting times, Donahue said. He left the military as a Petty Officer, Second Class, and returned to Montana.
"I had trouble settling down," Donahue said. "I was used to being on the go all the time."
He worked in a steel mill, then spent a few years roughnecking in the oil fields.
"It was extremely good pay, but very dangerous," Donahue said.
No kidding.
One day, he woke up in a hospital in Casper, Wyo., and couldn't remember what happened. Time for a career change.
He went to the University of Montana on the GI Bill and earned a degree in business and finance. He got married, and he and wife Pat had six kids and recently marked their 60th anniversary.
While he was a whiz with numbers, Donahue had an adventurer's heart.
He drove race cars, Shelbys mostly, and at age 67, on April 2, 2000, set a lap record of 146.285 mph driving a Pro 7 Mazda RX 7 at the Las Vegas Motor Speedway.
In other races, he topped out around 180 mph.
"It's a real kick going that fast," Donahue said.
There were crashes and close calls, but he shrugged them off.
"I don't panic," he said. "I learned how to handle the car pretty well."
And, he adds, he grew up in Montana, where there was no speed limit.
"I was 17 years old and I never went anywhere less than 100 mph," he said, laughing.
He did some acting and landed many roles, including as a Star Fleet admiral in Star Trek. He was in numerous print and TV commercials and did voiceovers, as well.
At 6 feet tall and 190 pounds, with piercing blue eyes, he was a natural in front of the camera.
That didn't go over well with the leading men.
He met Paul Newman, who told him he might be the only person with bluer eyes than his.
In the movie "Pretty Woman," he recounted a story that the lead actor in the film, Richard Gere, refused to have Donahue stand next to him because, "he's better looking than me."
With his military, business, acting and racing career behind him, Donahue has become a master model builder.
His next one will be a 1931 Alpha Romeo Mazda.
"I've got it right here," he said, pulling out a box. "It's 1,600 pieces and extremely detailed. You actually put the engine together."
For now, though, he must decide the fate of the USS Frank Fletcher that now resides in his home. Where will it end up?
"That's a good question," he said, smiling.
Keep it?
"I don't have room."
Donate it?
Maybe the American Legion, VFW or another veterans group.
Donahue doesn't have the answer just yet.
But you know he will.
He always does.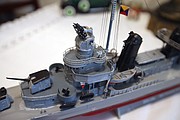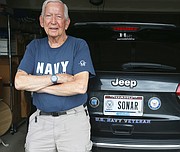 Recent Headlines
---