Boating on Coeur d'Alene Lake this summer?
You likely live in this beautiful area for the abundant recreational activities it provides: boating, wake surfing, camping, swimming, and fishing. The waterways in the Coeur d'Alene Basin are increasingly busy so preventing water pollution is especially important and our shared responsibility. Let's continue to enjoy the lake we love and, at the same time, exercise 'Best Management Practices' described below to keep our water clean for generations to come.
A number of pollutants are associated with boating and lake recreation including: erosion from wakes, human waste, petroleum spills, and the spread of aquatic invasive species. No one wants to recreate in polluted water. We can all do our part for the environment by taking a few extra steps.
Operate Personal Watercraft and motorboats in water at least 30 inches deep to prevent disturbing bottom sediments and aquatic vegetation. Operate at a lowest speed to prevent wakes when near shore. Avoid docking or beaching your watercraft in reeds and grasses as this can damage fragile environments and encourage the spread of aquatic invasive species such as Eurasian watermilfoil.
Wave action causes shoreline erosion that decreases property values, degrades fish habitat, and decreases shoreline habitat. Erosion causes excess nutrient loading that encourages algae growth and spread of invasive species. Avoid creating waves whenever you are within 200 feet of shorelines, docks, piers, or other structures (this rule is 100 feet on rivers). Maintain no-wake speed within 100 feet of other vessels, a dive flag or wherever a "No Wake Zone" sign is posted.
Untreated sewage is a pollutant in surface water because it can contain disease-causing bacteria and viruses. Discharged sewage and wastewater is unsightly and can contain high levels of nitrogen and phosphorus (nutrients) that stimulate growth of algae and aquatic plants. Become familiar with the vault toilets, restrooms, and pump-out stations around the lake and whenever possible, use these land facilities rather than the onboard system, just in case. Discharge of human waste into all state and tribal waters is prohibited. Human waste must be pumped into a boat pump-out station. Pump-out stations are located throughout the Coeur d'Alene Basin. Please become familiar with these locations and use them.
Boat fuel and fluids have detrimental impacts to aquatic life. Even when caring for boats on land, solvents, paint, oil, and other pollutants can seep into groundwater or be washed directly into surface water. Boat cleaners may contain chlorine, ammonia, and phosphates, which harm plankton and fish. Please select non-toxic cleaning products. Motor oil and gasoline spills are also harmful to fish, wildlife, and human health. Always change out and augment fluids on land if possible, use an adequate container or drop cloth, and have a backup on hand. Carefully fuel boat engines using a funnel and fuel-absorbing materials to quickly wipe away any spillage. Keeping boat motors well-tuned prevents fuel and lubricant leaks and improves efficiency. Don't use the motor to load your boat as it stirs up sediment at the end of the ramp, creating a hole where trailers can become stuck. Clean, drain, and dry your boat to prevent the spread of invasive species. Always stop at boat inspection stations as instructed. Finally, stow it, don't throw it! Make sure everyone on the boat keeps trash out of the water.
On behalf of the 'Our Gem Collaborative', thank you for doing your part and enjoy safely recreating in and on our waterways this summer! For more information go to: https://uidaho.edu/ourgem
• • •
The Our Gem Coeur d'Alene Lake Collaborative is a team of professionals working to protect our local water resources. Participating entities include University of Idaho Community Water Resource Center, Coeur d'Alene Tribe Lake Management Department, Idaho Department of Environmental Quality, Kootenai Environmental Alliance, the CDA Chamber of Commerce, and CDA 2030.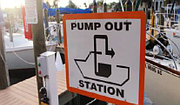 Recent Headlines
---