THE FRONT ROW WITH JASON ELLIOTT: Pandemic puts Gordon back on running path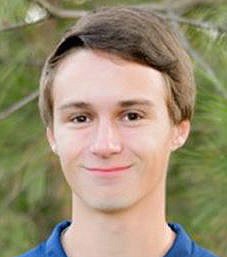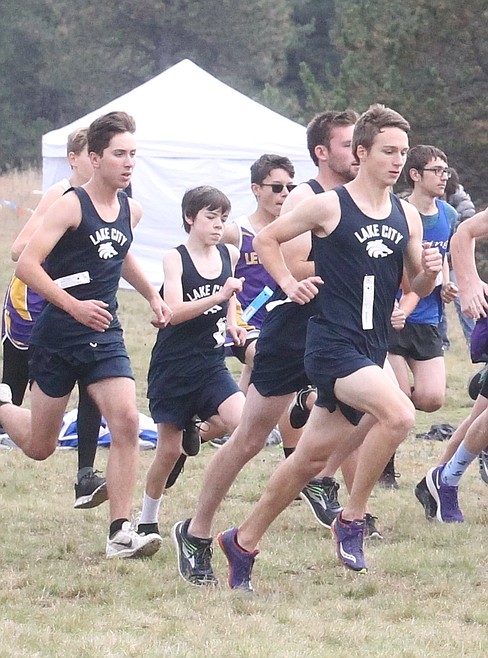 Lake City High senior Carter Gordon, front, leads the Timberwolf cross country team out of the starting line during the 5A Region 1 meet at Farragut State Park in October. Gordon signed to compete in cross country and track and field at NAIA Lewis-Clark State.
JASON ELLIOTT/Press
Previous
Next
Lake City High senior Carter Gordon was just fine with going to Boise State this fall.
No more running competitively, just for fun.
Then, things changed.
"If someone was going to reach out, I'd consider running in college," Gordon said. "But that wasn't always my plan."
MIKE COLLINS, the head cross country and track and field coach at NAIA Lewis-Clark State in Lewiston, picked up his phone.
"Coach Collins called me and said they had some money left, and reached out to me," Gordon said. "I visited the campus once, and walked the entire campus. I was able to meet up with him and he showed my mom and I around."
Gordon signed earlier this month to compete in cross country and track and field at L-C State.
In the meantime, another letter had arrived at Lake City High, to cross country coach Heather Harmon-Reed, for Gordon from another NAIA program.
"Because of the whole coronavirus thing, I had a letter from Eastern Oregon for him," Harmon-Reed said. "At that point, I wasn't sure whether he'd want it or not. It was one of the few days where we'd be able to get into the high school. I'd found out he'd had a change of heart and contacted that coach (from L-C State). Carter had a great response from Mike, and they went and checked things out. When Carter called, Mike immediately made himself available and really wanted Carter there. It sounded like it was an excellent experience."
Gordon's senior year of track and field was wiped out due to the coronavirus pandemic, reigniting a fire to continue running.
"When he reached out, I knew some of the kids on the team and it made me have fun again with it," Gordon said. "It really sparked my interest a little bit. After everything was canceled, I still wanted to run a little bit more."
Gordon is already familiar with Lewis-Clark State's home course in the Lewiston Orchards, where the state high school cross country meet is held when the meet rotates to the northern part of the state.
"It's a pretty flat course," Gordon said. "You can always see where someone else is on the course. If someone was a little bit ahead of where you were, you could get to them. It was a nice course."
On LCSC's roster, three runners are from the 5A Inland Empire League, including Post Falls product James Magill, a freshman.
"The times I'm seeing out of the L-C kids were pretty strong from last year," Gordon said. "Hopefully I can make their varsity squad. It (Lewiston Orchards) was easily my favorite course in high school."
In track, the Warriors are interested in Gordon in the 800, 1,500 and 3,000 meters.
In track and field, Gordon had high hopes for the 800-meter run this year, where he placed eighth at state as a junior.
"I think I would have had a shot in the 800 this year," said Gordon, who ran the 400, 800 and 1,600 at Lake City, as well as a leg in the 4x800 relay. "All of the guys ahead of me last year were seniors. I've got a distance background, but have always had a decent amount of sprinting speed. I thought it would be a good mix to do both of those events as well."
That position could have been a little better last year, had Gordon not fallen ill before the state meet.
"Last year, he would have done extremely well at state," Harmon-Reed said. "The night before we left, he had the flu and wasn't sure if he'd be able to compete. He flew down (to Boise) the next day, didn't compete in all of his events, but did the best he could all things considered."
Gordon also played soccer as a youth, but once he hit high school, had to make a decision.
"Cross country was the sport I was better at anyway," Gordon said. "Some of the soccer coaches seemed a little upset I didn't try to do both, but I made the right decision."
GORDON WAS a medalist at state in cross country as a sophomore (16th) and junior (20th), then finished 26th as a senior.
"He led the team more by example," Harmon-Reed said. "He was never the loudest guy on the team, but his work ethic and willing to work at a hard workout was great. Despite how quiet he could be, he's extremely funny and a ridiculous kind of funny. He can throw a pun anywhere and enjoys a little humor. A good majority of the kids really looked up to him and wanted to emulate him."
Gordon was also the ASB treasurer as a senior, and served on the student council as a junior (vice president) and sophomore (president).
"He'd usually tell these quiet, sly puns," Harmon-Reed said. "He did that kind of stuff all the time. He'd also keep us entertained. He's a smart kid, and knows the flag for each country. We'd come up with the most obscure country, and he'd describe it to the best of his ability. He has a lot of random bits of knowledge."
It wasn't even the state track and field meet that Gordon missed the most about his canceled final season.
"I was really looking forward to the Bishop Kelly overnight trip," Gordon said of the meet scheduled for April 17-18 in Boise. "It was supposed to be like a state preview, so I was really looking forward to that and seeing where I stood with the teams down south."
And while his senior year ended abruptly, Gordon still enjoyed everything about his time at Lake City.
"I'm going to miss a lot of the teachers," Gordon said. "I really like them. High school was really fun for me."
"I'll miss his silly little stories he'd share, and the adventures he'd get into with his teammates," Harmon-Reed said. "He's friends with everyone, and there didn't seem to be a group that he wasn't a friend with. I'll definitely miss his competitive side and silly stories."
And that's no joke.
Jason Elliott is a sports writer for The Press. He can be reached by email at jelliott@cdapress.com. Follow him on Twitter @JECdAPress.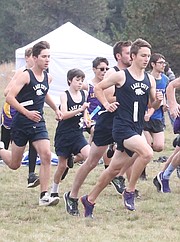 Recent Headlines
---