Back at the point for NIC ... Baker, a starting guard on 2011 NJCAA championship team, named interim Cardinal women's basketball coach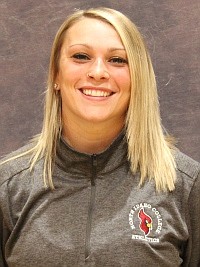 by
JASON ELLIOTT
Sports Writer
|
May 22, 2020 1:15 AM
Baker, a starting guard on 2011 NJCAA championship team, named interim Cardinal women's basketball coach
As a freshman point guard, Korina Baker was part of a North Idaho College women's basketball team that won the 2011 NJCAA championship.
What she does as a first-year head coach of the Cardinals is to be determined.
Baker was named the interim NIC women's basketball coach on Thursday, replacing Chris Carlson, who retired following the 2019-20 season, but continued his head coaching duties until his replacement could be named. Baker has been an assistant coach at NIC under Carlson the past two seasons.
"I always wanted to come back to my alma mater," said Baker, 28. "It's a big deal to me."
Following NIC, Baker transferred to Southern Methodist University in Dallas, leading the Mustangs to the Conference USA championship as a junior and a Women's National Invitational Tournament bid. As a senior, SMU switched conferences to the American Athletic Conference, competing with UConn, Cincinnati, Temple, Houston and Wichita State.
"Korina will bring that championship mentality to the program," NIC athletic director Bobby Lee said. "As an assistant coach in the program these past years, she knows the returning student-athletes and has been the lead recruiter in creating the team for 2020-21."
Lee said NIC will reopen the coaching search following the 2020-21 season.
"We felt that it was in the best interest of the program to give her an opportunity to continue to grow and build the program," Lee said. "We want to see how recruits develop and how she grows as a coach. She's done a fabulous job on the academic side of things, and we're just looking to see her grow as a coach."
"I'm in this for one year," Baker said. "If I can keep everything in a row, and have some success, I'd love to stay here longer."
Carlson went 356-158 in 16 seasons as coach, and also led NIC to nationals in 2009, 2010 and 2013.
"He was really good at managing budgets, practices and was just really on top of things," Baker said. "I learned a lot of different things that don't go into the game of basketball, but more of the budgeting things, arranging for referees. He taught me a lot about that."
NIC beat Lower Columbia College in the Round of 16 at the Northwest Athletic Conference tournament in March, which turned out to be its final game of the season when the tourney was canceled due to the coronavirus pandemic. NIC finished 18-10, and graduates four players and had five freshmen on its 2019-20 roster.
"I've got eight committed for next year and am really looking forward to it," said Baker, who hopes to get a roster of 12 to 14 players. "I've got a few more kids that I'm looking to sign. I've been recruiting this year and will be able to coach this team in the way I envisioned it when I signed them. It's a nice fit."
Baker, who starred at Freeman (Wash.) High, earned a bachelor's degree in sociology from SMU, and returned to the Northwest after graduation.
"Korina is excited about this opportunity," Lee said. "And I look forward to helping her in all that she needs. She's done a great job and has developed a great relationship with the recruits. It has been fun to watch her develop and grow. It really has."
Recent Headlines
---