THE FRONT ROW with MARK NELKE: Weather for state; and Little League tried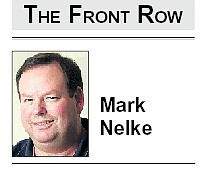 It figures.
If not for the coronavirus pandemic, high school state tournaments for spring sports teams in Idaho would have unfolded throughout the state last week.
And, according to my "weather watchers" throughout the state, they would have come off with little or no interruption.
Which would have been in stark contrast to spring state tourneys in recent years.
RAIN HAS disrupted the state softball tournaments each of the last four years at least — twice pushing the tourneys to Sunday finishes, and sometimes the games were shortened and/or the losers bracket was eliminated.
This year, state softball was scheduled for the Treasure Valley — the 5As at Mountain View High in Meridian, the 4As and 2As at Skyview Park in Nampa, the 3As at Rocky Mountain High in Meridian, and the 1As in Caldwell.
Said our weather watcher in the Treasure Valley: "It drizzled a little bit but that was about it. We would have had pretty good weather for a change."
Figures.
State track was also slated for the Boise area — at Eagle High (5As and 4As) and Middleton High (3As, 2As and 1As).
And tennis was also in that area — 5As and 4As in Boise, and 3As in Nampa.
State baseball was all over the state — 5As at the College of Idaho in Caldwell, 4As at the College of Southern Idaho in Twin Falls, 3As in Ontario, Ore., and 2As in Pocatello.
Said our weather watcher in Pocatello: "It's been cloudy and windy, but no significant rain. First time in a while our spring state tournaments likely would have been played with no interruptions."
Figures.
State golf was scheduled to be played in North Idaho, last Monday and Tuesday — 5As at Avondale, 4As at The Links, 3As at The Highlands and 2As at Bryden Canyon in Lewiston.
Last Monday was a nice day. It rained overnight, into Tuesday morning, but it didn't appear that would have been enough to halt play.
Of course, we might not have gotten through this championship week-plus scot free.
The Northwest Athletic Conference softball championships were slated for last Friday through Monday at the Dwight Merkel Sports Complex in Spokane. The last two years, championship Monday became a North Idaho College celebration.
This year, rain during those scheduled dates — particularly Sunday and Monday — might have pushed the event back a day. Of course, rain was forecast for every day this week as well, through Friday.
Figures.
IN TALKING to Coeur d'Alene Little League officials recently, the group really wanted to give the kids at least some sort of a baseball season this year — provided it could meet all of the health requirements arising from the coronavirus pandemic.
But apparently it just wasn't going to work out.
"It is with a heavy heart that the CDA Little League Board has decided to cancel 2020 season; as it is the safest decision for our community, and the health and safety of our athletes," the Coeur d'Alene Little League posted on its Facebook page last week. "This was not an easy decision to make, and we understand your disappointment. We are hopeful that we will come back from this pandemic positive, excited, and ready to play next year."
Several other local Little Leagues also announced on social media the cancellations of their seasons.
But some are still trying to play, in one form or another, said Tami Delgado, administrator for Idaho District 1 Little League.
Post Falls is holding practices for a spring/summer season, Delgado said. "President Brent Ditto spent countless hours on the phone and on his computer drawing out a comprehensive 'Return to Play' plans that are compliant to the governor's protocols for youth sports. Post Falls Little League is very fortunate to have a solid volunteer base that is willing and able to help this plan to be carried out."
Sandpoint Little League plans to have a summer season, Delgado said. St. Maries Little League is working on having a Little League day or weekend tourney/barbecue for the Little League families there once the state is completely reopened, possibly in August.
Lewiston Little League is trying to pull together a fall season, she said. Lakeland Little League is trying to put together Little League Sandlot Fun Days for its players.
In addition to Coeur d'Alene and Lakeland, other District 1 Little League who elected not to have a 2020 season include Timberlake, Silver Valley, Hayden and Priest River.
"These decisions were NOT reached easily or quickly," Delgado said. "These leagues based their decisions partly — not entirely — on things such as shortage of volunteers, difficulty finding the required sanitization supplies and stations, parents deciding participating this year is not something they are comfortable with, etc. All of my league presidents looked at every angle possible and did everything they could to try to get a season off the ground ... This has been a very difficult process. I am grateful to all of them for all of their diligence this year. They are volunteers with huge hearts for all of our kiddos in North Idaho."
Little League had already canceled the Little League World Series and the qualifying regional tournaments — which for the Idaho state champion was the Northwest Regional in San Bernardino. Coeur d'Alene teams made it to San Bernardino in 2018 and '19, and made it to the Little League World Series in 2018. Post Falls has also made it to San Bernardino twice.
Also, it didn't appear the champions from District 2 (the Boise area) were going to come up to North Idaho for the best-of-3 state playoffs. So that meant the season would have ended with the District 1 tournaments, played in Kootenai County.
But at least it would have been something.
Mark Nelke is sports editor of The Press. He can be reached via email at mnelke@cdapress.com. Follow him on Twitter@CdAPressSports.
Recent Headlines
---