'Life interrupted'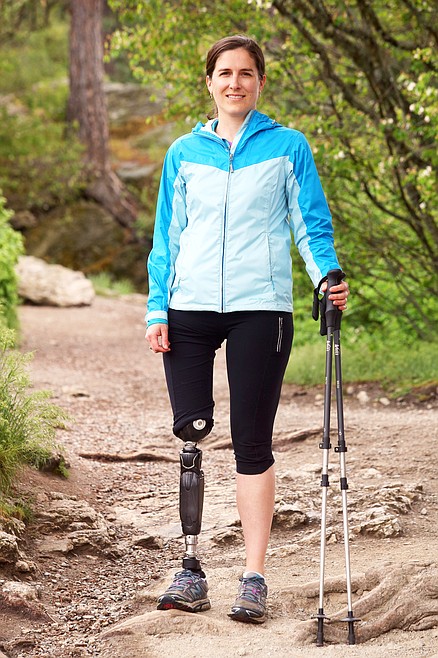 Jenny Gray of Hayden received a grant from Idaho's chapter of the Challenged Athletes Foundation that will pay for a new prosthetic that will allow her to run again.
BILL BULEY/Press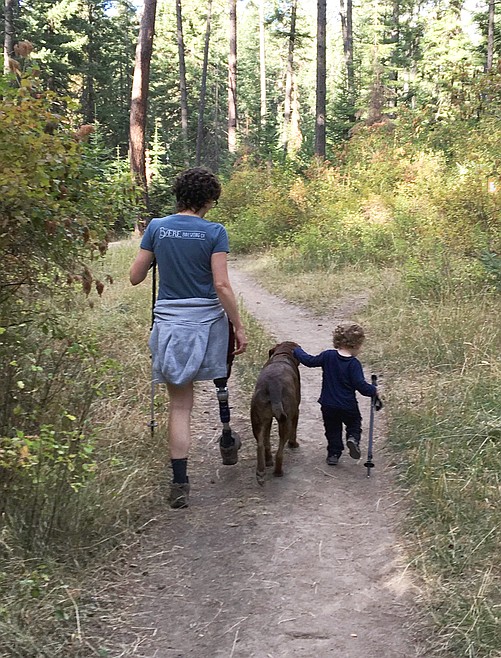 Photo courtesy Jenny Gray Jenny Gray and son Dillion follow a trail together on one of their family outlings in Idaho.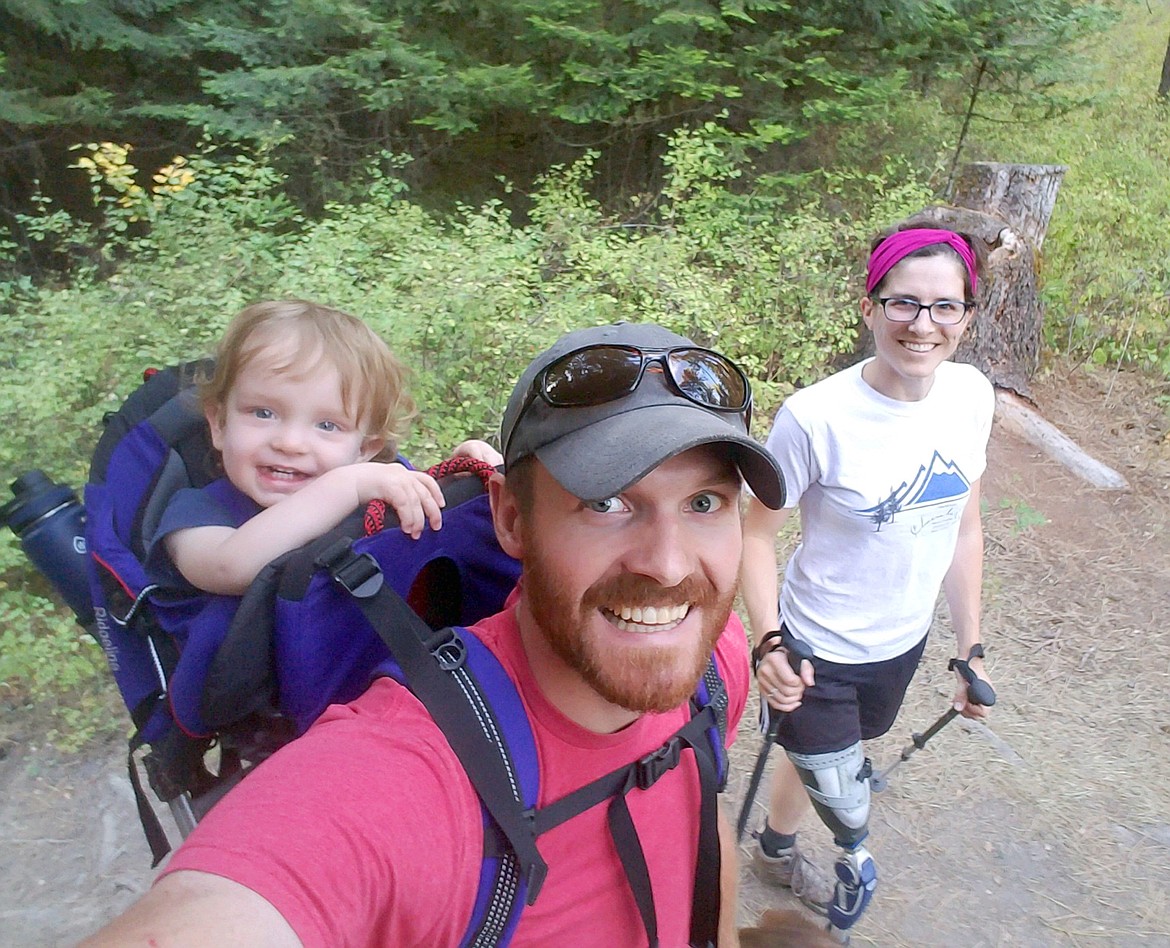 Photo courtesy Jenny Gray, husband Mick Gray and son Dillon take a photo break during a hike.
Previous
Next
by
BILL BULEY
Staff Writer
|
May 21, 2020 1:15 AM
Jenny Gray, LCHS graduate and Hayden resident, overcomes cancer, chemo, amputation; looks forward to running again with prosthetic
The soreness in her right knee, at first in the summer of 2015, was slight.
"It wasn't really that painful," Jenny Gray said. "It was just kind of a nagging ache."
A doctor determined it was probably bursitis. The recommendation was to take the winter off — no skiing, no snowboarding, no running.
So Gray did.
"That kind of seemed to help," the Hayden resident said.
In the spring of 2016, Gray started hiking again, but didn't get far.
"It got progressively worse throughout that summer," she said.
At one point, she had to use crutches.
"That fall, it was really painful," she said. "It hurt to walk."
She tried physical therapy in August but it didn't help. The 2003 Lake City High graduate went for an MRI on Dec. 30, 2016, thinking it would confirm a torn meniscus.
It was worse.
"They found a softball-sized tumor right at the top of my tibia," she said.
At the time, she was also 20 weeks pregnant with her first child.
A bone biopsy a few weeks later confirmed it was osteosarcoma, a form of cancer. So, she and husband Mick had some big decisions to make quickly, Gray said.
Their choices were chemotherapy, and then either an amputation or limb-salvage surgery, which would be followed with more chemo.
"Because I was pregnant, we would have lost my son," she said.
The decision: forgo the first round of chemo and have the leg amputated above the knee, on Feb. 1, 2017.
"They let me carry my son until 34 1/2 weeks and then induced labor," she said.
Dillon, born April 10, 2017, spent eight days in ICU and was fine.
Two weeks after he was born, Jenny started high-dose chemotherapy that continued for nearly eight months.
It was a long, painful road, but she is recovering.
She has her family.
She is working again.
She is walking again.
And next, the 35-year-old plans to run again.
CAF Grant for prosthetic
The Idaho chapter of the Challenged Athletes Foundation recently celebrated its one-year anniversary with $231,538 in grants distributed to 111 Idaho athletes since May 2019.
Headquartered in Boise, CAF-Idaho provides funding for training, travel and adaptive sports equipment not covered by medical insurance.
The foundation also hosts camps and clinics alongside elite coaches and Paralympians to train new and established athletes as young as 3 years old, across more than 25 different sports.
"CAF-Idaho provides funding and programs that highlight and amplify the tenacity of the adaptive sports community in Idaho," said Regional Director Jennifer Skeesick. "Our athletes wrote the book on overcoming adversity. What we're doing is empowering them to continue crushing their goals."
Across the state, nearly 600 Idahoans with permanent physical disabilities are members of CAF-Idaho.
Whether it's a grant for personalized training, hockey sled, basketball wheelchair or sit ski, CAF-Idaho helps hundreds of Idaho athletes.
"No one can afford what CAF provides here in Idaho," said Willie Stewart, CAF-Idaho Ambassador and Paralympian. "My arms alone cost $25,000. No insurance company pays for that, but CAF does. CAF is a game-changer in Idaho."
Gray applied for the grant last fall and recently learned she received it. It will provide a prosthetic running leg expected to arrive soon. She already has a walking leg.
"I'm to a point now where it feels pretty good. It's uncomfortable, but it's always going to be to some degree," she said.
The running prosthetic, Gray said, "will help tremendously."
However, it's not a matter of putting it on, bounding out the door and covering 5 miles. There will be plenty of trial and error.
"It's going to be a steep learning curve," she said. "I can't wait to get going and learn how to run."
Down and but back up
Gray (last name of Mick then) was a sprinter on the LCHS track team that won the state title her senior year. She ran the 4 x 100 relay and the 4 x 200, both which took first place, the medley relay, which placed third, and ran in the 100 and finished eighth. She also played varsity soccer and basketball.
"I was always active in sports," Gray said.
She attended Montana State University her freshman year, then went to North Idaho College, where she played soccer. She finished up her degree in natural resource management at the University of Idaho and went on to earn a master's in environmental science and later worked for the Forest Service for 12 years.
Much of her life has centered around sports and being active.
"I'm trying to rebuild and get back to a sliver of my former self," Gray said. "It's not just the running side of it. Any sort of activity is integral to my being."
The year 2017 put her to the test — cancer, amputation, chemotherapy and being a new mom.
The outdoors had long been her coping mechanism.
"When I lost that and was enduring chemo, that was the biggest hurdle," Gray said. "Because I didn't have that outlet, I felt trapped in my own body. I felt horrible. I felt disabled."
Depression set in.
"I was really in a dark place for a while," she said.
In the last 10 months or so, she's been feeling good and follow-up scans have been positive. The 35-year-old has been exercising and hiking.
"A 10-mile hike was my norm in the past; that's hard now. And hills are really hard without having a knee. So these guys go with me everywhere I'm hiking," she said, motioning toward her walking sticks on the table.
"But I'm definitely getting stronger."
Sources of inspiration
She found motivation in family, particularly husband, Mick, and son, Dillon.
Of Mick: "I don't know what I would do without him. He doesn't let me wallow. I hope I don't do that very often. There were times where it was hard to get out of that deep depression."
Of Dillon, who is 3:
"I want to get out and do stuff with him. It was hard at the beginning to know he wasn't going to know me as I was before, but that's OK. I'm his mom and it doesn't matter. I don't think he even notices.
"I'm just trying to normalize that for him as he grows up, be a good role model for him, show him what perseverance and determination look like."
Perhaps her biggest source of strength came from her mom, Simone, who battled brain cancer for nearly two decades before dying in September 2011. She faced her illness with courage, Gray said.
"I had this phenomenal role model my whole life to deal with adversity," Gray said of her mom. "She's a huge motivating factor for me. I miss her tremendously."
Gray, born and raised in Coeur d'Alene, has since learned she has a genetic mutation that predisposes her to cancer.
"We now know the genetic part of it came from my mom's side, so that's been really hard," she said.
Today, she is feeling better, optimistic. She works 30-hour weeks as an environmental health specialist with Panhandle Health District. She loves family outings, which include their 85-pound dog, Rudy.
"I've regained a lot of my mobility, so that has been the biggest help for me in terms of my mental health," she said. "I don't fear the unknown any more. I tolerate it, because that fear just put me in a bad place. Getting back to some form of activity level has really helped me."
She is confident running again is going to help even more — more drive, more energy, a return to life as she once knew it.
"Life was interrupted big time," Gray said. "We're just trying to get back in the swing of normalcy."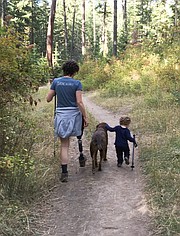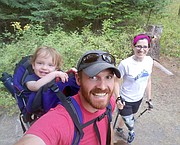 Recent Headlines
---