Dead bait is still best for lunker pike in big bays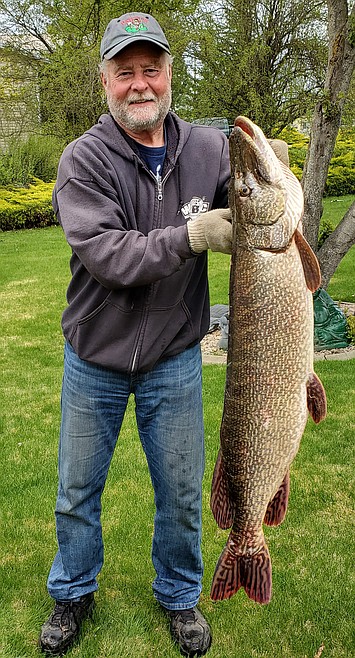 Dave Landon of Post Falls hooked a 28 -pound pike this spring that was 45-inches long. He used dead herring and it took 15 minutes to pull the fish from Wolf Lodge Bay after his line got wrapped around piling.
Courtesy photo
by
RALPH BARTHOLDT
Staff Writer
|
May 21, 2020 1:00 AM
Once the bobber moves, light a cigarette and smoke it.
Crack a beer or soda, if you have one, and when the cigarette is done and the beer is empty go ahead and set the hook.
That is the story old timers would tell Jordan Smith of Fins and Feathers Tackle Shop and Guide Service in Coeur d'Alene.
"These are real things they would do," Smith said.
There was a method to the matrix.
Pike in spring grab a dead herring or smelt that is hooked by an angler with two trebles and hanging under a bobber — or lying on the bottom — and run with the bait to eat it elsewhere.
"They might drop it and then come back and pick it up and eat it somewhere else," Smith said. "It takes a lot of patience."
Dave Landon of Post Falls has the patience for spring pike fishing. He hooked a 28-pounder this spring that was 45-inches long. He thinks he will hang the pike on his wall.
"It's a once-in-a-lifetime thing probably," Landon said. "I will like looking at it."
Retired from a company that installed elevators in residential homes in the Northwest — many around Lake Coeur d'Alene — Landon began pike fishing seven years ago.
"I bring a lawn chair and read a book," Landon said. "I'll sit 10 or 12 hours a day, once or twice a week."
It snowed his first time out. He sat in the pickup on shore in the spring squall with his son, and when the big bobber that hung above a dead herring attached to a treble hook went down, Landon learned it wasn't called a "bite," but a "run."
"You watch the bobber take off, and you wait a good five minutes," he said.
So far this spring has been good for pike aglers.
Mountain snowpack was above average in March and because of cold nighttime temperatures, the snow melted slowly, bringing up lake levels in easy fashion, which extended the pike fishing.
It is harder to fish from a flooded shore.
Landon caught his big pike in Wolf Lodge Bay and it wrapped itself around a couple piling, but didn't break off.
That is because Landon uses 45-pound braided line.
"There's a good chance they will wrap around something," he said.
It took him 15 minutes to land the fish.
So far this spring he caught a 20-pounder and and 18-pound fish, and a lot of smaller pike.
He releases most of them, but he decided to keep the big one because who knows if he'll catch another that size, he said.
He caught a couple dozen pike altogether this spring, he said, in the northern part of the lake.
Many spring pike are caught in Cougar, Mica, Blue Creek and Neachen bays … any of the big bays are good pike haunts in spring, Smith said.
Using dead baits — herring or smelt hooked with a double treble, one in the head and the other behind the dorsal fin, and a long steel leader, either under a bobber or on the bottom will catch fish, he said.
"It's the best way to catch big fish in the spring time," he said.
As water warms and pike finish spawning, they will begin to attack moving lures, he said.
Landon doesn't worry too much about throwing spoons or spinners over emerging weed beds.
He has time.
Although the best spring, dead-bait pike fishing may be coming to a close as pike become more active, feisty and more prone to chase live food.
And the water levels are coming up as warmer weather and rains melts mountain snows more rapidly.
"We didn't get a good runoff until now," Smith said. "Lake levels should be coming up 2 feet this weekend. Which is a lot."
Recent Headlines
---