Catching for cash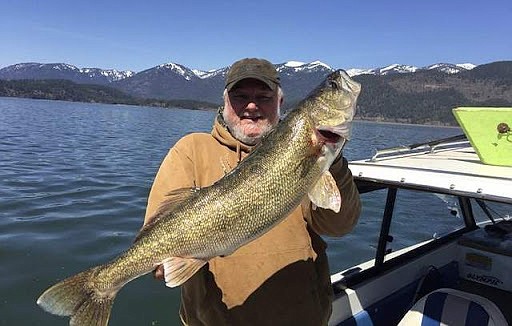 Kevin Sawyer of Sandpoint with a Lake Pend Oreille walleye.
Courtesy photo
by
RALPH BARTHOLDT
Staff Writer
|
May 21, 2020 1:00 AM
LPO walleye can net big winners
Idaho Fish and Game will kick off the second year of its walleye lottery that allows anglers who hook walleye to win prize money.
Anglers can catch walleye implanted with a microscopic, $1,000 reward tag in their snout, detectable with a scanner. Anyone who submits a tagged head will automatically win. Each head becomes part of a monthly drawing — 10 each month — for $100 apiece.
None of the $1,000 tagged fish were submitted last year, but fisheries managers plan to add 50 more $1,000 tags to the pool for Memorial Day anglers.
"Our goal is to tag an additional 50 high-dollar reward fish ahead of Memorial Day weekend," said Ken Bouwens, mitigation staff biologist for Fish and Game.
Last year, the majority of walleye caught by lottery participants came out of the northern half of the lake, where the waters are generally shallower and warmer.
"In early May, walleye anglers were finding fish in the Clark Fork River and on the Clark Fork River Delta. Now that the walleye spawn is predominantly over, the Clark Fork and Pack River Deltas and the shallow warming bays west toward Sandpoint should be good bets in the coming weeks," fisheries research biologist Pete Rust said.
Data from last year showed the Sandpoint long bridge and Clark Fork River delta had higher numbers of walleye. The Pend Oreille River near Laclede and Clark Fork River also had high numbers in the summer.
Fish and Game uses lottery fish to collect data including size, location and date of harvest, which helps biologists understand how recreational angling affects the walleye population in Pend Oreille.
Because walleyes are predator fish, biologists are concerned that an unmanaged walleye population could threaten the lake's kokanee and rainbow trout fishery, similar to how introduced lake trout helped collapse the fishery in the 1990s and early 2000s.
Fish and Game operates a suppression program — which includes commercial netting — meant to keep walleye numbers in check, according to Fish and Game.
Anglers last year submitted a total of 785 walleye heads, close to the number of walleye removed during spring netting efforts. For more information on the program, as well as fish locator maps and walleye data, visit the Fish and Game website.
Recent Headlines
---