Latest wake boat rules laid out this week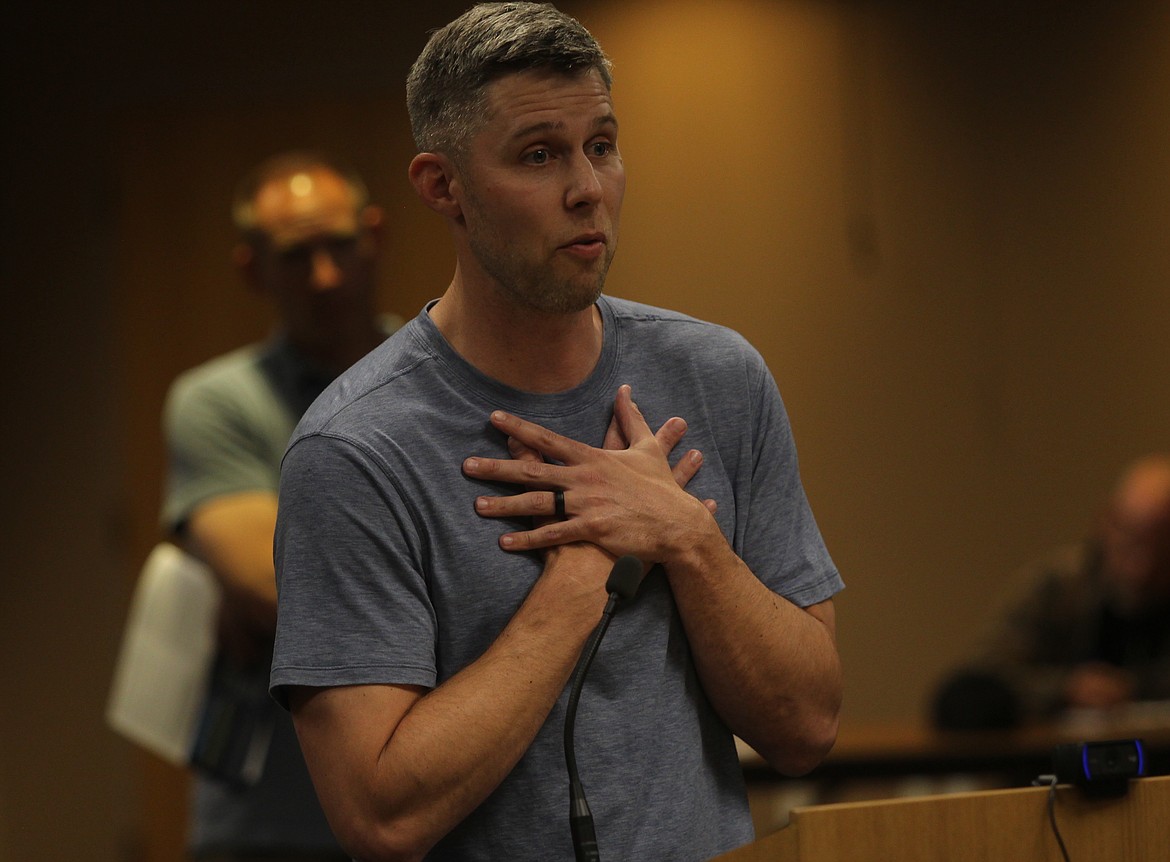 At a Tuesday night meeting, wake boater Casey Price gives an empassioned plea to county commissioners to maintain the status quo on wake boat rules on the Spokane River where he lives and recreates.
(RALPH BARTHOLDT/Hagadone News Network)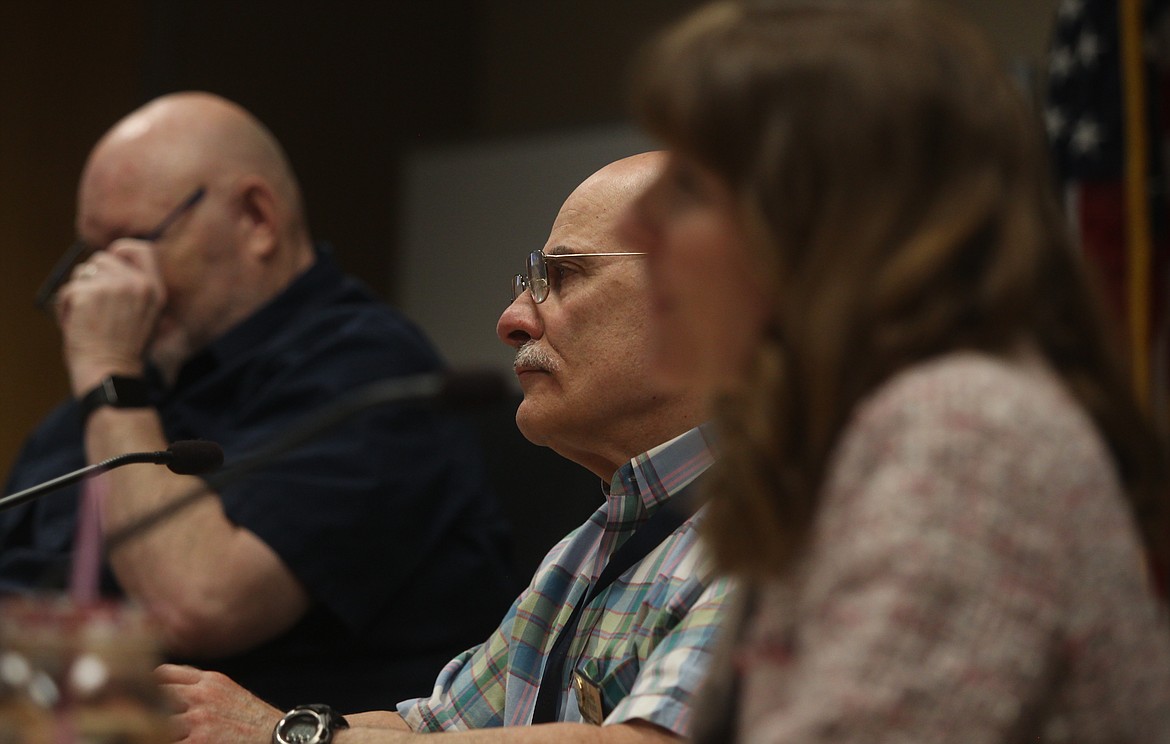 County commissioners, Bill Brooks (from left) Chris Fillios and Leslie Duncan listen to in-person public testimony Thursday at a hearing regarding wake boats in the county. RALPH BARTHOLDT/Press
Previous
Next
Tuesday meeting draws even-keeled crowd
In a split down the middle, 24 people addressed county commissioners in person Tuesday evening to decry the use of wake boats on the Spokane River, or to urge commissioners to allow wake boaters to continue to ply the waters between Coeur d'Alene and Post Falls with no further restrictions.
Another 40 people prepared to address commissioners via ZOOM as part of a three-hour meeting at the county administration building that began at 6 p.m.
Participants waited in the hall and shuffled into the broad conference room — 12 at a time — to address commissioners before leaving the room, and yielding their place to another commenter.
The pleas ranged between passionate appeals to save the river, its banks and natural places from the erosion produced by wake boats, to practical petitions on how to work together to allow wake boating to continue on the 10-mile stretch of river.
Sheriff Ben Wolfinger started the meeting by explaining the difficulty his marine deputies have in enforcing a vague, three-decade-old law that prohibits excessive wakes on county waterways without defining the term.
"It was unenforceable," Wolfinger said.
The latest proposal limits boats to a narrow corridor near the middle of the river, 200 feet from shore. The sheriff's office will add another marine unit this summer, he said, and Post Falls police will add a unit of its own to patrol the west end of the river.
The latest proposal, however, didn't sit well with boaters and river groups alike.
Susan Stiger, who represented the group River Friends, said the 200-foot setback would make a dangerous, narrow wake boating lane down the middle of the river, while the wake from the boats using the lane wouldn't be sufficiently dampened.
"(It) will push all the boats into one lane," Stiger said.
Even at a 300-foot setback from the shore, excessive waves from wake boats will damage the shore line.
"The bottom line is boats making excessive wakes don't play well with others," Stiger said. "They dominate the river."
Casey Price lives on the river, owns a boat and has four sons who love to wake board. As a conscientious boater, Price said he can manipulate the waves his boat throws. Limiting boats to the center lane of the river would prevent him from creeping closer to the shore and throwing his wake to the center of the river.
"I'm not allowed to disperse my wake," he said.
He asked commissioners to keep the current law, and encourage dock owners to maintain their docks to prevent them from being damaged by waves.
"Half the docks in winter are submerged," Price said. "That causes more damage than any waves."
Kirk Hill agreed that living on the river comes with a price. He grew up on Hayden Lake, plying North Idaho waters. When he purchased land on the Spokane River Hill, he understood that annual maintenance was a necessity.
"If you live on a golf course, you're going to get a ball once in a while," Hill said. "If we can't use our boats on waters in Idaho, that is way more devastating than any dock (damage)."
Others, like Don Parrish, asked the commission to ban wake boats altogether. Parrish likened boats that throw excessive wakes to motorists speeding through school zones.
"We're suffering abuse from wake boats," Parrish said.
Repairs to his sea wall that he attributed to wave action from boats cost $8,900, Parrish said. And he paid $3,500 to repair his dock. Wake boats can motor out to Lake Coeur d'Alene in 20 minutes where it's safe to throw a big wave.
Commissioners received — and read — almost 400 emails from people who didn't show up to comment Tuesday evening, but wanted to have a say. Many of them were what Commissioner Bill Brooks called "cookie cutter" emails that used the same letter and that, he said, were supplied by the boating industry.
But the majority, he said, asked to limit wake boats on county waterways, especially on the Spokane River.
The river already has a speed limit, and having a 300-foot setback from shore is impossible, he said.
"It would close the river to boating," Brooks said.
Commissioners will make a decision this week on how to deal with the issue.
At a hearing at 11 a.m. Thursday available to view via live stream, commissioners will outline their latest plan.
"We wanted to have something in place by Memorial Day weekend," Commissioner Chris Fillios said.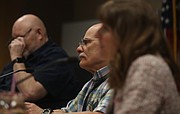 Recent Headlines
---