HOW THEY WERE BUILT — Post Falls girls basketball: After coaching boys for years, Allert guided two girls teams to titles
At some point, Marc Allert knew he wanted to get into coaching.
Little did he know at the time, it would wind up being at his alma mater.
"I went to NIC (North Idaho College), then Boise State and played basketball at Boise State for a year," said Allert, a 1981 graduate of Post Falls High. "I was young, dumb and stupid and then came back home. It was probably one of the bigger mistakes I've made, or biggest regrets."
Allert transferred to Eastern Washington where he studied exercise physiology. It was there when Allert got into coaching.
"I started helping out when I could at Post Falls," Allert said. "I was living in Post Falls and Spokane while I was going to Eastern. I enjoyed basketball, and I knew I wanted to coach. I started helping Larry Alexander, then Hugh Hobus and volunteered when I could."
After graduating from Eastern, Allert ended up teaching at Post Falls as well as coaching in the boys basketball program.
"I started coaching the freshman boys basketball team," Allert said. "(Mike) McLean was on the team that I coached. Then one year when Wade (Quesnell, now the track and field coach) was coaching, I was an assistant for him. Once Scott Moore took over, I took over the JV boys job and did that for 20 years between different coaches."
That included McLean, who took over the Post Falls boys program in 2007.
"I was going to quit coaching because my kids were young," Allert said. "Then Mike got the job and he asked if I'd stick around, so I did that."
The decision to stick around wasn't a difficult one.
"He didn't have to talk to me very hard," Allert said. "It's something I've always enjoyed doing. My kids were little, and I wanted to spend more time at home. But when he asked, I couldn't turn him down."
Allert was an assistant on the boys team that won the state 2010 5A title alongside McLean.
One year later, Allert would make the switch from boys basketball coach to girls basketball coach at Post Falls, a move which has resulted in a pair of state 5A championships for the Trojan girls, in 2013 and '18.
Allert took over the girls program in 2011 after Chris Johnson stepped down. Johnson coached Post Falls to 4A girls titles in 2002 and 2003.
"It was different," Allert said. "My kids were freshmen when the job came open. It was an opportunity to coach my own kids. I'd coached them through AAU and had that same group on varsity. In the end, it was having the chance to share those experiences, and it was a great time to get into the girls program. And I've enjoyed it ever since."
Those first few practices in his first year as girls coach were an adjustment.
"At least three times a day, I'd say to myself that boys would never do that stuff," Allert said. "Just they way they handle some stuff, it was different. Debbie Holte (then an assistant coach at Post Falls, and later a head coach at Genesis Prep) would just tell me to let them be."
As far as expressing his views on a play ...
"You've got to figure out what pushes their buttons," Allert said. "Some you can yell at and get on, and some you can't. But you can't just scream and holler at them. Some of the players, they need it and some they don't."
And as Allert learned, those players in his first few years, they didn't need to be told twice.
"My first year, those kids like Dani (Failor), Katie (King) and Brooke (Litalien), they were juniors," Allert said. "As sophomores, they'd won six games. I got lucky because Chris Johnson built a great program and had some great kids coming up. He really did a great job with that program."
In the 2011-12 season, Post Falls improved to 12 wins, but still no state tournament berth.
Over the summer, Hallie Gennett transferred from University to Post Falls, adding another shooter to the Trojans roster.
The following year, Post Falls went 24-1, and captured the fourth state title in program history (the Trojans also won in 1983).
"We won 24 games, but a lot of that had to do with Katie, Brooke, Dani and Hallie," Allert said. "They just refused to lose. They're all very competitive and were just done losing and that lifted everyone else on the team up. We got lucky and Hallie moved in and that wound up being the missing piece. That was the player we needed."
Post Falls won 15 straight to start the season, with the lone loss coming at Coeur d'Alene (47-41) in a 5A Inland Empire League game. Post Falls concluded the season with nine straight wins, including wins over Coeur d'Alene in the regional championship game and eventually, over the Vikings in the state 5A championship game.
"That was all the kids, and little to do with me," Allert said. "A lot of them had played with the Coeur d'Alene girls on an AAU team. Before, Coeur d'Alene had beaten them up pretty good. That summer, we'd beat them in a summer league game, and that gave them some confidence."
At state, Post Falls beat Mountain View of Meridian in the opener. That team included freshman Destiny Slocum, who went on to star at Maryland and Oregon State, and is now at Arkansas as a grad transfer. In the semifinals, Post Falls edged Highland of Pocatello 42-41. That year, the Rams were led by twins Dakota and Dylan Gonzalez, who went on to play at Kansas and UNLV.
In the 2013 title game against the Vikings, at the Ford Idaho Center in Nampa, Failor hit two free throws with 5.6 seconds remaining in overtime to give the Trojans a 46-44 lead. A Coeur d'Alene shot to win the game bounced off the back of the rim at the buzzer.
Of those on the Post Falls roster, King (NIC), Marc's daughter Shayna Allert (Walla Walla/NIC), Litalien (Lewis-Clark State), Failor (Army), Gennett (Sacramento State/San Diego State) and Samantha Runkle (Lewis-Clark State) went on to play college basketball. Coeur d'Alene's team included Sara Chalich (Carroll), Caelyn Orlandi (Lewis-Clark State), Brittany Tackett (Lewis-Clark State), Kayli Matheson (Columbia Basin), Kendalyn Brainard (Great Falls), Tabitha Wellsandt (Walla Walla) and Sydney Williams (San Diego) that played in college.
"Looking back, we had six kids that went on to play in college on that team, and Coeur d'Alene had seven," Allert said. "It was a competitive game. In the title game, we were down five points with 1:30 remaining and ran an inbounds play. Every kid went to the wrong spot on the floor. We threw the ball into Lexi Smith, and she hit a 3-pointer. I remember walking down the sideline, thinking we're going to go 23-2 and it's going to be a bad season. But it was just their will to win."
Between 2007 (Lake City) and 2014 (Coeur d'Alene), each state title during that eight-year stretch was won by a team from the 5A IEL. The Vikings won four of them.
"Going into state, you're pretty well tested, especially playing in our regional tournament," said Allert, whose team snapped a string of two straight state titles by Lewiston in 2011 and 2012. "Lewiston was good at that time too, and you're pretty prepared going into state. My second year, I didn't know what to expect going down. To go down as a group, and it being our first time being there, and win, that's a tough thing to do as well."
In 2017, Post Falls advanced to the state 5A semifinals, but suffered a semifinal loss to Eagle. The following year, Post Falls broke through again, beating Eagle in the championship game behind Gonzaga-bound post Melody Kempton.
"It comes down to leadership," Allert said. "Dani was the (state) Player of the Year in 2013, and Melody did the same kind of thing in 2018."
Others on to college basketball from that 2018 squad included Bayley Brennan (Division II Seattle Pacific), Tyler McCliment-Call (Portland), Jacksen McCliment-Call (Portland) and Katie Fleming (Wenatchee Valley). Both Macky Morris (Division II Stanislaus State) and Sydney Parks (NAIA Montana Tech) opted to play volleyball in college.
"The players from 2013 and 2018 were very similar and very talented," Allert said. "I've been asked which are the best, and it's hard to tell. The second team might have been a little more talented, but the 2013 team, they just found a way to win."
After losing in a state play-in game in 2019, Post Falls returned to state this year, losing in the consolation championship and finishing 14-12. The Trojans graduated four seniors off this year's team.
"For me, I guess I don't really run the same kind of system each year," said Allert, who has coached the Trojan girls for nine seasons. "It changes with the players each year and takes a while for them to find their identity and what they're good at. We had some shortcomings, but excelled in the things that they did well. They fought through some adversity and just found a way to get the job done. I enjoyed last year's team. They accomplished everything they could. They got the maximum out of what they did, which is all you can ask for as a coach."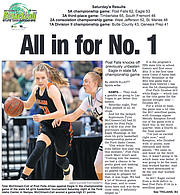 Recent Headlines
---