Couples threatens, shoots disabled man at Eddyville
by
RALPH BARTHOLDT
Staff Writer
|
May 20, 2020 1:00 AM
A Kootenai County couple was arrested and released for shooting two rounds from a pistol at their disabled roommate near Eddyville.
Renee N. Fain, 47, is charged with criminal conspiracy and resisting police, and Bradley S. Horne, 55, is charged with two felonies including aggravated assault, aggravated battery and resisting arrest for an incident last week in a mobile home on the northeast side of Lake Coeur d'Alene.
Police said the couple threatened to kill their disabled roommate, Michael W. Benn, as he sat on his bed in his room.
Benn told deputies Horne pointed a pistol at him and then raised the barrel and shot two rounds into the wall behind Benn's bed. Shortly after the shooting, Fain threatened to kill Benn, according to a police report.
Benn, who told deputies he doesn't own a phone and he has difficulty walking because of disability, fled in his vehicle and took up residence at the Motel 6 in Coeur d'Alene, where he called authorities.
A magistrate judge on Friday set bail at $5,000 for Fain, and $30,000 for Horne. Both of them posted bail and have been released from the Kootenai County Jail.
Benn told authorities that he argued with Fain last Thursday and asked Horne to evict her from the residence. Horne and Fain drank alcohol much of the day and in the afternoon Horne walked into Benn's room and shot over his head with a .22 caliber pistol before striking Benn on the side of the head with the magazine end of the pistol grip, slicing open Benn's scalp.
Benn said he feared for his life when he left the trailer and drove the 15 miles to Coeur d'Alene.
When deputies arrived neither Horne nor Fain immediately came out of the residence. When Horne exited, he refused to follow the deputy's commands and was shot with three bean bags before being arrested.
Horne told deputies he prevented Benn from committing suicide, and had taken the Ruger .22 away from Benn, who shot the two holes into the bedroom wall instead of shooting himself in the head.
The couple will have a preliminary hearing within 21 days in Coeur d'Alene's First District Magistrate Court.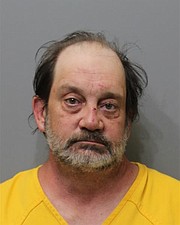 Recent Headlines
---