TIME'S ALMOST UP
by
CRAIG NORTHRUP
Staff Writer
|
May 19, 2020 1:15 AM
Deadline today to request ballot
It's Election Day, so you know what to do.
Go to your mailbox.
In a historic twist, all voting in this primary election is being done by mail. Today is the deadline to request a ballot, which then must be returned no later than June 2.
Kootenai County's preparation is breaking all kinds of internal records, from the number of employees processing outgoing ballots to the sheer number of absentee ballots requested to the number of hours the office is cranking through.
"We were here all weekend with our team," chief deputy clerk Jennifer Locke said Monday. "We received that mailer from the [Idaho] Secretary of State's office, and we've been preparing ballots ever since."
By end of day Sunday, 34,466 ballots were sent out, with another estimated 2,000 to 3,000 sent out Monday.
"This process has been a hastily planned process," said Kootenai County clerk Jim Brannon. "We're just trying to keep our heads above water."
That much-needed breathing room became a necessity, Brannon explained, after the coronavirus crisis forced Gov. Brad Little and Secretary of State Lawerence Denney to decide March 29 to hold an absentee-only election in an effort to protect the population from the coronavirus.
"There was no plan to do this before COVID hit us," Brannon said. "We're just doing the best we can."
So far, the Elections Office has received back 14,430 ballots; 108 were invalidated due to voter error, leaving the official count so far at 14,332 votes. This year's primary gives voters from both major parties plenty to consider for the general election.
Local Republicans will decide whether U.S. Rep. Russ Fulcher will continue to represent their party this November for his 1st District seat, or if challenger Nick Jones will win the party's bid for the seat. Democrats, meanwhile, will decide between military veteran Rudy Soto and University of Idaho's Staniela Nikolova for their party's bid.
While Jim Risch is running unopposed for the Republican Party's support for another term as U.S. Senator, Democrats will choose between Paulette Jordan and Jim Vandermaas for their party's ticket. Jordan is a former state representative and Democratic candidate for governor in 2018 in her losing bid against Gov. Little. Vandermaas is a telecommunication specialist and was a primary candidate for Idaho's 1st District Congressional seat, where he lost to Cristina McNeil.
While District 2 State Sen. Steve Vick is running unopposed in the Republican Party, Vito Barbieri is facing Russell McLain for the district's Position A House seat. Tim Kastning and Doug Okuniewicz, meanwhile, are squaring off in a heavily contested race for the district's B Seat, previously held by the since-expelled John Green.
Two Democrats are running unopposed in their party's primary for District 3's House seats. Christopher Matthews is the Democrats' choice for Position A, while Teresa Borrenpohl will be the Democratic nominee for Seat B.
While incumbent representatives Ron Mendive and Tony Wisniewski are both running unopposed in the Republican primary for District 3, the same cannot be said for the district's open Senate seat held by outgoing Don Cheatham. Marc Eberlein, Peter Riggs and Alex Barron are all running for the Republican nomination for that Senate seat.
In District 4, meanwhile, Rep. Paul Amador and Sen. Mary Souza are running unopposed for their Republican support. Rep. Jim Addis is facing a primary challenge from Pat Mitchell, though Mitchell has not responded to repeated requests for information, nor has he filed any contribution reports with the Idaho Secretary of State.
Two county commissioner seats are being defended by incumbents. First District Commissioner Bill Brooks is in a three-way heat against Nicholas Henderson and Dave Stewart, while 2nd District Commissioner Chris Fillios is facing challengers Greg Delavan and Elizabeth Jacobsen.
The Republican bid for Kootenai County Sheriff has come down to a four-way race. Robert Norris, a 30-year law enforcement veteran, and Kim Edmondson, a captain with 28 years in the Sheriff's Office, are in a neck-and-neck donation race for the position. Richard Whitehead, meanwhile, is touting more than 40 years of law enforcement experience and his staunch support for the U.S. Constitution. John Grimm is pushing his business acumen front-and-center for his bid for the position. The four seek the position held by Ben Wolfinger, who is retiring at year's end.
Aside from party precinct committee members, voters will also mark their choices for the Idaho Supreme Court and Idaho Court of Appeals. Justices Gregory Moeller and John Stegner are running unopposed to return to their seats on the Supreme Court, while Amanda Brailsford is running unopposed for her seat on the Court of Appeals. All three are non-partisan.
Barry McHugh is running unopposed on the Republican ticket to return as the county's prosecuting attorney. The Democrats are not running an opponent for his seat.
Kootenai County residents will also answer a pair of advisory votes on their ballots. Local initiatives ended up pushing two questions into the primary this year: Do you support the use of Urban Renewal Districts in Kootenai County? And do you support the establishment of a community re-entry center — in what is also being called a prison release facility — within Kootenai County?
Bayview residents will decide on a $3.4 million water bond. Locals will vote whether or not to allow the Bayview Water and Sewer District to sell its water revenue bonds to pay for part of the costs of improving the water system. The principal amount, if passed, would not exceed $3.4 million. The total amount paid over 30 years would be no more than $4,372,660 after interest.
Voters have until 8 p.m. today to either request their ballots online at idahovotes.gov or visit the Kootenai County Elections Office to make their formal request. Ballots must be received back in the Elections Office no later than June 2. Results will not be posted until June 2 at the very earliest.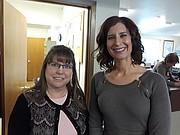 Recent Headlines
---