Sheriff's Blotter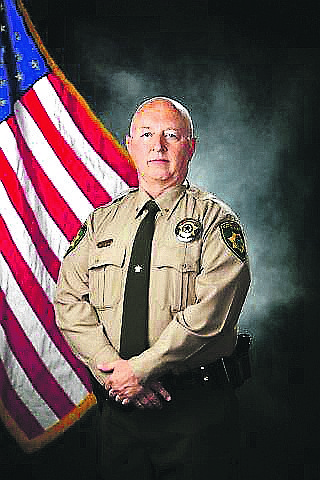 Notable calls for the day!
05-15-2020
Day Shift responded to the following calls:
• Deputies handled a residential burglary report at W. Ferrell Rd. in Huetter. The suspect took the victim's blue and white full suspension Murrel Mountain Bike and left a less valuable bike in its place, with flat tires. A drone, a tablet, and several other items were also taken. 20-17679
• Detectives arrested a male for drug charges. 20-17670
• Deputies responded to a physical disturbance involving a male adult and his care takers. The male battered two of the female workers and attempted to crush one with a lawn mower. He has a history of battering care takers. Both of them wished to pursue charges so the male was arrested for aggravated assault and simple battery. 20-17693
• Deputies handled a theft at Walmart in Hayden involving three females who were not correctly ringing in their items at the self-check out. The females were all cited for theft. 20-17697
Swing Shift responded to the following calls:
• Deputies responded to a suicide threat on Pend Oreille Avenue. A male was "freaking out" and threatening to cut his wrists. He was taken KH for treatment. 20-17704
• Detectives stopped and arrested a male for possession of drugs. 20-17709
• A Deputy stopped a vehicle in the Stateline Village driven by a male who has had several recent law enforcement contacts, including an incident where he was arrested for firing a gun across the highway and a contact with a Deputy yesterday (burglary report), where he admitted recent marijuana use. A K-9 handler and his K9 partner arrived and alerted on the vehicle. A search of the vehicle reveled Mara/Para. The male was cited and released. 20-17739
• Deputies responded to an agency assist for Coeur d'Alene PD reference a burglary in progress at the Coeur d'Alene Honda Dealership. While CDA PD K-9 Officers were on a track for the possible suspect, a K-9 Deputy and his partner cleared the building with negative results and deputies cleared without further involvement. 20-17745
• Deputies responded to N. Government Way for a possible verbal domestic. Units contacted a male and female. Both subjects are have some mental health issues and believe people are out to get them and that they are both members of outlaw motorcycle gangs. There was no domestic. 20-17747
• Deputies stopped a vehicle in the Stateline Village and arrested a female for Mara/Para and Possession of LSD. 20-17775
Night Shift responded to the following calls:
Deputies responded to Weir Road for welfare check. It was reported that a male was intoxicated and making vague suicidal statements. As the first deputies arrived in the area they heard several volleys of rapid gunfire coming from the residence. It was determined that male was home alone, and often shoots his firearms to relieve stress. Several attempts were made from the roadway to contact the male by telephone, however, only messages could be left. After speaking with his wife, who was in Spokane, it was determined not to make contact with the male in person. The wife stated she would follow up with him in the morning, and call if KCSO assistance was needed then. 20-17752
• Deputies responded to N Government Way for a possible domestic dispute a male and female. Deputies responded to the same location earlier for a verbal domestic. A neighbor had called in stating the two were yelling and arguing again. After speaking to the female, she stated her father was at the residence and threatened to kill her, however, the male claimed her father never came to the residence, but he saw him across the street. The female then stated she never saw her father, but heard him through the door. The neighbor stated the father was never at the residence, but the neighbor knocked on the door trying to return female's cell phone which was located in the hall. Both are schizophrenic and are not currently taking their medication. FI completed. 20-17747
• A few hours after the above mentioned incident, fire was dispatched back to the residence for a smoke alarm. Deputies responded and learned that the couple were heating their already very hot apartment by turning on all the burners and oven to the highest setting, which caused the smoke alarms to go off. They argued that this was not a fire hazard as long as a fan was running and the male claimed that by warming up the house, his heat vision protected him. The oven and stove were turned off. 20-17771
• A Deputy stopped a vehicle at Hayden and Baack and subsequently arrested the driver for DUI. 20-17767
Notable calls of the day!
05-16-2020
Day Shift responded to the following calls:
• Deputies responded to W. Twin Lakes Rd regarding an unattended. The investigation determined nothing suspicious and the death was related to natural causes. 20-17827
• Deputies responded to Cave Bay Rd. X Windy Bay Rd regarding a crash. Upon his arrival he learned the driver came around the curve, ran over sand and laid down his motorcycle. The crash was non Injury and they were able to move the motorcycle off the road prior to his arrival. 20-17856
• Deputies responded to W. Meadowbrook Lp. regarding a possible Domestic Dispute. It was learned no crime had occurred. 20-17867
Evening Shift responded to the following calls:
• Deputies responded to Signal Point Rd. and Mariah Rd. for an injury UTV accident. Upon arrival it was learned an adult male was driving the UTV at excessive speeds. He had a 16 YOF passenger inside the UTV and an 18 YOM passenger in the bed. He took the corner too fast and began to lose control, rolling the ATV. His two passengers were transported to the hospital with serious, but non-life threatening injuries. The adult driver exhibited the symptoms of intoxication and failed SFST's and provided breath samples of .118/.114. He was arrested for aggravated DUI and also cited for MIP alcohol, fail to purchase a driver's license and fail to provide proof of insurance. 20-17882
• Deputies responded to the area of Blue Creek Landing for an unknown injury accident, which was received by a crash notification sensor on a vehicle. Upon arrival, it was learned the vehicle was occupied by four juveniles. The driver was driving at excessive speeds on the gravel and lost control, causing the vehicle to overturn. There were no injuries. 20-17892
• A Deputy attempted a traffic stop on a vehicle near Highway 53 and Pleasantview Rd. The driver failed to stop and took off at a high rate of speed. Occupants of the vehicle began throwing items out the window near Curley's bar. A pursuit ensued into Liberty Lake where the vehicle crashed near Wellesley Ave. and Star Rd. The driver took off on foot, but was captured a short time later and taken into custody without incident. The driver was identified who had felony warrants out of Bonner County. There were two passengers in the vehicle who were released without charges. The suspect was arrested by Spokane County SO. 20-17932
Night Shift responded to the following calls:
• A Deputy responded to the Twin Lakes Boat Launch for a disorderly subject. It was reported that a male was confronting the reporting party about fishing at the boat launch. At one point the male demanded the reporting parties fishing license and when questioned why he stated he was law enforcement, however, the reporting party had no belief that he was in fact law enforcement. The male was contacted further down the road and admitted to asking for the license because he was annoyed that the reporting party's children were using flashlights, but denied making any statements about identifying himself as law enforcement. During the contact, male's wife was found to have marijuana on her. The reporting party did not wish for the male to be cited for any violation, and only wanted him talked to. The female was cited for possession of marijuana/paraphernalia, and male was warned about misrepresenting himself as law enforcement. 20-17921
Notable calls for the day!
05-17-2020
Day Shift handled the following notable calls:
• Deputies responded to N. Handler for male who was having a breakdown. Deputies met male and his mother in the driveway, and were able to get him calmed down. 20-17957
• Several Units (including NLFD EMS) responded back to N. Handler about 30 minutes later due to male's mom advising he was out of control again and we "needed to take him." A Deputy who was working a detail radioed up and offered his assistance due to his strong connection with male. Deputies were able to converse with male in a calm manner and safely get him into the back of his patrol car wherein mom followed them to KH. 20-17957
• Several Deputies responded to the area of N. Waterford Lp. for a reported suspicious male allegedly peering into vehicles. On scene they contacted a male and learned a short time later, he actually belonged at a residence in the area that was his father's. 20-17955
Evening Shift handled the following notable calls:
• Deputies took a theft report at the Cd'A Casino. A woman had a casino voucher stolen while she was playing one of the games. The male suspect took off and Casino Security chased him into the "Swamp" area behind the Casino. The male could not be located. A report was completed.
• A Deputy took a crash report from the Canary Creek area. A male said he was driving his side by side and his brakes failed and he crashed. The male was able to be transported via private vehicle to KH where he was treated for minor injury. Deputies took the report at KH.
• Deputies responded to the Bunco Trail Head for an injury crash. A group of side by side riders were in the area above the Bunco. A female was celebrating her birthday and asked her boyfriend if she could drive the side by side. The female then rolled the vehicle and male was injured. The boyfriend sustained non-life threatening injuries and was transported to the parking lot and then taken to KH. The female was arrested for felony DUI .113/.108
• Deputies responded to the Tesoro at Sherman and I-90 for a suspicious call. The R/P called saying an unknown male wandered onto her property near the end of Folsom Ridge (in the middle of nowhere). The male was described as a younger African American male, with no shoes, a basketball jersey and workout pants. The male stated he was not ill or injured and needed to get back to Spokane. The R/P drove the male to the gas station to meet law enforcement. The male, refused to identify himself. He had several tattoos on his hands and face. Many of the tattoos had gang significance. The male made statements indicating he had been taken from Spokane and taken to the woods. He would not say what happened other than his shoes were stolen from him. Because there was no crime committed, the male was released after he refused any and all assistance from LE and medical.
Night Shift handled the following notable calls:
• Deputies responded to E. Country Ridge Ct. regarding a welfare check. The caller claimed to hear a child screaming and a female's voice. Deputies arrived and made contact with a female adult who advised her son had taken some candy and was not listening. There was no evidence of abuse and the child appeared healthy and happy. It was noted that the child did have a diaper rash. When asked, the mother said she did not have any ointment for the rash and finances were tight. One of the Deputies went to the store, purchased some diaper rash ointment and a toy for the child with his own money and delivered it to the mother. Great job Deputy! 20-18037
• A Deputy handled a cold domestic dispute from N. Government Way. A female advised her and her husband had been having recent issues due to his methamphetamine use. She said they have also been having issues with their car since it was involved in an accident. During the argument over the vehicle the female said the male spit in her face and then slapped her across the face. The male could not be located. A complaint request has been submitted for domestic battery. 20-10840
• Deputies responded to W. Dakota Ave. for an unwanted person. Deputies checked the residence and after the investigation, it is believed the female may be suffering from some sort of dementia related issues. 20-18046
• While on a security check in the area of Reed. Rd. and Snowflake, a Deputy could hear a male yelling in the area. Several Deputies responded to the area and narrowed down the area to be at an address on W. Capstone Ct. After searching the area, a male was located in the thick treed area to the east of the building. The male is a well-known transient. He was yelling because he could not find his dog. The male was cooperative and was left alone to sleep as no responsible for the property could be located. 20-18047
• Deputies handled a non-injury accident at Highway 95 and Prairie Ave. 20-18051
Recent Headlines
---