Best of the 2010s - #10-1
By TYLER WILSON
Coeur Voice contributor
After highlighting some honorable mentions and the #11-20 picks of my favorite movies of the 2010s, it's finally time to reveal the Top 10.
While all these movies are significant technical achievements, this list isn't necessarily the "objective best" titles of the decade. It's just one guy's opinion in this particular moment in time, though I'd argue they're pretty excellent choices.
Check out Coeur Voice online at CdAPress.com for previous installments in this series.
10. "The Social Network" (2010)
The combination of Aaron Sorkin's blistering script and David Fincher's cool, precise direction turns the origin story of Facebook into the quintessential story of America's growing social disconnection.
9. "The Hateful Eight" (2015)
Perhaps the most polarizing film of Quentin Tarantino's career, "The Hateful Eight" is long, obscene and relentless as it follows a group of silver-tongued monsters trapped in a snowstorm in the post-Civil War American frontier. Even the extended Netflix version, which clocks in at well-over three hours, is a masterful exercise in ratcheting tension. Masked behind the violence and cuss words is a bleak-but-stirring indictment of American race and gender relations.
8. "The Tree of Life" (2011)
The most visually stunning film of the decade, Terrence Malick's deeply intimate tone poem manages to believably integrate dinosaurs into a story of a man recollecting his formative years with his family in 1950s Texas. It also includes excellent Brad Pitt and Jessica Chastain performances - two actors who did some of the decade's best overall work.
7. "Boyhood" (2014)
Richard Linklater gradually shot this coming-of-age drama with the same actors over the course of 12 years, crafting an epic out of normal adolescence. Engaging from the start, the film builds to a surprising emotional catharsis as young Mason (Ellar Coltrane) reaches adulthood. It also boasts one of my favorite performances of the decade - Patricia Arquette as Mason's mom.
6. "Inception" (2010)
Thrilling, wildly ambitious and relentlessly entertaining, Christopher Nolan's science-fiction adventure about "dream-thieves" anchors its heist-within-a-heist-within-a-heist structure with a dive into the damaged subconscious of protagonist Cobb (Leonardo DiCaprio). There's something new and thrilling to discover with every re-watch.
5. "Parasite" (2019)
The most recent title on the list, Bong Joon-ho's Oscar-winning masterpiece begins as a domestic comedy-of-sorts before unspooling into a twist-laden thriller that explores the fundamental fracture between the wealthy elite and the rest of society. That theme is encapsulated brilliantly in the film's showcase sequence in which our protagonist family must traverse a city in a rainstorm - down, down, down - to their flooded, underground dwelling.
4. "The Wolf of Wall Street" (2013)
Another DiCaprio joint. He plays the charismatic Wall Street goon Jordan Belfort in Martin Scorsese's extravagant and propulsive biopic of how greed intoxicates and poisons all facets of American capitalism. It's a tough movie if you're looking for someone to "root for," but Scorsese crafts a sprawling entertainment around an eviscerating hit piece.
3. "Inside Out" (2015)
Pixar's brilliant exploration of the human mind, where the emotions of a young girl are personified by adorable little avatars voiced by the likes of Amy Poehler (Joy), Bill Hader (Fear) and Lewis Black (Anger). Deeply imaginative and consistently hilarious, "Inside Out" explores the universal truth about the value of both Joy and Sadness (in this case Phyllis Smith) in all our lives. This one brings out those signature Pixar tears every single time.
2. "The Master" (2012)
Writer/director Paul Thomas Anderson makes at least one great film each decade (his "There Will Be Blood" from 2007 is my pick for the best movie of the 2000s). "The Master" takes inspiration from the life of L. Ron Hubbard but branches out into a philosophical battle of morality between two men - Philip Seymour Hoffman's religious-leader Landcaster Dodd and a struggling World War II veteran played by Joaquin Phoenix. Deliberately obtuse at times, "The Master" reveals more of its incisive thematic ideas on every subsequent viewing, and the performative dance between Phoenix and Hoffman only grows more impressive with time.
1. "Moonrise Kingdom" (2012)
A deeply personal choice, if only because of the warm feeling it gives me on every single viewing. Wes Anderson's whimsical coming-of-age tale of pre-teen lovebirds provides all the signature Anderson aesthetics (fanciful and detailed production design, blunt-but-lyrical language, Bill Murray) in a package that celebrates the awkward-but-thrilling nature of adolescent passion.
Every moment inspires emotion, anchored by the two young leads (Jared Gilman and Kara Hayward), who frequently steal moments away from pitch-perfect supporting performances by Edward Norton, Frances McDormand and even Bruce Willis. It inspires an emotional response not unlike what Joy and Sadness discover about each other at the end of "Inside Out." "Moonrise Kingdom" is a movie that feels like "mine."
• • •
What are your favorite movies of the 2010s? Share your thoughts by emailing twilson@cdapress.com.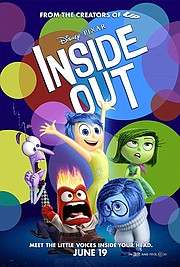 Recent Headlines
---