A wine-win for Children's Village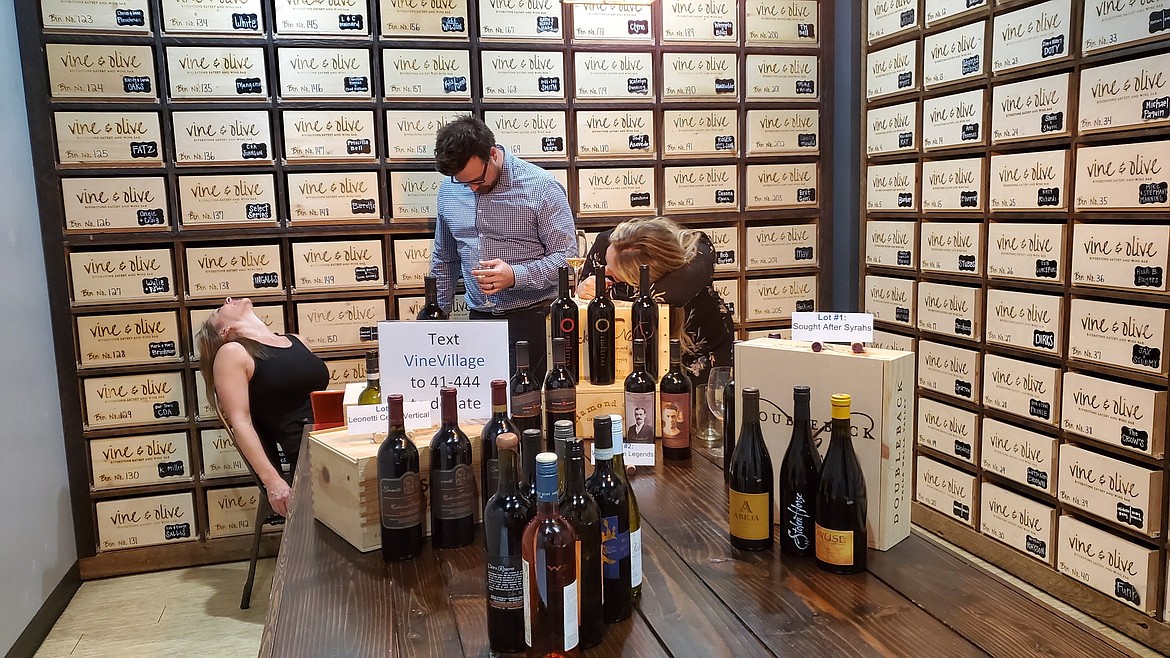 It's time to "wine down" after a lively auction Thursday night. Vine & Olive owner Naomi Boutz, left, Justin Schorzman of the Coeur Group and Children's Village director of charitable giving Vanessa Moos took this comedic pic to show how exhausted they were from the community's relentless giving. "This community is so awesome," Boutz said.
Courtesy photo
COEUR d'ALENE — It was a wine-win Thursday night as community members joined in for a lively virtual fundraiser that raised $23,475 for Children's Village.
Using Facebook Live, Children's Village director of charitable giving Vanessa Moos joined with Vine & Olive Eatery and Wine Bar owner Naomi Boutz, and Justin Schorzman of the Coeur Group, for the Vine & The Village Vintage Wine Auction.
Rare wine lots from Boutz's personal collection were auctioned off, and several participants even donated back the wines they won to help raise more money for the nonprofit, which serves children experiencing severe crises such as homelessness, domestic violence, substance abuse and/or a mental health crisis.
"The children in this town need you and they see you stepping up big for them," Moos said. "Thank you, from the bottom of our hearts, for joining the fun to learn more about our mission."
Moos said Friday that the event was only expected to last about 40 minutes, but people kept contributing and the bids kept coming. They spent 2 1/2 hours at the Vine & Olive chef table, fielding bids and engaging with generous donors online.
"I'm amazed," Moos said. "The way this community stepped up in this event has brought tears to all of our eyes. A piece of why we've been able to keep these kids happy, healthy and safe during this virus is because this community is stepping up every week."
Boutz said she was not expecting the overwhelming response they received.
"I thought we had a good chance of raising $2,500," she said with a laugh.
She said she wanted to do something positive and impactful for the community, "and I knew there would be a lot of people who would want to participate because we're all dealing with the same thing."
"This was for my mental health as well as doing something for the community," Boutz said.
But as the auction continued, more people contributed to the bidding, gave back their bottles to be bid on again and Vine & Olive wine club members even texted and called Boutz to have her include the contents of their wine club bins to the cause.
"You can't make this stuff up," she said. "It was so awesome."
She gave a huge shout-out to those who selflessly poured money into this charitable event.
"Yes, I had this idea because I knew we needed to do something good, but every single person who donated in that auction contributed and donated for the kids," Boutz said. "I'm just blown away. I'm surprised, but I'm not surprised, because this community is so awesome."
Info: www.thechildrensvillage.org
Recent Headlines
---