THE FRONT ROW with MARK NELKE: Any state memories would have been better than this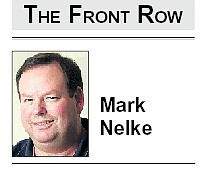 We should be waking up this morning, and reflecting on a wild weekend — a wild week, actually — of state high school spring sports tournaments.
Instead, we're waking up and ...
... Well, you know.
After a while it gets kinda depressing.
Depending on which channel you watch, you might come away encouraged that sports could return as soon as July ...
... Or, maybe not until the year 2023.
Cheerful thought, huh?
So, much like those in charge of sports programming on TV these days, I decided to think back to when there used to be state spring sports tournaments in our fine state ...
•••
Nothing beats the good ol' days of the state track meets at Bronco Stadium in Boise, when all classifications competed at the same site in a two- or three-day festival ... the later years, when the 5A and 4A finals were held under the lights on Friday night, leaving the 3As, 2As and 1As to have their day in the sun — literally — on Saturday.
... Watching athlete after athlete, inspired in part by the surroundings, post their best times and marks of the season, and often of their careers.
... Watching local teams win state titles — Lake City's girls going back-to-back in 2003 and '04, Timberlake's boys winning three in four years, Sandpoint's boys winning in 2003. ... hearing Timberlake distance ace Frank Lagrimanta dubbed "The Ten Man" because he was almost always a sure bet to win his distance races — where a win was worth 10 points ... watching Darcy Collins be part of four victories and almost single-handedly lifting Kootenai's girls to state titles.
Not all the memories were joyous ones — still remember Amy Dyck of Sandpoint High, one of the best female athletes to ever come through North Idaho, suffering a leg injury in a sprint prelim — not a final, but a prelim. Dream over, just like that.
Back to the joy: Watching someone from our area capture an unlikely state title, then meeting them in the middle of the infield at Bronco Stadium — often taking a knee so officials at the finish line can see all the way to the other side of the track — and hearing the athletes delightedly describe their shining moment.
•••
Most of my recent memories of state softball are soggy ones.
Who can forget the sight of a field burner, torching the muddy infield at Post Falls High, turning the muck into a playable surface after a few passes — a scene recorded on dozens of camera phones.
Of course, the teams that had state title hopes derailed by rain-shortened state tournaments probably have different memories.
In 2002, the state 3A tournament was in Buhl, sorta out in the middle of nowhere in south-central Idaho. The state 5A tourney was 16 miles away, at Twin Falls High, where if a batter fouled a ball back on either field, there was a good chance it would wind up in the pool.
Coeur d'Alene and Lake City made their own splash as well. Things were going well for Lake City until its catcher was ejected by the home-plate umpire in a controversial scene in the semifinal game, and Lake City coach Darren Taylor, coming to the defense of his player, was also tossed moments later. Lake City, which had won its first two tourney games, lost that one to Eagle, then fell to Coeur d'Alene the next morning to finish third. That win put the Vikings in the championship game, where they fell to Eagle.
Then it was time to zip out to Buhl — minding the speed limit, of course — to catch the end of Lakeland's remarkable comeback. The Hawks dropped their opener to Middleton on Thursday, then came back to win six straight over the next two days, beating Preston twice in the finals on a warm Saturday afternoon to capture the state title for the second straight year.
•••
At baseball games in particular, it's best to keep your eyes on the action.
One year I was at the College of Idaho for a Thursday morning state tournament game involving the Post Falls Trojans, still waking up after an o'dark thirty flight from Spokane just hours before.
At the time, the baseball field at Simplot Stadium was part of the football field. As I remember, everybody sat in the football bleachers, which were behind the third-base dugout and ran along the left field line.
That was weird enough.
There was a screen in front of the bleachers, but it wasn't all that high. So if a left-handed batter fouled one off to the left ... well, you'd better be awake. And if you weren't, you would be after a sliced foul ball rattled around in the bleachers near you.
Fortunately, that was as scary as it got.
In 2007, it was pretty cool watching Lake City win its first state baseball title at Memorial Stadium in Boise — three years after the Timberwolves appeared in the state title game for the first time.
I thought Lake City was going to repeat the following year, when the tourney was played at Borah High's Wigle Field — especially after the Timberwolves' emotional victory in the semis over Timberline of Boise.
But you can't always have a storybook ending.
By the way, Wigle Field, for being a "high school" field, seemed more like the setting for a minor league park — surrounded by trees, with homes off in the distance. Cool setting.
•••
We don't get state golf up here too often — it was scheduled for up here this year, of course — and it hardly feels like work to cruise around the golf course in a golf cart. In this case, it was to watch Lakeland's boys, who were in the hunt for a state title a few years ago at The Links. It didn't work out in a title for the Hawks, but then what's the old saying — a not-so-good day at the golf course is still much better than a good day almost anywhere else.
•••
This year, we would have even settled for a not-so-good day on the track ... or the softball diamond ... or the baseball diamond ... or the golf course.
Mark Nelke is sports editor of The Press. He can be reached via email at mnelke@cdapress.com. Follow him on Twitter@CdAPressSports.
Recent Headlines
---