Reopening of restaurants attracts crowd to downtown Coeur d'Alene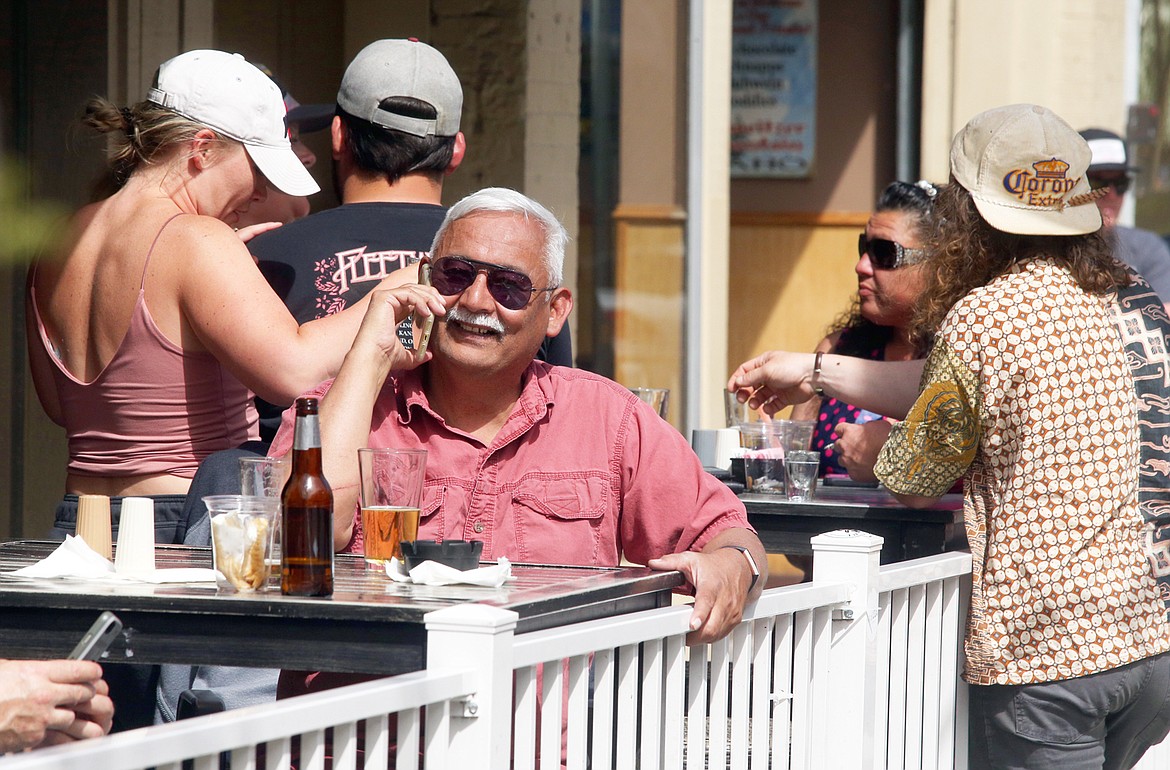 Gene Marquez chats on the phone and enjoys a beer at the Iron Horse on Saturday afternoon in downtown Coeur d'Alene.
Photos: BILL BULEY/Press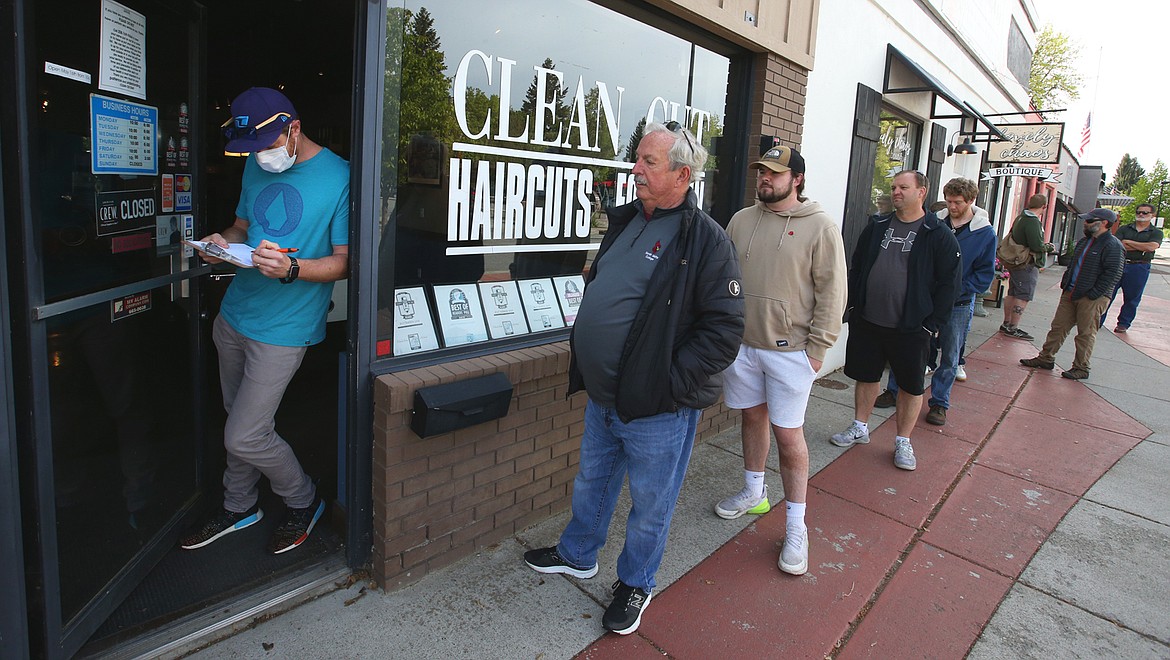 Eric Carpenter, owner of Clean Cuts Haircuts for Men, prepares to let customers come in and takes names for appointments Saturday.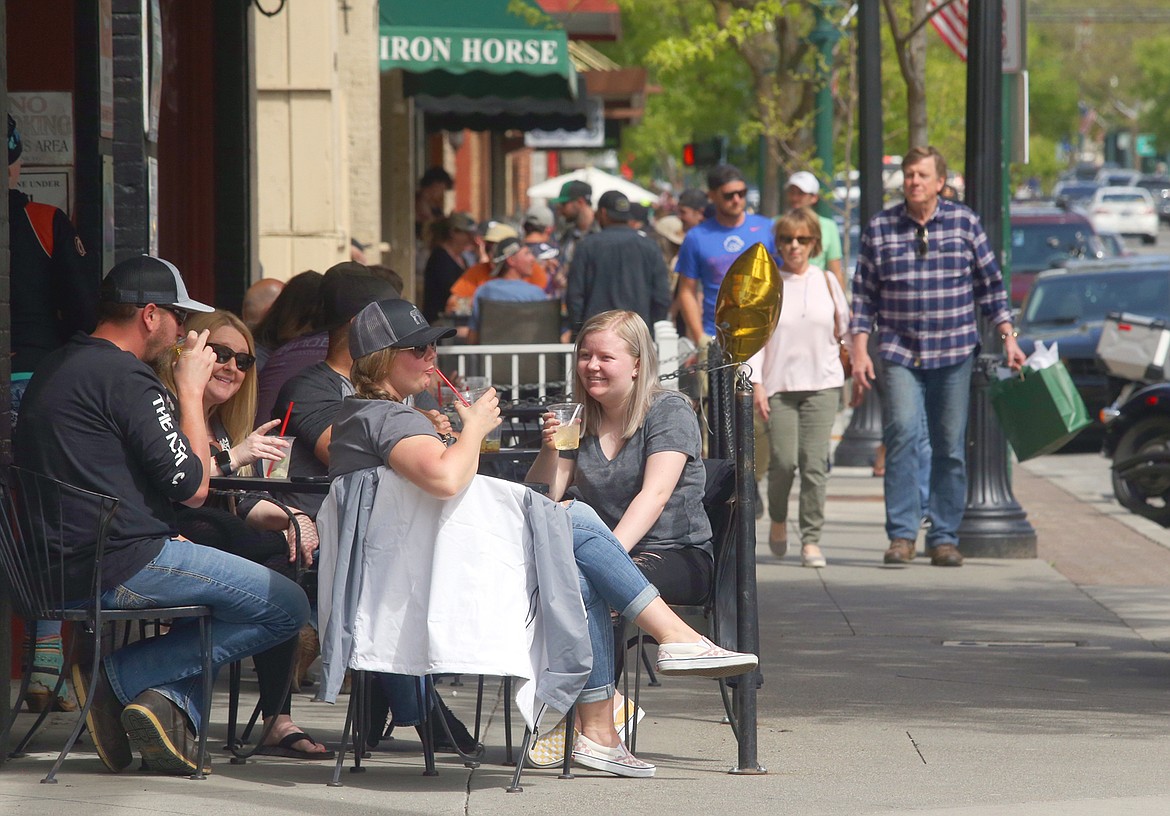 BILL BULEY/Press Sherman Avenue was crowded Saturday as restaurants, gyms and salons reopened after being closed since March 25.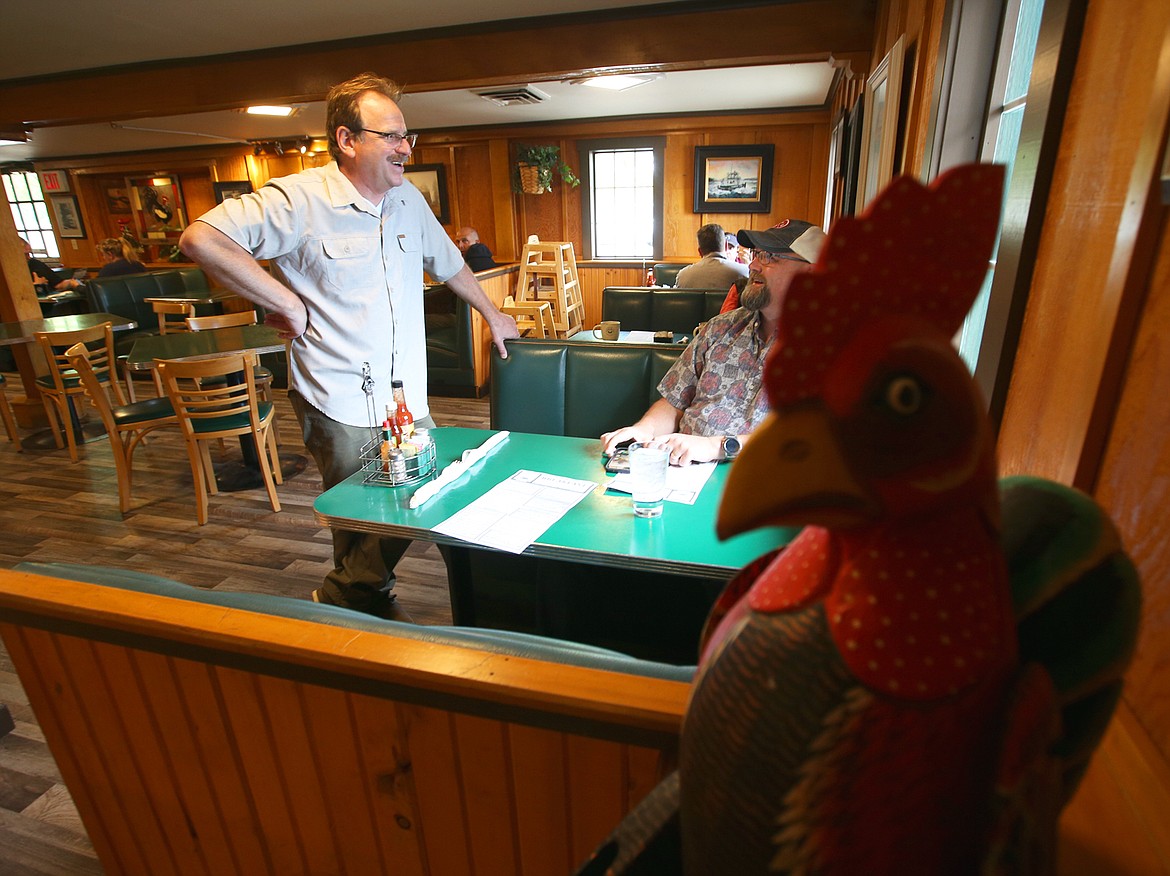 BILL BULEY/Press Michael DePasquale, owner of Michael D's Eatery in Coeur d'Alene, chats with a customer Saturday morning.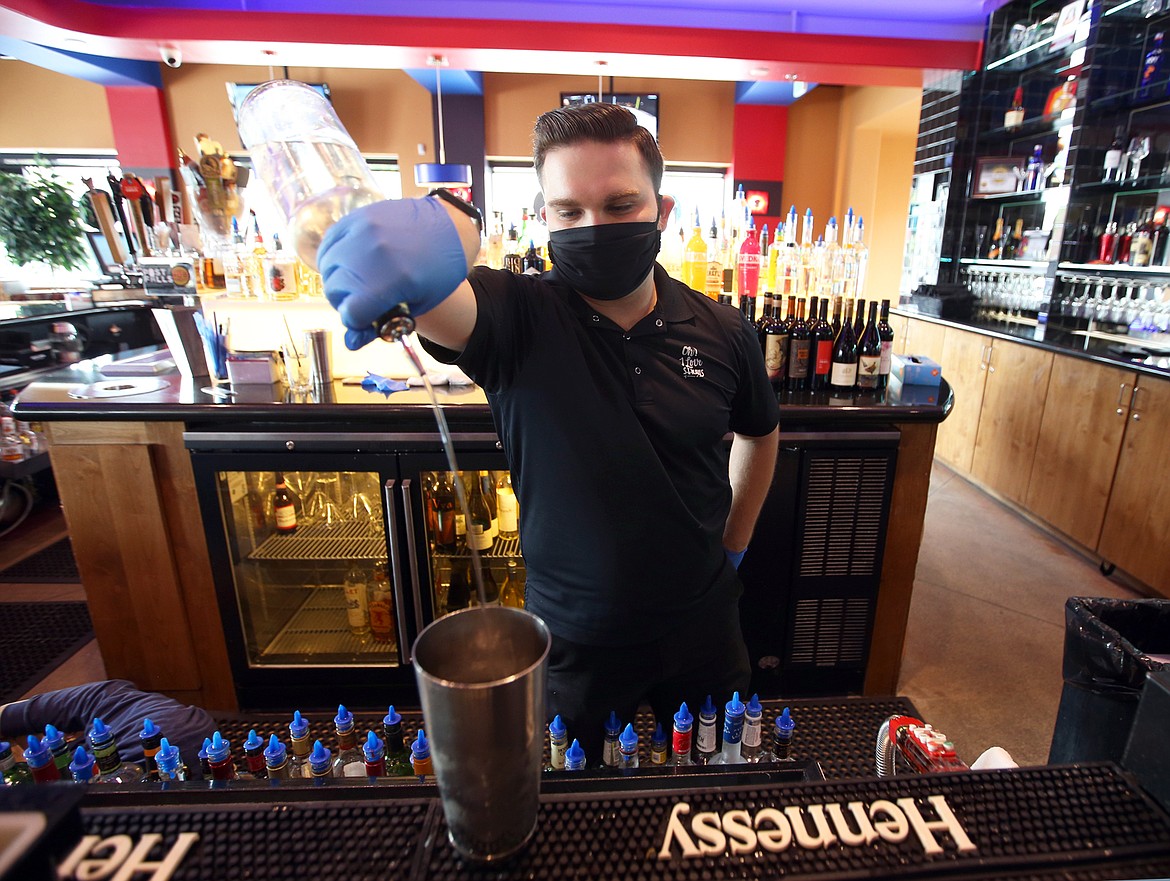 BILL BULEY/Press Daniel Bentley pours a drink at Seasons of Coeur d'Alene on Saturday.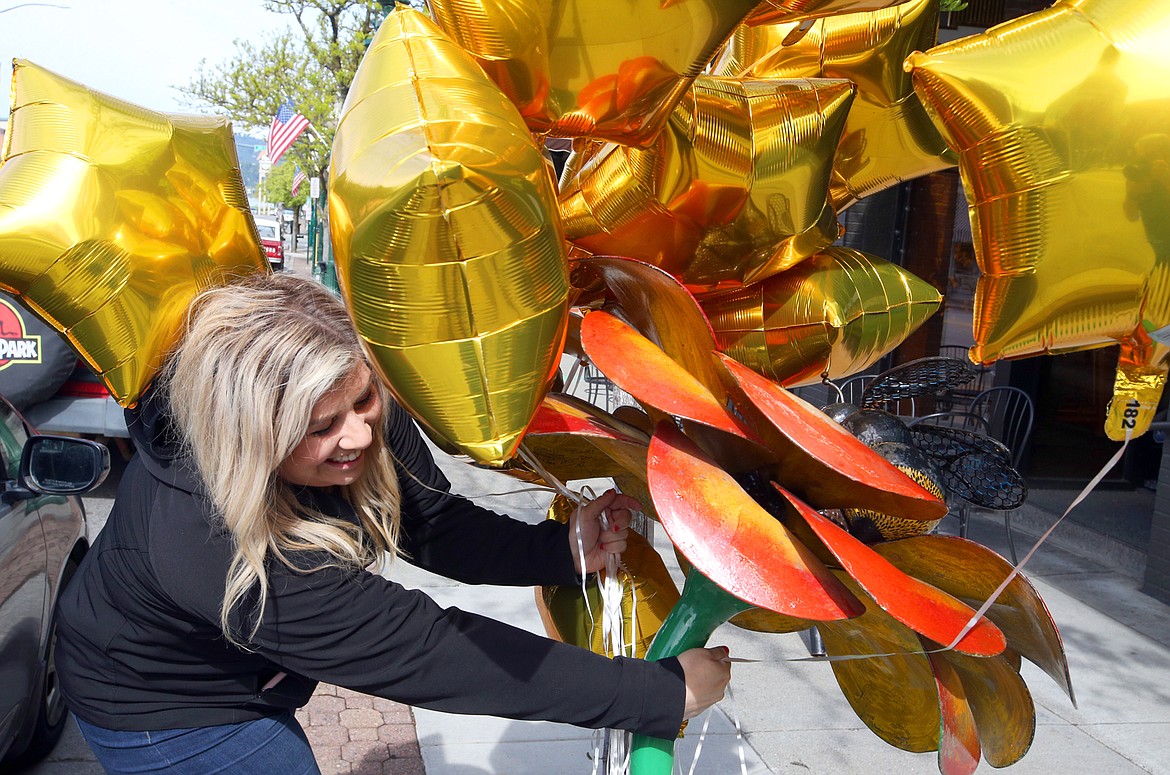 BILL BULEY/Press Emily Boyd of the Coeur d'Alene Downtown Association places gold star ballons along Sherman Avenue Saturday morning.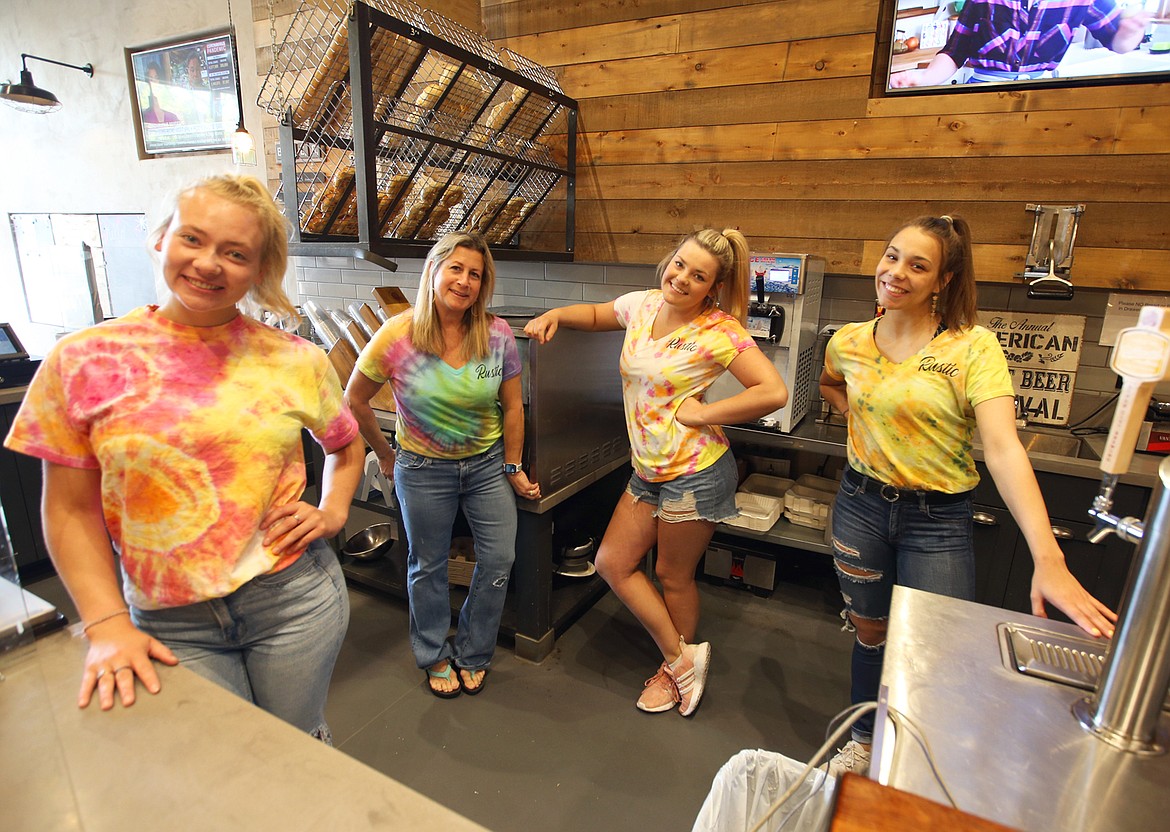 BILL BULEY/Press The crew at Rustic, from left, Hailee Duval, owner Deb Heit, Jayden Vasser and Dejah Wilson, are happy to be working Saturday.
Previous
Next
by
BILL BULEY
Staff Writer
|
May 17, 2020 1:40 AM
COEUR d'ALENE — Gene Marquez sat out front at the Iron Horse restaurant on a sunny Saturday afternoon and smiled. He liked what he saw.
"Everybody had to be safe but they just need to get out," the Coeur d'Alene man said. "They're just spreading their wings."
That's for sure.
And no one seemed worried about the coronavirus as people packed Sherman Avenue.
They sat at tables, ate, and carried on conversations. Many walked in and out of downtown stores, shopping bags in hand. Skateboarders zipped around streets and sidewalks. Lines of cars crept along while pedestrians crossed streets.
It was a mix of teens, thirtysomethings, families with strollers and toddlers, seniors and pet owners with dogs. Some were from Washington state.
There wasn't a mask in sight and social distancing didn't seem to be a priority.
The occasion?
It was the first day of restaurants, gyms and spas reopening as part of Gov. Brad Little's second stage of his "Idaho Rebounds" economic recovery plan, after he issued a stay-at-home order on March 25 due to the coronavirus.
"I think it's great, actually," Marquez said.
Toni Brule of Coeur d'Alene was also at the Iron Horse and said she wasn't surprised at the crowds.
"People are so happy to be able to be out," she said.
Any doubts that lots of people would venture outside were erased early Saturday.
Michael D's Eatery on Coeur d'Alene Lake Drive opened at 6 a.m. and people were waiting outside, anxious to enjoy breakfast inside again.
"It's been really good, very positive," said Michael DePasquale, owner.
The restaurant was busy all morning as customers chatted, drank coffee and devoured omelettes.
Guests were generous, too. Three left $100 tips. One man said he wanted to be sure the cooks got their share, too, and tossed down a big bill. There were lots of old friends, DePasquale said, who have been coming there for years.
It wasn't quite all like the old days. Tables were spaced apart. Sanitizing was in order. Social distancing was followed.
But as far as the vibe, how he was feeling, DePasquale said: "It was like we never closed. Right back to normal."
At Jimmy's Down the Street at 16th and Sherman, owner Jim Purtee mingled with customers and poured coffee.
The consensus from guests: They were glad he was open again, it was great to be back, the shutdown should never have happened, and hopefully, we'll never go through this again.
Jimmy's also opened at 6 and customers were waiting.
"It's awesome," Purtee said. "I'm happy for the employees in particular. We're all trying to remember what to do."
Bill and Sue Huston of Liberty Lake got up early to head to Coeur d'Alene for breakfast and got what they were after at Rustic.
"It's just nice to be around people to see and talk to them and socialize with them," Bill Huston said.
"Do what we want," Sue Huston added.
Rustic owner Deb Heit said they were delighted to be open.
"People can sit down, it's making things start to feel back to normal again," she said.
Earlier in the day, Emily Boyd of the Coeur d'Alene Downtown Association placed gold star balloons along Sherman Avenue to welcome everyone and celebrate the return of restaurants, gyms and salons.
"It's going to be an adjustment for them because they're still operating under certain protocols, but just to be open is fabulous," she said.
Outside Clean Cuts Haircuts for Men on Fourth Street, about 10 men waited in line for the 10 a.m. opening.
When asked who had been cutting their hair for the past seven weeks, a few laughed and talked about doing it themselves, having wives or girlfriends do it, or just going without.
Eric Carpenter, owner, opened the door. He was wearing a mask as he let the first customers in and penciled in appointments. One man in a truck driving by stopped and asked for an appointment.
"I really need a haircut," he said.
"I gotta write him down and we'll be back to 12:30 now," Carpenter said.
Carpenter has owned Clean Cuts for 16 years. He was prepared for a rush Saturday, but said he was nervous, too.
"It's been killing me, man, I'm not going to lie," Carpenter said. "I'm losing sleep because I knew this was going to happen. I'm just hoping people are cooperative."
Nick Smith got a noon appointment. It had been seven weeks without a trim, so he was looking forward to seeing his longtime stylist.
"I like to keep it short," he said.
Over at Seasons of Coeur d'Alene restaurant on Lakeside Avenue, general manager Daniel Bentley said their tables were filled about noon as customers order fresh specials.
Staff wore masks.
"We tell all our guests, we're smiling behind these things," he said, laughing.
Bentley said it was nice to be back.
"I needed to be here," he said. "I love my family and have a great time with them, but work is good for the soul."
Mike, from Seattle, declined to give his last name as he sat at a Sherman Avenue restaurant.
He said he understands the coronavirus is a threat to older people with health issues and many have died and for that, he was sorry. But he pointed to unemployment of about 35 million in the U.S. as a result of shutting down businesses and ordering people to stay home to stop the spread of the virus and said, "That's a problem."
"They took away our civil rights," he said.
So when he saw so many doing what he called routine stuff on a warm afternoon, he said that was good.
"This is rational thinking," he said.
Another woman, Lorri, from Wisconsin, said she wants everyone to stay safe.
"But I feel as we're adults, we can protect ourselves," she said. "I don't need our government telling me I can't go to church, I can't go have a beer, I can't go to a salon."
David Parry of Spokane offered a few words when asked for his thoughts about more Idaho businesses reopening and so many coming out.
"Yay," he said. "It's about time."
Recent Headlines
---