Gyms jacked to be back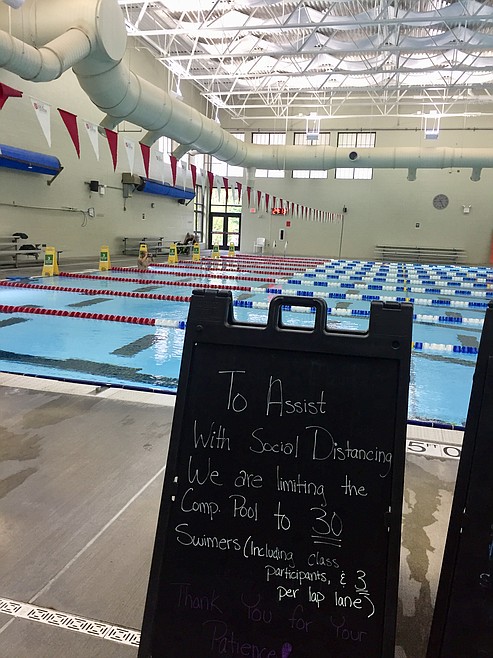 The Ray and Joan Kroc Center in Coeur d'Alene opened Saturday, going above and beyond Panhandle Health District protocols to keep members safe while exercising. (JENNIFER PASSARO/Press)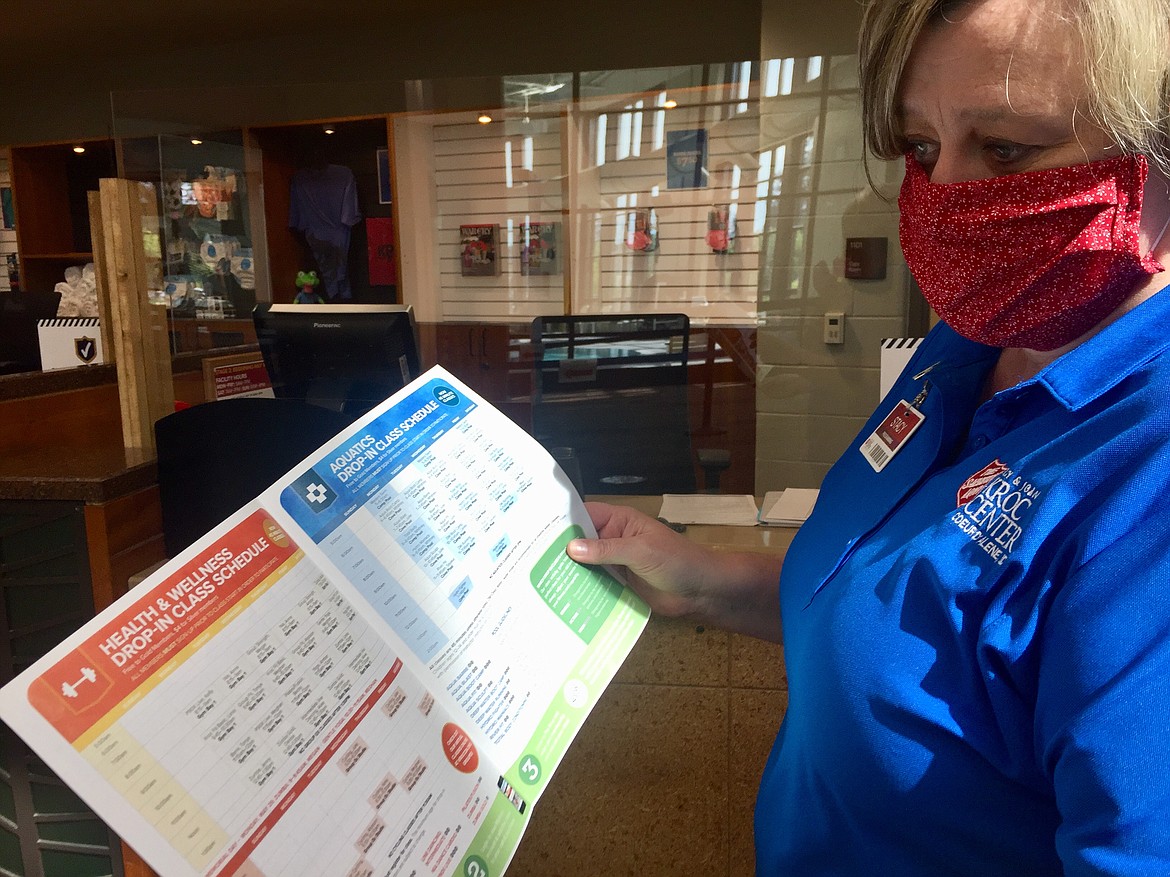 The Ray and Joan Kroc Center Assistant Director, Stacy Barney, explains the Kroc's new scheduling system, providing class schedules for each stage of the governor's rebound order. More information can be found on their website at kroccda.org. (JENNIFER PASSARO/Press)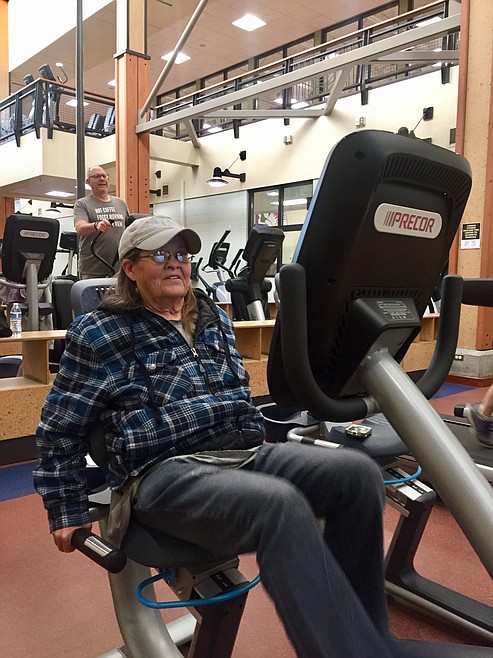 Sandy Howe peddles a stationary bicycle at the Kroc on Saterday. As a Kroc Center regular, she was so happy to be back in her routine. (JENNIFER PASSARO/Press)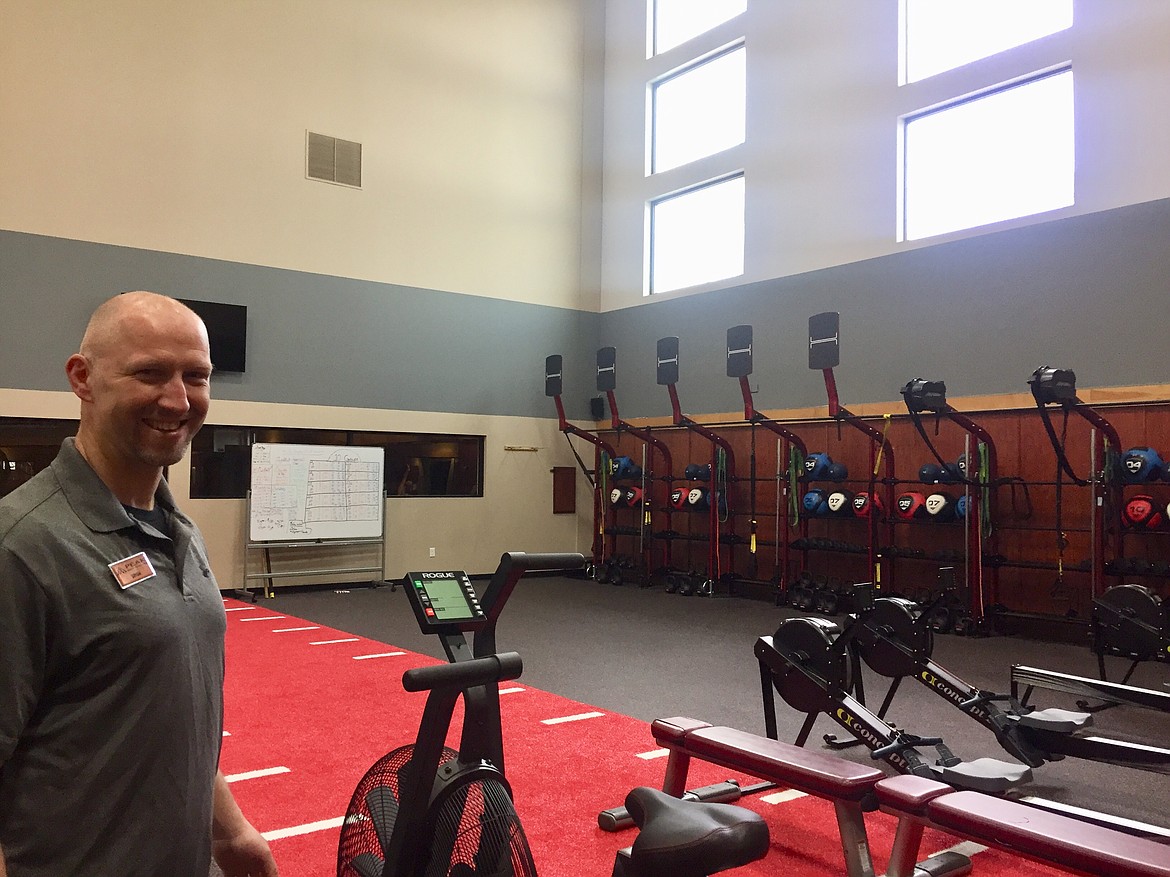 PEAK Health & Wellness Center Fitness Director Bryan Janzen explains how he prepared for socially distanced "Move-tribe" classes. The workout, similar to a cross-fit experience, was slightly modified to keep athletes safe. (JENNIFER PASSARO/Press)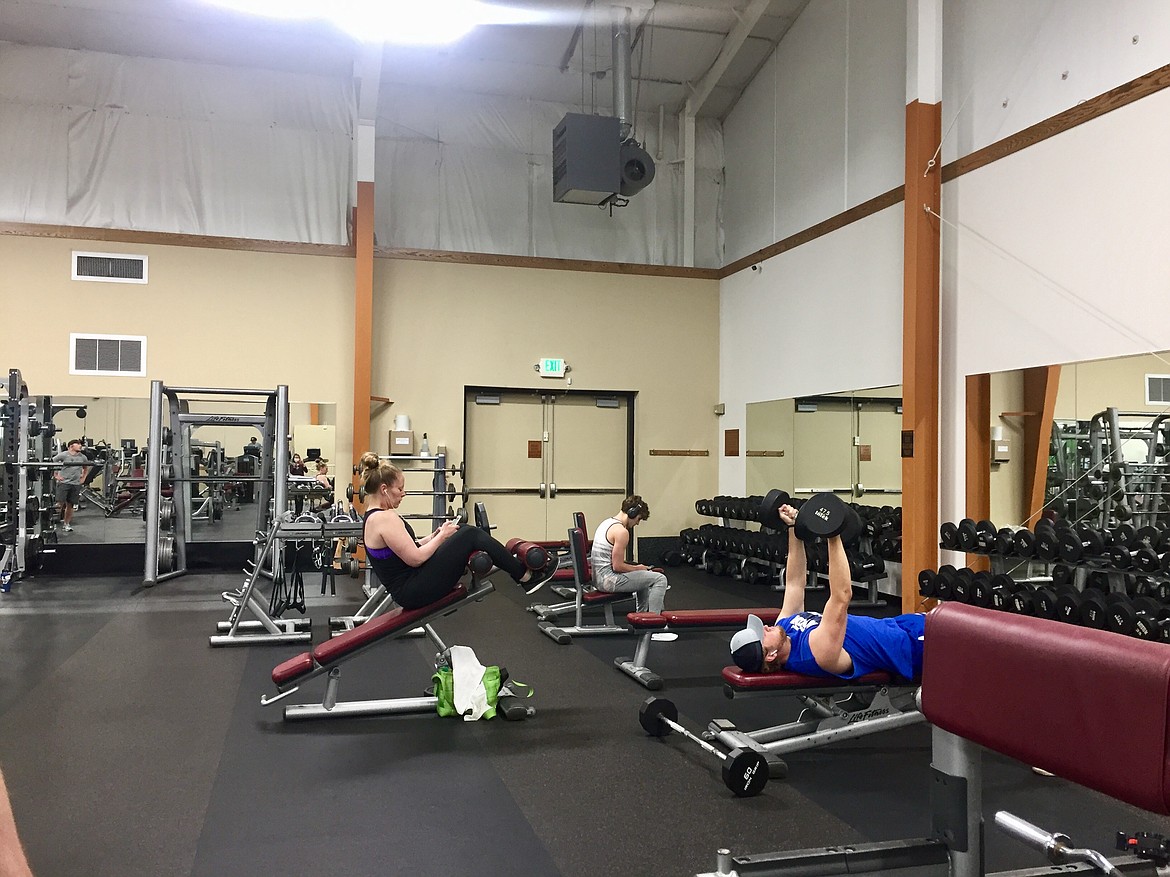 Members at Coeur d'Alene Peak lift weights and check their phones while maintaining social distancing requirements. The gym has taken precautionary measures to ensure safety as they reopening Saturday. (JENNIFER/PASSARO Press)
Previous
Next
by
JENNIFER PASSARO
Staff Writer
|
May 17, 2020 8:30 AM
With a few changes, Kroc Center, Peak Health & Wellness users return
After 60 days of serving the community as a Salvation Army Center of Emergency Services, the Ray and Joan Kroc Center reopened Saturday as a community center and gym again.
"What drives us is to build community," said Stacy Barney, assistant center director at the Kroc.
The Kroc Center in Coeur d'Alene was the first to open in the western region. The protocols and procedures established by staff to keep members safe have been a guide for other facilities hoping to open soon.
"On Wednesday the Panhandle Health District did a walk-through," said Kip Sharbono, center director at the Kroc. "They said we've gone above and beyond the protocols."
Some of the changes at the Kroc begin at the door. Members coming to work out must enter through the east doors. Members who have registered for a class enter through the main doors, giving more space for the front entrance to serve as an exit.
Class sizes are limited and group fitness classes take place in the gym, where there is more space and better ventilation. The competition pool is limited to 30 swimmers at a time and the cabanas are closed.
The Kroc hopes to open the play care center after Stage 2 of the governor's rebound order.
Nearby, the Coeur d'Alene Peak Health & Wellness Center took similar precautions for its reopening day, limiting class sizes and sterilizing equipment between uses.
"We are doing everything we can to make members feel safe while they are here," said Lindsay Cantrell, Peak Cd'A general manager.
"Normally people do a circuit on the weight machines," said Bryan Janzen, Peak fitness director. "But now we are asking people to do their entire set, clean the machine, and move on to the next."
A young man smiled at Janzen, saying, "it's so good to be back on this trusty barbell" as he gathered his strength for another set.
People kept their distance from one another, but not their smiles as they greeted each other enthusiastically and talked about their fitness goals.
"It's like a hard reboot on our computers, except somebody unplugged life from the wall," Barney said, as she adjusted her face mask, her eyes smiling.
Saturday morning the first person inside the double doors at the Kroc was a 13-year-old swimmer. She leapt into the competition pool to catch up on her much-missed lap swims, overjoyed to be back.
As the Kroc works through this new normal, Barney has hope.
"People have grace," Barney said. "Trial and error is the way of the world."
Recent Headlines
---