This way to the beach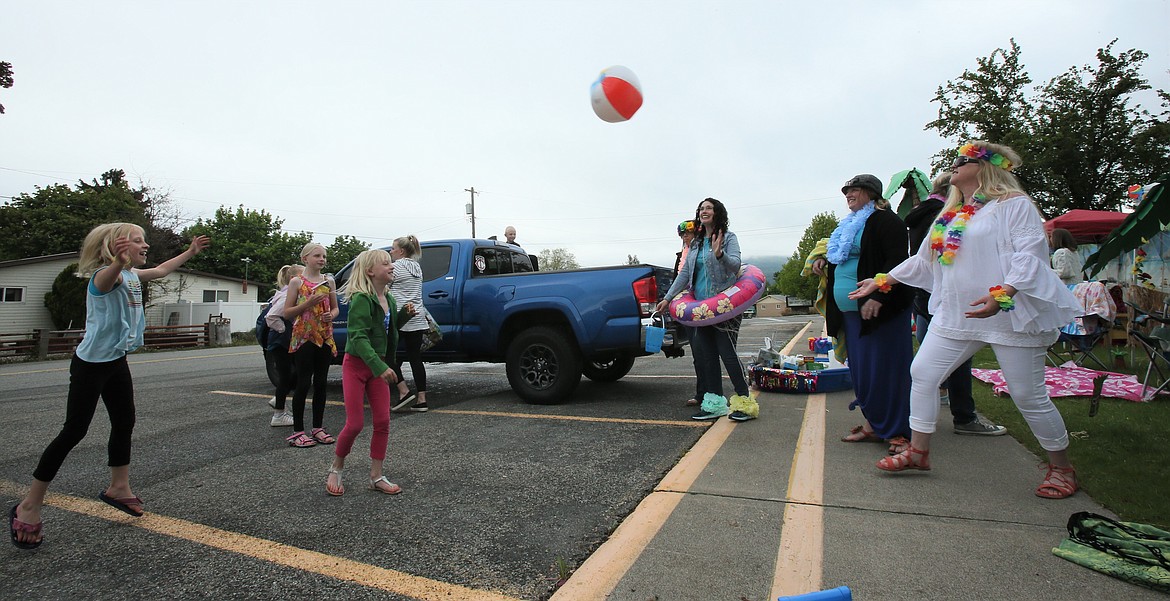 Mullan Trail Elementary second-grader Kinley Still, left, and her triplet sister Torii, in green, pop a beach ball to secretary Shanna Salsbury wearing rainbow leis during a beach party food drive outside the Post Falls school Friday.
Photos by DEVIN WEEKS/Press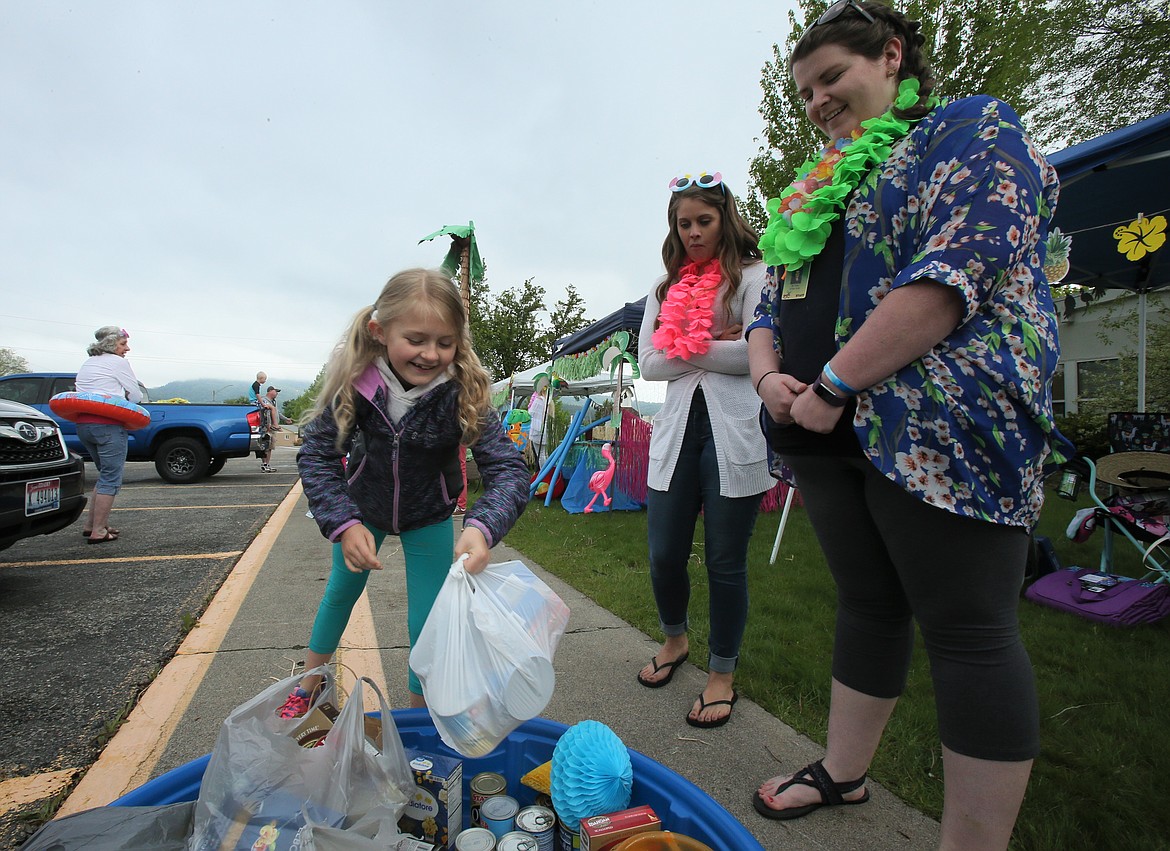 Fourth-grader Skylar Lenz happily drops a bag of food donations into a collection pool during a food drive at Mullan Trail Elementary on Friday. Also pictured: Fourth-grade teachers Heather Corey, right, and Sarah Geibel.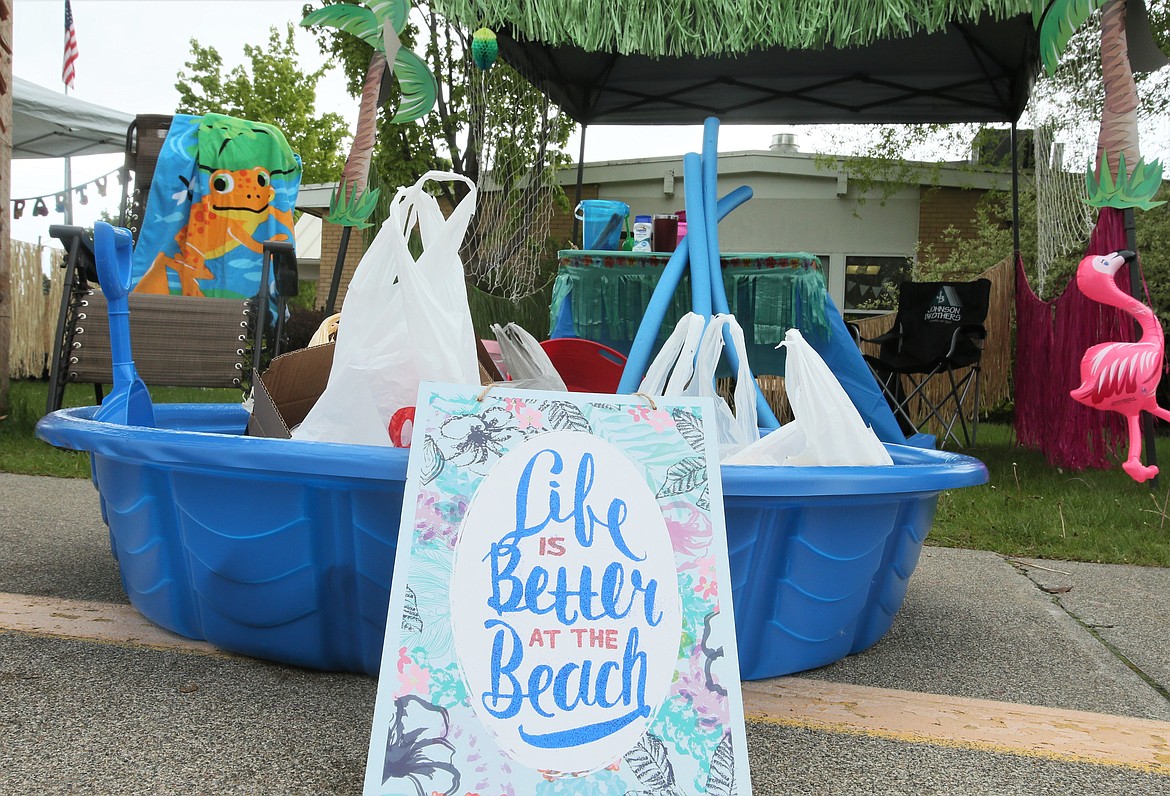 "Life is better at the beach" reads a sign in front of a food collection pool at Mullan Trail Elementary on Friday. The school held the event at the end of its spirit week, in which students have been participating through photos and videos since the school is closed because of coronavirus shutdowns. (DEVIN WEEKS/Press)
Previous
Next
by
DEVIN WEEKS
Staff Writer
|
May 16, 2020 1:06 AM
Mullan Trail holds festive Friday food drive to help Post Falls Food Bank
POST FALLS — Fluorescent flamingoes, beach balls, kiddie pools and Hawaiian leis at Mullan Trail Elementary made an overcast Friday feel like summer is already here.
The summery spectacle wasn't just for fun — the beach party on the school's lawn also served as a food drive to support the Post Falls Food Bank while wrapping up the school's annual spirit week.
"We had a spirit week all week where the kids posted pictures online and sent them to their teachers, doing work in their costumes," said Principal Katrina Kramer. "Today was beach day, so we thought we'd throw a little food drive party and see the kids a little bit and collect some food for the food bank."
The Beach Boys and other feel-good oldies bands played from a radio as the tropical smell of suntan lotion drifted on the air. Some teachers wore colorful inner tubes, goggles and other fun summer gear as they waved and cheered when their students showed up with their families to donate canned goods and other nonperishable items.
Each grade level had a collection pool where students added their contributions to the bounty. The fourth-grade pool was looking pretty filled only an hour into the event.
"I think it's really cool they would do this for everybody," said fourth-grader Skylar Lenz.
Her mom, Tiffani Lenz, who is a fourth-grade teacher, said Mullan Trail is famous for supporting its community.
"Every year, when we do our food drive, so many families contribute," Tiffani said. "They sure step it up every time. It's just exciting because we all love to support each other."
Second-grader Kinley Still and her parents and siblings joined in the fun. They popped a beach ball around the parking lot and laughed as their teachers jumped in for a round.
"It's just fun to see the community come out," said Kinley's mom, Allison Still, who is a Title I teacher at the school.
"It's fun!" Kinley said.
Her big sister Lily, who is in fifth grade, agreed.
"It's good to see all the teachers again," Lily said.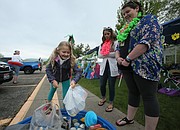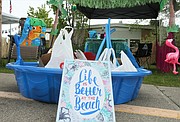 Recent Headlines
---