Bowling is back
by
BILL BULEY
Staff Writer
|
May 16, 2020 1:09 AM
Sunset center reopens Friday to strikes and spares
COEUR d'ALENE — For the first time in seven weeks, Vern Oertel heard a most beautiful sound on Friday: The hum of a bowling ball rolling down a lane and the clattering of pins.
"It's good to be open again," said the owner of Sunset Bowling Center on Government Way.
Since March 25, the 24-lane alley with a bar, arcade center, and pro shop has stood quiet due to the government-ordered shutdown of nonessential businesses. No strikes, no spares, no splits.
Until noon Friday.
That's when bowlers could once again toss a ball down the 60-foot-long lane. That's when they could once again pump their fists in victory if all 10 pins fell, or turn away shaking their heads in frustration if the 7 and 10 still stood.
Oertel, who was wearing a black T-shirt with the words, "Go Bowling," said one woman called and wanted to know if she and her family needed reservations for Sunday.
Told probably not, she said, "We'll be there Friday and Saturday, too."
"Just c'mon in," Oertel told her.
The first bowlers waited outside for about 20 minutes.
"Everybody's been happy to see us open back up again," he said.
Coeur d'Alene's only alley is home to numerous leagues and its 99-cent specials on Monday, Tuesday and Thursday nights are popular. Its Friday afternoon "Thunder Extreme" for $7 always draws a good crowd. Come summer, it becomes a hangout for the young.
Four lanes were in use Friday afternoon, but Oertel expects action to pick up as words spread that Sunset Bowling Center is back.
Frank Mungari, a Sunset league bowler, watched his grandson Brayden Martinez, 12, as he unleashed a nice hook. The ball rolled perilously close to the gutter on lane 9 before turning back toward the headpin and leaving a single pin.
"I think he's pretty cool," Mungari said. "He's easy to coach because right now he doesn't know it all."
When asked how it felt to be back at the lanes, both responded with the same answer: "Great."
"I love it. Bowling is a passion for me," Mungari said. "It's one thing if I don't want to come down and bowl, but being forced not to be able to come down and bowl is a whole another story, you know."
Now, he and others are free to seek that perfect 300.
Oertel said a few changes await customers.
While the bar is closed, bowlers can still order food and drinks to take back to their lane area.
Hand sanitizer dispensers are now in each stairway leading to the lanes and bowlers will need to use it before selecting a house ball. Bowlers will be at least one lane apart to keep up with social distancing rules, and house balls and shoes will be cleaned by staff after every use.
"That's one of the main things," Oertel said. "Equipment is staying at the lanes to be cleaned by employees before putting it back."
Bowlers Friday weren't having any trouble with the new rules. They still whooped at strikes and muttered at splits.
Told he had a nice hook on his bowling ball as it approached the pins, Brayden Martinez nodded in agreement.
"I do," he said.
Asked about his high game, he said 179.
But Mungari quickly corrected him.
"No, it's 192," he said. "You did that in Lewiston."
And a 200-game sure to come soon.
"He's not a bad bowler, so he can learn from me," Mungari said.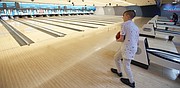 Recent Headlines
---