Idaho star has sights set on White House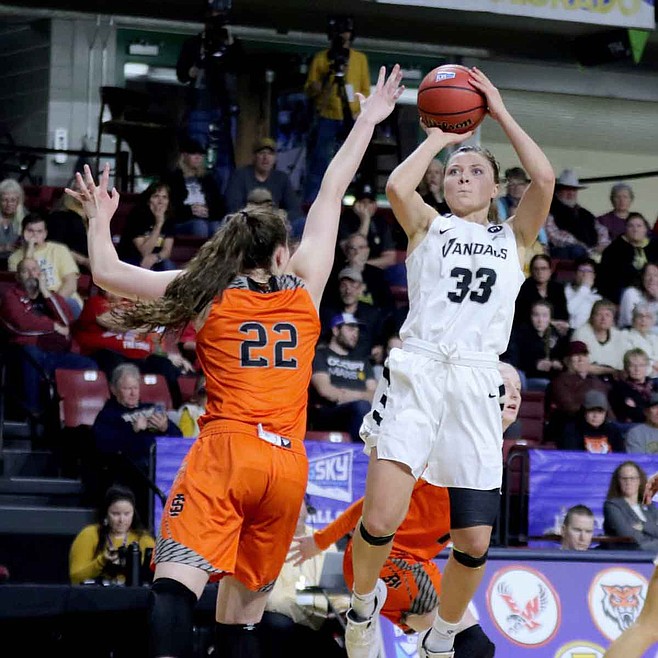 Lizzy Klinker averaged 12.8 points per game during her final season at the University of Idaho. She is graduating this week with a bachelor's degree in agricultural economics. She plans to play overseas for a year before returning to UI to pursue a concurrent juris doctorate and master's degree in applied economics.
Photo by MILES WHITLING
Klinker plans to play overseas before returning to Moscow
Idaho star has sights set on White House
MOSCOW — Lizzy Klinker wants to be the president of the United States.
And the Fairfield, Mont., native and basketball star believes the caliber of her degree from the University of Idaho will get her there.
"I guess I should have started planning the steps to get to the White House when I was in kindergarten," Klinker said.
But at the time, she was preoccupied with her first love, basketball.
"I can't even recall when I first fell in love with basketball," she said. "It's always been a part of my life for as long as I can remember."
Basketball remains a big part of Klinker's life today. Following high school, the 5-foot-10 guard saw college as a means to continue playing her favorite sport. She started playing for the Utah State University Aggies in Logan, Utah.
After two seasons with Utah State, Klinker transferred to U of I to play for the Vandals alongside her younger sister, Natalie. It was a choice she will never regret.
"Tha first semester, I'll admit the transition was tough, but it was a dream come true to play with my sister again," she said. "And school just felt right, the classes and the faculty at Idaho were just amazing."
Having grown up on her family's wheat, barley and cow-calf operation in central Montana, Klinker was inspired to pursue a degree that would allow her to be a voice for the nation's farmers, ranchers and small-town business owners.
Klinker, who averaged 12.8 points per game during her final season as a Vandal, will graduate this week with her bachelor's degree in agricultural economics from the U of I's College of Agricultural and Life Sciences (CALS).
However, that won't mark the end for Klinker's athletic career or her academics. Following commencement, she plans to play basketball overseas for a year with a team to be finalized before returning to U of I to pursue a concurrent juris doctorate and master's in applied economics. The new degree option is the result of a partnership between the College of Law and CALS' Department of Agricultural Economics and Rural Sociology (AERS).
"I'm not sure I want to be a practicing lawyer," she said. "But I want to have that policy background and a thorough understanding of how it affects the agriculture industry."
In addition to stoking her interest in agricultural policy, Klinker credits AERS faculty for making her undergraduate experience so enjoyable.
"The faculty will go out of their way to make you feel empowered and help you with any problem you have," she said. "Seeing them supporting us in the stands or talking with them about the season is such a connection for a student-athlete that goes beyond what a lot of people would understand. You don't want to let them down."
According to AERS Instructor Norm Ruhoff, Klinker did anything but let the faculty down.
"When I think of Lizzy Klinker, I see not only an outstanding student, but a really outstanding person," Ruhoff said. "She brought real-world experience from growing up on her family's farm into the classroom and coupled that with her education to build a really good foundation for her career pursuits."
Klinker put that education to practice during the summer of 2019 while interning for the Montana Department of Agriculture (MDA). Working under MDA Attorney Zach Coccoli, Klinker spent her time researching policy for Montana's new hemp program and synthesizing reports. The opportunity helped her plan one more step on her path to politics.
"In 10 years, I could see myself working in a department of agriculture whether at the state or national level, maybe as an attorney or a department head," Klinker said. "My internship was just such an awesome experience."
Vandal women's basketball coach Jon Newlee believes Klinker is the kind of person who can find "awesome" in any experience.
"She's very level-headed, she can take criticism and see the good in it and try to better herself," Newlee said. "She really lives the mentality that, if you work hard enough, good things will happen."
Klinker was the ultimate student-athlete, Newlee said. Despite balancing the full-time demands in the gym and classroom, she also served as president for the Student Athlete Advisory Committee (SAAC) during her senior year, lobbying for student-athlete interests.
"I don't know how she had enough minutes in the day," Newlee said. "But I guarantee she was the best SAAC president they've ever had."
With that tenacity, Newlee predicts great things in Klinker's future.
"She's going to be a huge success whatever she decides to do," Newlee said. "She told me she wants to be the president one day and, you know what, she's got my vote!"
Recent Headlines
---