Wallace ready for center stage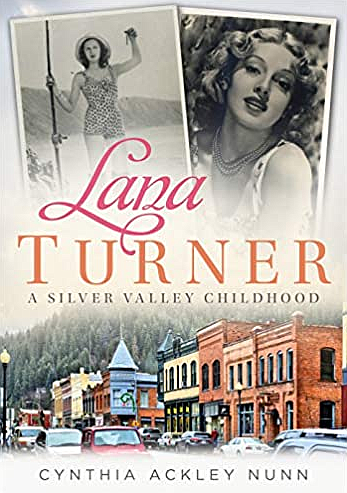 Wallace will use any excuse to party.
A giant ball dropped into Lead Creek. A tongue-in-cheek claim that it is the "center of the universe." In 2021, the historic mining town will add two more reasons to celebrate: Lana Turner and Doris Houck.
Oldtimers will remember Turner as the glamourous leading lady of the 1940s and 1950s who played opposite such stars as Kirk Douglas, Clark Gable, and Spencer Tracy. Few will recall Houck, unless they're serious fans of the Three Stooges. She is best known as the aggressive girlfriend in the 1947 film "Brideless Groom" who squeezed Shemp Howard's head in a vice to force him to marry her.
Both were born in 1921 in Wallace, Turner, as Julia Jean Turner, on Feb. 8, and Houck on Sept. 28. Also, they are linked by a fatal knifing. Houck's husband, Fred Otash, a Hollywood "fixer," investigated the 1958 slaying of Turner's mob lover, John Stompanato.
Coordinator Dave Copelan and the Historic Wallace Chamber of Commerce began discussing ways to feature the actresses when Idaho Tourism came calling. Via, the AAA magazine, is considering a story on 2021 Idaho anniversaries. And tourism reps contacted Gem State towns to see what they had to offer.
Neither actress has received the local attention they deserve, Copelan said. Local historian Dick Caron told Copelan that the only hoopla for Turner occurred in 1942 when she visited to sell WWII War Bonds.
Nothing has been done for Houck, although Copelan relishes the idea of tying her September birthday and the Three Stooges to the Probable Center of the Universe Party a week earlier.
"Don't you think those comic geniuses — Larry, Moe, Curly, and Shemp — deserve a bit of recognition today?" he asks. "A little bit of madcap seems to be fitting in crazy times."
Turner, who left Wallace at age 6 and died 25 years ago, isn't well known in her hometown. But that is changing. Owners are renovating her childhood home at 217 Bank St. Author Cynthia Ackley Nunn has just published a paperback, "Lana Turner: A Silver Valley childhood" ($23.99, Amazon Prime).
And now she and Doris will be toasts of the town when 2021 rolls around.
Birthday Smirthday
Jeanne Helstrom of Coeur d'Alene was wondering how she'd renew her driver's license in this age of COVID-19 until learning she could do it online. After all, this is her birth month. She went through the process of creating an account with all her info, new password, user name, etc. She did all this only to discover that her license didn't expire until next year. Laments Jeanne: "How did I miss that? I must be getting senile." Nope, Jeanne, you're just being human.
Huckleberries
• Poet's Corner: This is no doubt a/remarkable species:/one half is honk and the other half's feces" — The Bard of Sherman Avenue ("Thoughts on a Canada Goose").
• Bumpersnicker (on a mustard yellow Toyota Cruiser with Kootenai County plates parked along the Dike Road last Friday): "Dog loves politicians, says they taste like chicken."
• Please join me in toasting CdA's first lady of the '80s, Betty Stone, who tells Huckleberries that she recently celebrated her 96th birthday alone, in these virus times, by lighting a candle poked into a chocolate Zinger and singing "Happy Birthday." Betty was mayor Ray Stone's wife and played a key role in the mid-1980s in saving Forest Cemetery from privatization.
• John Austin of Rose Lake offers this "study in contradiction": A sign on the outside wall of Hayden Walmart said, "No soliciting or loitering on Walmart property." Yet, dozens of customers were stalled in line underneath, waiting for their chance to hoard toilet paper and meat.
Parting Shot
Nancy Jones of Coeur d'Alene reports that she and her husband were discussing the return of Huckleberries recently when her 14-year-old piped up: "What's that?" So Nancy provided a brief history of the column. At the end, the teen said: "It must be soothing to read a column with a name like that." Confused, Nancy asked why she found the name Huckleberries soothing. "No," the youth clarified, "I'm talking about the guy who's writing it: Mr. Aloe Vera." Hey, I've been called worse.
• • •
You can contact D.F. "Dave" Aloe Vera at dfo.northidaho@gmail.com.
Recent Headlines
---