Hungry for more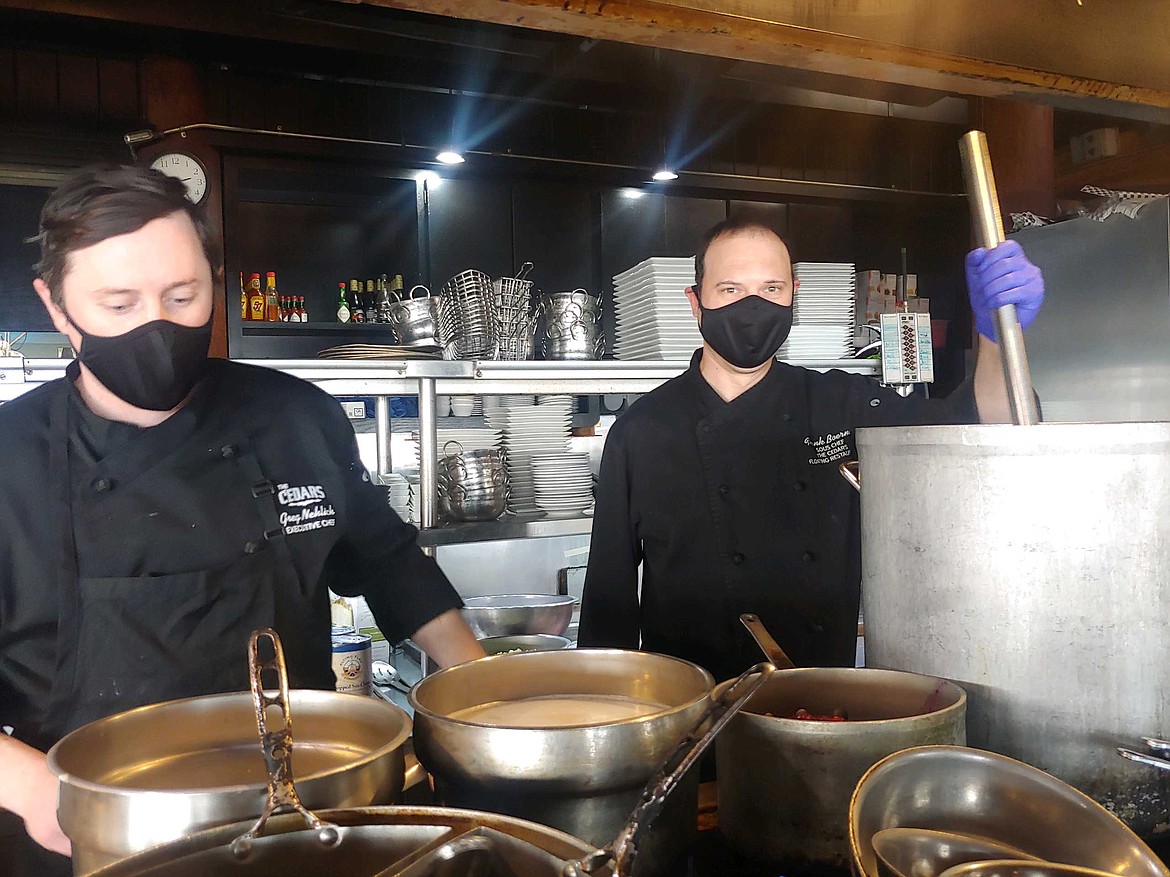 Greg Nehlich (left) and Frank Boemer — the executive chef and sous chef at Cedars in Coeur d'Alene, respectively — prepare for a booked re-opening. Resrictions against restaurant dining rooms will lift on Saturday as part of Governor Brad Little's phased plan to re-open Idaho businesses.
Image courtesy of Lynette Baskins
by
CRAIG NORTHRUP
Staff Writer
|
May 15, 2020 1:14 AM
Restaurants ready for crowds when dining-in reopens on Saturday
Restaurant employees across Idaho took a collective sigh of relief Thursday after Gov. Brad Little officially gave the go-ahead for stage two to commence Saturday.
While many restaurants have tried to make ends meet through curbside service since the coronavirus hit, eateries can once again open for sit-down service.
"Oh, my gosh," exclaimed Lynette Baskins, general manager of Cedars in Coeur d'Alene, as she got a whiff of her kitchen staff cooking for the first time in more than a month. "It smells so good. I'm so excited. I'm so ready for this, and 100 percent of the guests who've called in are ready for us to open, too."
But what will that sit-down service look like in the new infancy of the post-COVID-19 economy?
"We've gone through a zillion different scenarios with this," Baskins said. "What we're going to do is have a hostess outside pre-checking people in, to help monitor inside the lobby... If you have a patio reservation, we'll bring you around the outside to the patio, to avoid having too many people get too close inside."
"We set up a reservation system for the first time in 20 years," said Erin Betts of Bardenay's. "We'll still take walk-ins, but reservations will get the seating (priority)."
Tables will be limited to no more than six people.
Many places — such as Coeur d'Alene's Dockside — will have employees stationed to provide a new addition to the dining experience.
"When you come into the Resort, someone will be there to check your temperature," said Kayla White, assistant manager at Dockside. "And you'll notice that things might be spread out a bit."
That spread is due to social distancing requirements all Idaho restaurants must now adhere to, separating tables by at least six feet.
While every restaurant owner or manager expressed unbridled glee toward the reopening, don't expect to see that joy — or any other emotion — on employees' faces.
Per health protocols, all restaurant employees will be wearing masks.
Restaurant spokespeople said guests are welcome to wear masks, but the practice is not required.
Also, expect to see certain staff wearing gloves.
There will be a heightened sanitizing going on, too.
Menus might also be simplified at restaurants in order to simplify the food delivery process, like at Dockside.
"By having these smaller menus, we can get food out to people quicker," White said.
There won't be the traditional salad bar in the foreseeable future, as the open buffet style is an access point for skin-to-lettuce contact.
"We can't do our salad bar anymore," White said. "That also means we can't do our Sunday brunch buffet, at least for now."
Baskins said Cedars was keeping the salad bar, but with a different procedure to keep everyone safe.
"We're going to have an attendant at the salad bar," she said. "That way, our customers can point to something, and the attendant will build the salad."
Betts said Bardenay's noteworthy loss will be bar seating.
"There are definitely guidelines we need to follow in order to re-open, and that's one of them," Betts said. "Desperate times call for people to get creative."
That creativity at Bardenay's included temporarily turning its vodka distillery into a hand sanitizer production center.
"We're just happy to be back," Betts said.
"We're very excited for Saturday," White concurred. "It'll be nice to get back to what we do."
Baskins agreed, adding that this was a new era for restaurants and customers alike.
"This is going to require patience on everybody's part," she said.
Recent Headlines
---