Three candidates selected for assessor post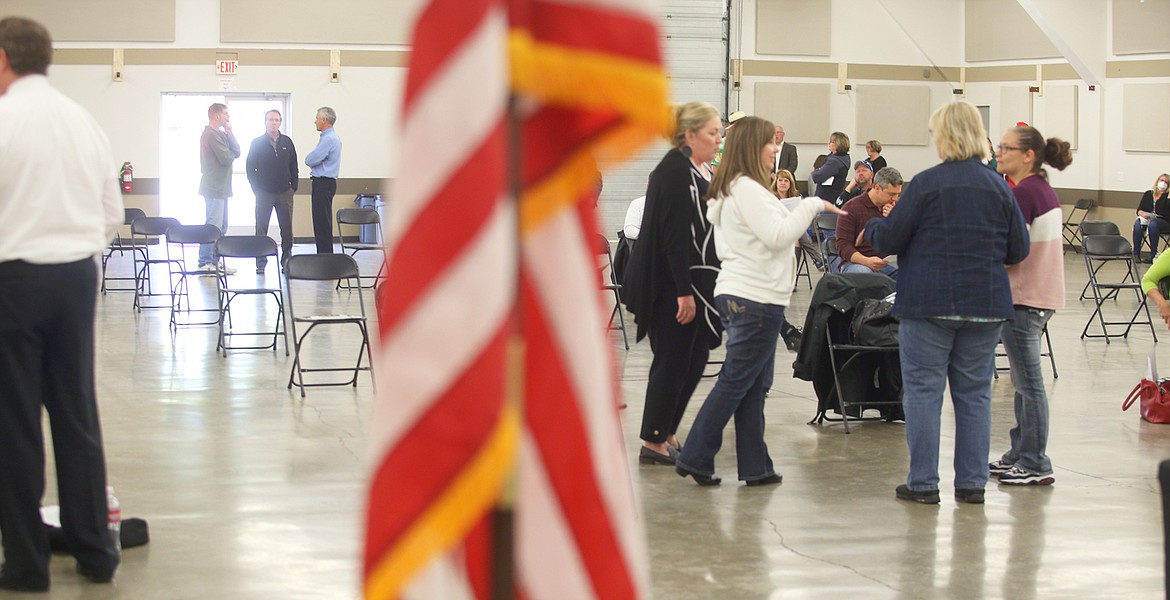 Members of the Kootenai County Republican Central Committee meet at the Kootenai County Fairgrounds Wednesday to select three nominees for Kootenai County commissioners to fill the vacancy in the office of Kootenai County assessor. The committee picked Bjorn Handeen, Bela Kovacs and Roger Garlock.
BILL BULEY/Press

BILL BULEY/Press Members of the Kootenai County Republican Central Committee meet at the Kootenai County Fairgrounds Wednesday to select three nominees for Kootenai County commissioners. The committee picked Bjorn Handeen, Bela Kovacs and Roger Garlock.
Previous
Next
by
JENNIFER PASSARO
Staff Writer
|
May 14, 2020 1:11 AM
The Kootenai County Republican Central Committee selected three candidates to replace the late county assessor Rich Houser on Wednesday evening. More than 60 people gathered at the fairgrounds for the special meeting.
Bjorn Handeen, Bela Kovacs, and Roger Garlock were chosen from a group of five nominees, in order of preference.
KCRCC Chairman Brent Regan will send the names to the Kootenai County Board of COmmissioners, who will have 48 hours to select a new assessor.
Handeen said his resume holds up to the job. He is a Realtor for Lakeshore Realty in Coeur d'Alene.
"I'm a jovial guy, a hard worker and organized," Handeen said. "Those are two elements that make a good manager."
Kovacs served as the purchasing director for Spokane County and currently works as a real estate agent for Windermere Real Estate in Post Falls. He has worked in real estate for almost 20 years, but has no commercial evaluation experience.
Garlock ran for election to the Idaho House of Representatives to represent District 4B, but lost in the republican primary in 2018. He was not present at Wednesday's selection meeting.
Pam Houser was also nominated for the position by Kootenai County Prosecutor Barry McHugh, but did not make the cut.
"I've been in leadership a long time," Houser said. "I never claimed to be the smartest person in the room, but I know who the smartest people are and I will call on them."
Houser said she understands the position and the office structure from her late husband and would provide stability for the employees. When questioned by a committee member if she was ready to step into the workplace, she refuted the question, saying she wouldn't be standing in front of the KCRCC if she wasn't ready to take on the role.
"It would be a great way to honor my husband," Houser said.
Houser currently serves as president of the board at Kootenai County Fire and Rescue and works in public relations for Heritage Health.
Current Kootenai County Commissioner Chris Fillios was also nominated for the position.
Fillios humbly declined the nomination, stating that he enjoys his current position at the county and intends to keep it.
---
This story has been updated for clarity.

Recent Headlines
---