THE FRONT ROW with MARK NELKE: What might have been this season for Coeur d'Alene High's softball team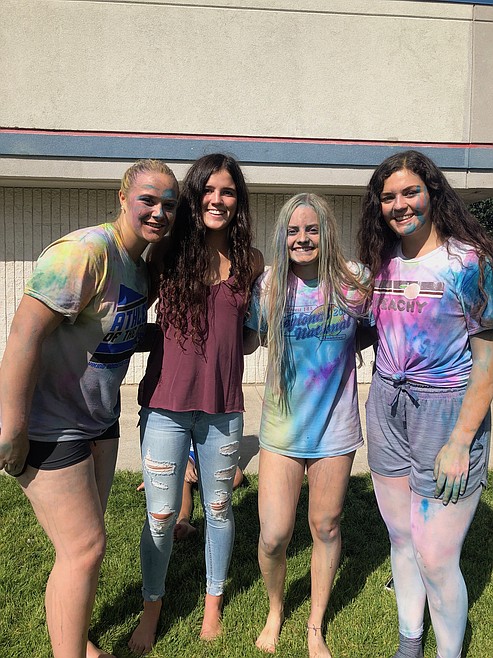 From left, senior Hailey Lyons, sophomore Skylar Burke, senior Maddie Fernimen and senior Karlina Zanetti of the Coeur d'Alene High softball team.
Courtesy photo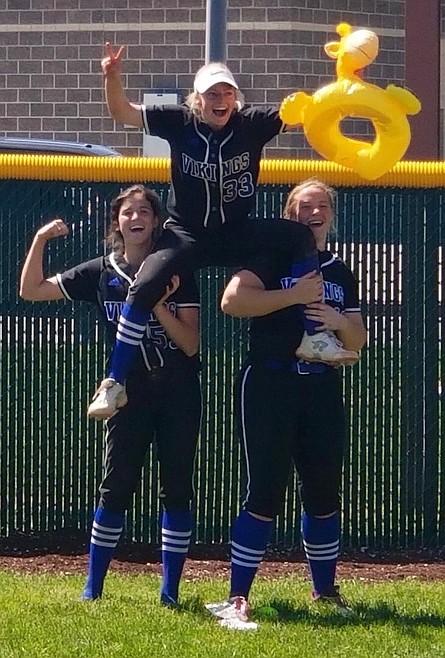 From left, sophomore Skylar Burke, senior Maddie Fernimen and senior Hailey Lyons of the Coeur d'Alene High softball team after a victory last season.
Courtesy photo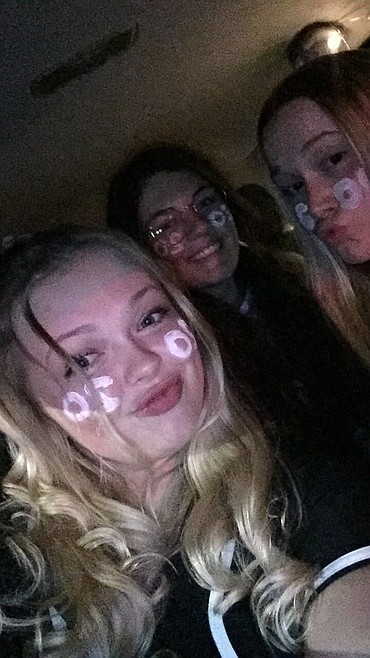 From left, seniors Mary Comack, Karlina Zanetti and Hailey Lyons of the Coeur d'Alene High softball team.
Courtesy photo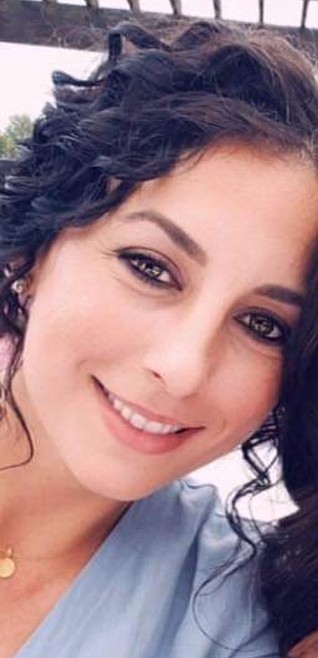 Previous
Next
It was Friday afternoon, March 13, and second-year Coeur d'Alene High softball coach Bobbi Darretta decided it was time for a break.
The Vikings were wrapping up their third week of preseason practice, with the season opener just around the corner.
Coeur d'Alene was coming off a tie for third at state last season — the first trip to state since 2016 for a Viking program which, until recent years, had made a habit of qualifying for state, and often played for the state championship.
And with most of the key players back this year, Coeur d'Alene had high hopes — even talked about bringing home the program's first state title since 2012, and sixth overall in fastpitch.
They had just handed out the uniforms for the season.
"We did half a practice and said 'Let's go get ice cream. Let's get out of here," Darretta recalled.
The parents all knew the plan ahead of time.
Gathered at an ice cream shop just down the road from the school, "We were talking about our lives, things outside of softball," Darretta said. "I felt like we were finally bonding, which we didn't do much of last year."
But later that day, the Vikings found out, due to the coronavirus pandemic, the spring sports season had been suspended by the Idaho High School Activities Association.
One month later, the IHSAA pulled the plus on spring sports in the state for good.
"It was just a huge, huge bummer," Darretta said. "They just worked so hard in our open gyms. We had hitting once a week (during the winter).
Darren Taylor, an assistant last year and a former Viking head softball coach whom Darretta calls her "advisor", came in a couple times a week to "make sure their hitting was exactly what we were teaching," she said. "We've created quite a community in this one year he and I have been here together. I've gotten to know the girls, and now they're ... gone."
The state high school softball tournaments were scheduled for Friday and Saturday in the Boise area, with the 5A tourney at Mountain View High in Meridian.
"All the seniors were getting ready for our last first home game," said Coeur d'Alene senior Maddie Fernimen, a four-year starter — the last three at shortstop. "It didn't really set in until a couple weeks after the virus shut down school. We all thought we were going to be able to come back and at least have some games ... a senior night ... one last time to play with each other. But once it set in, it was a real bummer."
Mary Comack is a four-year varsity member who has played nearly everywhere on the diamond.
"I was really upset. I just didn't think it was real," she said of the news the season could be canceled. "I kept thinking that we'll still be able to play, but there's no way that we can.
"I don't know what to do with myself when there's no softball season."
Senior catcher Hailey Lyons, a four-year starter, was also looking to challenge for the school single-season and career home run records.
"Honestly, it's a time of disappointment, because this would have been our year," Lyons said. "It was definitely hard, because we knew what we had."
THE VIKINGS lost just two seniors from last year's 12-9 squad, including pitcher Natalie Sell, who is playing at NAIA College of Idaho in Caldwell.
But seven other starters returned. Including Lyons, Fernimen and Comack, there was sophomore second baseman Skylar Burke and all three outfielders — sophs Alexis Blankenship (center field) and Madie Cleave (left field), and junior Bekah West (right field).
Senior Karlina Zanetti was back to provide depth in the outfield.
"My offense could have been the best in the state," Darretta said. "I don't think I had a hole in the lineup. Not one."
The only question marks were in the circle, and at third base.
But both questions were answered quickly.
A newcomer from Oregon, senior Cecilia Mick, was training at Frontier Ice Arena, trying to make the USA Hockey team.
She quickly earned the starting job at third.
"She hadn't been on the field for two years, but she wasn't scared of the ball at all. She was a great hitter," said Darretta, who pitched a Lake City team coached by Taylor to the 2001 state title. "During tryouts I pitched to them. If they can hit off of me, they're good to go, and she did. I was surprised, considering she hadn't seen live pitching in two years. She's an athlete."
In the circle, four freshmen — Matea Dorame, Kristine Schmidt, Makiya McPhederan and Natalya Lucero — and a sophomore, Alexia McCurdy, were vying for time.
"One girl picked up her speed from 57 to 60 mph," Darretta said. "When I started with her in October, she was around 54. I taught all of them my changeup that I used to throw, and that thing can be very dirty."
Darretta told them all just to throw hard, but also mix in a junk pitch to keep hitters off balance.
"I didn't know who was going to step up and be the No. 1, but I didn't know if I needed a No. 1," Darretta said.
THE SENIOR leaders were Fernimen, Lyons and Comack.
On Fernimen: "She's such a phenomenal player," said Darretta, who loved the chemistry Fernimen had developed with fellow middle infielder Burke. "She's just fun to watch. She's got such a quick release, and her lateral movement is so impressive. At the plate, I wanted her to be my leadoff hitter again this year. She had the most hits last year (33), and she had the most stolen bases (28) and the best batting average (.516), And she's so smart, and she knows the game, and I expect big things from her at Buffalo."
Fernimen's travel team, Absolute Blast out of Seattle, played in a tournament at Boston last summer. She contacted coaches in that area that had planned to be at the tourney, scouting.
She made a recruiting video, sent it to several coaches. A coach from Division I Buffalo responded, but said they wouldn't be at the tournament. However, they did want to see her play, so her dad, David, shot video of her playing at the tournament, and sent it off to Buffalo.
She took an official visit in September. She wanted a college where the students rallied around the sports teams.
"I know it sounds cheesy, but it did feel like home away from home," Fernimen said. "I fell in love with the school and sports balance there."
On Lyons, who had a team-high 31 RBIs last season: "She's got the attitude behind the plate, the confidence," Darretta said. "She also expects her pitchers to step up, but she's supportive at the same time. I don't think very many people would have run on Hailey this year."
Lyons signed with Division III UMass-Dartmouth thanks to some help from Olivia Zufelt, one of last year's catchers at Lake City.
"She played for Absolute Blast (with Fernimen), and she had already signed (with Grand Canyon), and the last tournament of their season, the seniors could not go if they didn't want to. The team needed a catcher and she told her coach 'Hey, take Hailey Lyons to Boston.'"
The season for Lyons' club team, the Seattle Sidewinders, had already ended, so she was available.
UMass-Dartmouth coaches saw her hit a home run. She hit two more home runs that weekend.
"The whole reason I got signed was Olivia Zufelt," said Lyons, who eventually wants to become an international business lawyer.
Comack could have played catcher, and third. But on this team, this year, Darretta figured the best spot for her was first base. In past years, Comack also played outfield and second base for the Vikings.
"She's got a phenomenal attitude," Darretta said. "She's an excellent athlete. she stays late, she's at every open gym. I tell her, 'If I ever move up in college and you're still in school, I'm going to be contacting you.' She's just such a utility player and has such a great attitude about it."
Comack, whose older sisters Kathy and Betty also played at Coeur d'Alene High. does hope to play in college, and has a few schools interested. Betty played at North Idaho College this season, and Kathy previously played at NIC.
Like the other four-year seniors on the varsity, Comack was hoping this would be Coeur d'Alene's breakthrough year. The Vikings went 12-11 in 2017 and 7-18 the following season, failing to make it to state either year.
"Everyone just thought this is the year," Comack said. "Everything was coming together, and everyone thought it was going to be a good one."
DARRETTA REMEMBERED the focus the Viking players and coaches had during preseason practices.
"Every single minute counted," she said. "We practiced like we were on to state at that point."
When spring sports were halted, the Vikings were still hoping to return for at least an abbreviated season. They wanted to play each of the other teams in the 5A Inland Empire League (Lake City, Post Falls and Lewiston) at least once.
"We wanted to say, 'OK, this is what we had this year, this is how hard we worked, this is possibly what could have been the outcome,'" Darretta said. "That's what we wanted."
Darretta thought the Vikings could have entered state this year much like Lake City did last year — after a dominant season in the north.
"I think that would have been us this year. And my girls were hungry for it," Darretta said. "We should have been there (at state), and having a good time on top of it."
Mark Nelke is sports editor of The Press. He can be reached via email at mnelke@cdapress.com. Follow him on Twitter@CdAPressSports.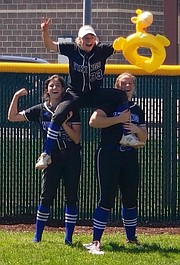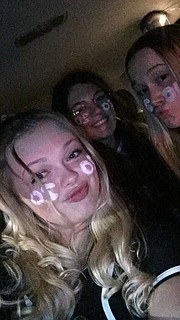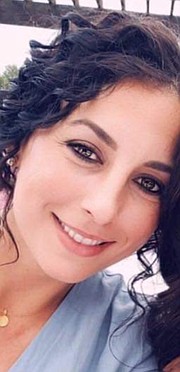 Recent Headlines
---