Kroc to open Saturday; Silverwood at month's end
Two of the most popular spots in Kootenai County plan to open this month.
The Salvation Army's Kroc Center is set to open Saturday in conjunction with Gov. Brad Little's stage two of reopening the economy.
Its adjusted hours to give extra time for cleaning each evening are Monday to Friday, 5 a.m. to 7 p.m.; Saturday: 7 to 7 and Sunday, 8 to 4.
Here's what will be available:
• Lap Swimming in Competition Pool (limit 30 swimmers)
• 15+ River and Lap Swim in Cove Pool (limit 20 swimmers)
• Cardio Equipment, Upstairs Circuit and Selectorized Equipment
• Sonic Vibration Platforms — reservation instructions to be sent next week
• Walking Track (limit to 19)
• Land Drop-in Classes (held in the Gym, limit 20 per class–bring your own mat)
• Cycling Drop-in Classes (held in Group Ex Studio, limit 15 per class)
• Aquatic Drop-in Classes (Cove & Comp Pool, limit 10 per class)
• Church Services every Sunday at 10 in Worship Theater
"This initial list of offerings may seem overly cautious," a press release said. "It is not. On a normal day, The Kroc Center has over 2,000 entries for use. The total number of people who can be in The Kroc Center at one time, during Stage 2, is 200 to provide proper social distancing. This number includes staff."
Silverwood Theme Park is scheduled to open May 30, while Boulder Beach is set to join it and open June 6.
"We recognize Silverwood is a major component in our region's economic recovery," wrote owner Gary Norton.
"Safety is our No. 1 priority, and that is why we have developed extensive social distancing and cleaning protocols to reduce the risks to guests and employees as much as possible during their time at the park."
Silverwood will be taking several steps to reduce the risk of spreading the coronavirus, including:
• Providing complimentary masks for those who want to wear them.
• Operating at a controlled, reduced capacity to ensure your family has ample space.
• Changing the configuration of our queue lines to allow for social distancing between families.
• Wiping down rides between cycles.
• Water park chlorine and ph levels will continue to be constantly inspected to ensure guest safety.
• Upgrading our building air handling systems to hospital-grade HEPA filtration.
"Determining whether or not to open the park during these unprecedented times was a difficult task. Like many organizations, we're continually monitoring the balance between public safety with the desire to keep our economy alive," Norton wrote. "This balance needs to be re-evaluated on an ongoing basis. We have based our plan on the information and guidelines from state and health experts, however, we cannot guarantee there is no risk associated with engaging in a social activity at this time; we can only say we have done our best to minimize the risk with the procedures we have taken."
He added that those who feel they are in one of the vulnerable categories due to age or health considerations, are advised to postpone their visit to the park this season and wait for more secure times.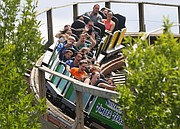 Recent Headlines
---