Dinners with the Dagastines
by
BILL BULEY
Staff Writer
|
May 14, 2020 1:15 AM
Gary and Beth head out each night to support local restaurants, encourage others to do the same
COEUR d'ALENE — Gary and Beth Dagastine have eaten out 33 nights in a row. Tonight will be 34.
"And I've lost 10 pounds doing this," Gary said Wednesday outside the Mango Tree on Kathleen Avenue.
"I still don't understand that," Beth said, shaking her head. "You probably gave me your 10 pounds."
Joking around, having fun, and being together are part of each evening for this longtime Post Falls couple on this dining-out adventure.
And while they've enjoyed good food and drink, that's not what this is about. It's about helping family-owned restaurants survive due to the coronavirus restrictions that limit them to takeout service.
"We're here to support them," Gary said.
So each night, they head out about 4:45 p.m. in their van pulling their 20-foot travel trailer. They pick a place and head there. They generally spend about $30 to $40.
They've eaten burgers and pizza and steaks and fish. They've tried Chinese, Italian, Mexican and American.
"I had no idea we had that many family-owned restaurants in this area," Gary said.
Any French cuisine?
"Not yet," Gary said.
But soon.
The Dagastines actually prefer to eat at home. Gary, a retired Kootenai County Sheriff's Office deputy, is a talented chef and likes to be creative in the kitchen.
"He's a good cook," Beth said.
But about five weeks ago when they were in their travel trailer and eating outside Panda Express in Post Falls, they got some thumbs ups and waves from passersby, apparently cheering them on for eating local. The next night, the same thing happened.
It was then, they decided to eat out, every night, at family-owned restaurants.
It's been good chatting with employees, meeting people and trying new dishes and eateries. They have posted pictures and recaps of each visit on Facebook and have attracted followers.
"This place needs you to visit just as bad as all the others if we want them to stay open," they wrote about Best Sandwich Shack in Post Falls.
Gary is disappointed to see that fast food places always seem to be busy, but sees little business at dine-in restaurants that can only offer curbside services.
Sometimes, they're the first customers that day.
He noted, for instance, in their hourlong visit to Caddyshack restaurant, "there was nobody there. Two people picked up orders to go. And they're always packed," he said.
Gary owns and operates Northwest Recumbent Cycles, so he knows the value of local clientele.
He notes that while he has a good retirement plan and doesn't have to produce strong sales figures, there are restaurant owners who need daily dollars to pay their bills.
"If people quit coming and I relied on that, I'd be screwed," he said.
Tuesday night, they tried Juniors Cocina Mexicana, a new restaurant on Coeur d'Alene Lake Drive.
"Ever had a fajita to go? It's almost impossible. It's gotta come on this screaming hot skillet," Gary said. "This was good."
Pretty much everywhere they've gone — Roger's Ice Cream and Burgers in Post Falls, Daft Badger in Coeur d'Alene, Westwood Brewing in Rathdrum and Sargent's in Hayden — has earned rave reviews from the Dagastines.
They refused to list a favorite.
"All of it's been good," Beth said.
They've spent more than $1,000 total on their quest for dinner each night and aren't done. When restaurants are allowed to reopen Saturday under stage two of Gov. Brad Little's Idaho Rebounds plan, they intend to keep eating out.
Most restaurants, Gary said, can't use all their tables due to the spacing restrictions and will face continued hard times.
"It's ridiculous," he said. "They're not going to have enough to keep the lights on."
But not if he and Beth can help it.
Tonight at 5 the Dagastines plan to roll up at Junior's Barbecue in Hayden. They invite folks to stop by and do the same.
"Let's support the locals," Beth said.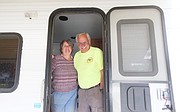 Recent Headlines
---