Art on the Green goes virtual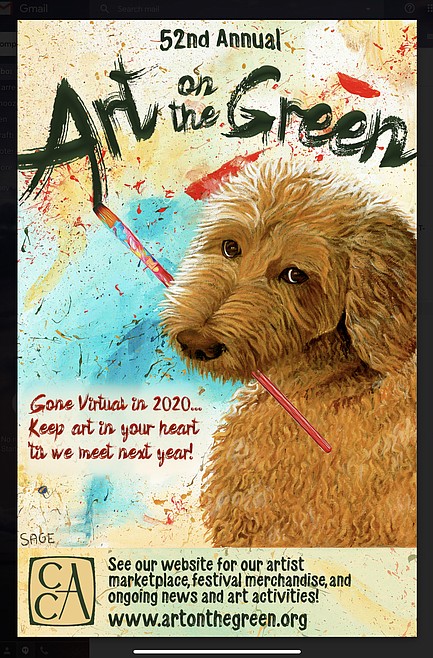 Art on the Green poster contest winner Sage Pedersen created this year's design for the festival. Patrons will be able to purchase posters and merchandise with Pedersen's winning design on the festival website.
Courtesy image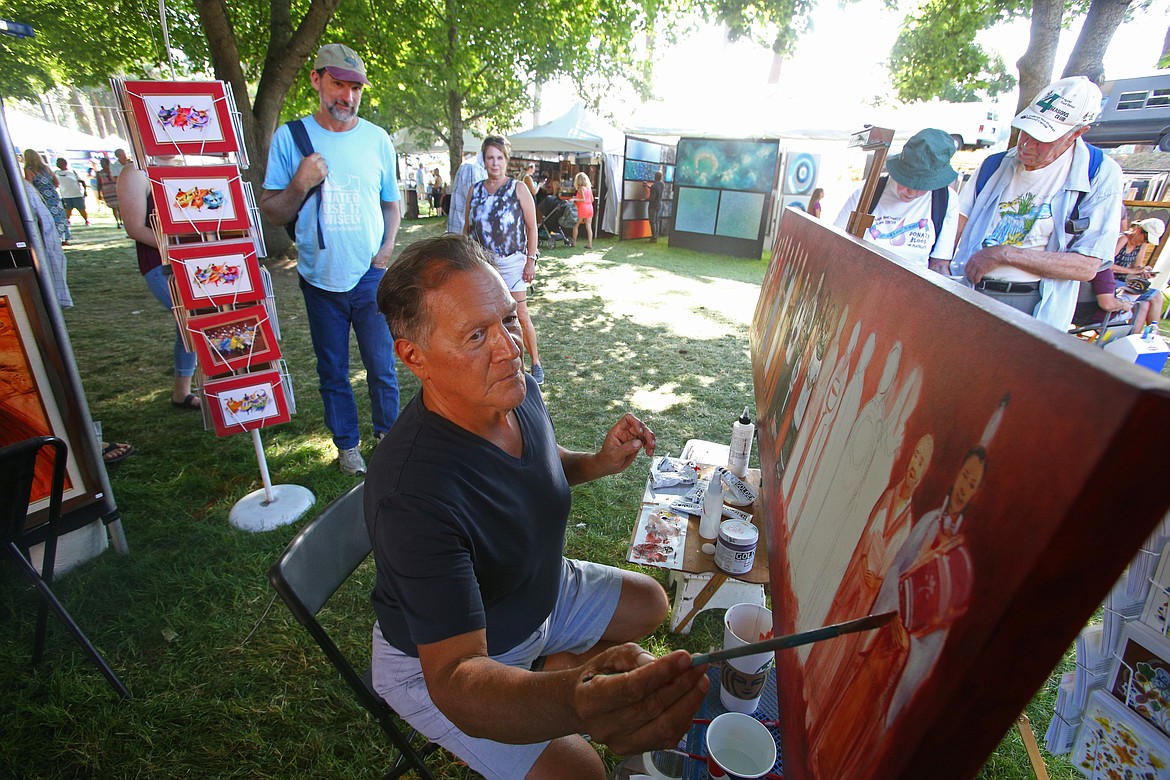 Daniel Ramirez, of Rio Rancho, N.M., paints contemporary Native American fine art during Art on the Green on the North Idaho College campus last summer. The 2020 Art on the Green live festival won't take place because of the global pandemic, but a virtual festival including opportunities to connect with artists and buy merchandise will be available online. (LOREN BENOIT/Press File)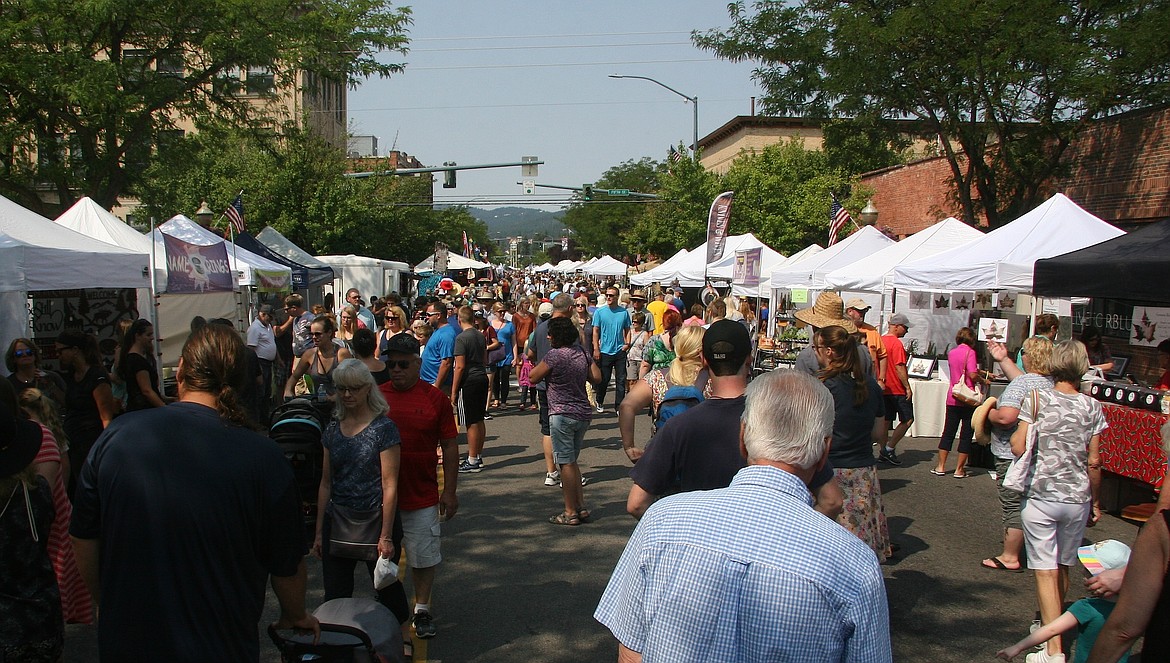 Thousands of people took advantage of moderate temperatures to enjoy the 2018 Coeur d'Alene Downtown Association's Downtown Street Fair. Although Art on the Green is going virtual this year, the Street Fair and the Taste of Coeur d'Alene are still a go as planned. (BRIAN WALKER/Press File)
Previous
Next
by
DEVIN WEEKS
Staff Writer
|
May 14, 2020 1:13 AM
Downtown Street Fair, Taste of Coeur d'Alene still scheduled
For the first time in 52 years, the Citizens' Council for the Arts is taking Art on the Green entirely online.
"Art on the Green will become a virtual festival for 2020, instead of our traditional gathering of family and friends on the grounds of North Idaho College," the council announced Wednesday.
The council said it recognizes the challenges and risks in holding a live festival during a pandemic. It was a difficult decision to not hold the live festival, which was to be held July 31 through Aug. 2, but it was made to protect community members and volunteers and to be in compliance with Centers for Disease Control and Idaho state guidelines.
"We're going to miss our family gathering, but what do you do?" said Diane Solomon, president of the Citizens' Council for the Arts. "It's a tough time."
By the last days of July and first days of August, Idaho will be well beyond stage four of Gov. Brad Little's Idaho Rebounds phased reopening plan. Solomon said the council spoke with the governor's office and they concluded a festival that attracts thousands of people, including many from outside North Idaho, "would not be a good idea."
The council is encouraging community members to "Keep Art in Your Heart" by providing ways to support art and artists through donations and direct purchases, enjoying art project videos with their children or purchasing festival merchandise. Proceeds will support the council's community project of supplying local schools with art supplies for classrooms.
The "virtual marketplace" will showcase artists who were accepted by judges to show their works in this year's festival. Their work will be available to view online, and the council will provide links to websites and emails so patrons can contact the artists.
Children's Art Garden chairwoman Iris Siegler will present art projects for families to enjoy at home.
Visit www.artonthegreencda.com for details and updates.
Festival T-shirts, posters and other merchandise displaying the 2020 winning design will also be available on the Art on the Green website.
The 2021 Art on the Green will be considered the 53rd annual festival. It is scheduled for July 30 through Aug. 1 next year.
The other two big events that land on that weekend — the Coeur d'Alene Downtown Association's Downtown Street Fair and the Panhandle Kiwanis' Taste of Coeur d'Alene — both plan to proceed as normal, as long as North Idaho does not see a spike in COVID-19 cases.
"Our show is going to go on," said Downtown Association events coordinator Emily Boyd. "We've discussed with the local entities in the city and everyone felt it's comfortable for us to move ahead at this time."
Boyd, who was excited to also announce a downtown celebration happening this Saturday as restaurants reopen, said unless anything changes, Street Fair is a go.
"We'll have the necessary accommodations to keep the public safe," she said. "We're still working out the details."
Kent Setty, president of the Panhandle Kiwanis, said Taste of Coeur d'Alene is proceeding as scheduled.
"It's our major fundraiser of the year," he said. "That money gets carried over to youth activities for the year after August."
However, the Taste doesn't like to fly solo. A Street Fair cancellation could make the Taste of Coeur d'Alene change course.
"Our philosophy is that we will go with the majority," Setty said. "We don't want to do this and be the only ones there."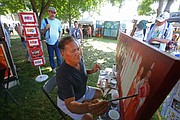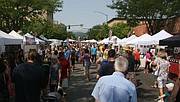 Recent Headlines
---