Top grads: Nick Probst, Coeur d'Alene High School valedictorian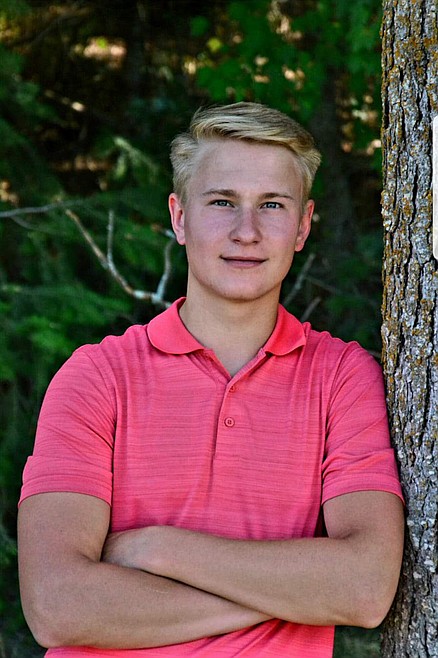 Although I am originally from Moscow, Russia, I've been fortunate enough to call the Pacific Northwest my home for the last 12 years. I'm also the youngest of two siblings, my older brother being 22. When I'm not busy, I like to spend time outside, grab coffee with a friend or just watch some sort of foreign series on Netflix.
Activities/clubs/sports:
I played football, basketball and tennis my freshman year, and then cross country and tennis my sophomore through senior years. I was fortunate enough to be one of the captains for cross country my senior year. Ski and Snowboard Club was also the best excuse to not go to school! I did nerdy stuff too like Scholastics, Mathletes and BPA. But the MOST IMPORTANT club/activity that I did throughout all four years of high school was being part of the debate team.
Hobbies:
I like to go hiking, grab coffee, hang out with friends, go out to eat, learn languages, and travel. I also worked at Triple Play my sophomore and junior years and Rancho Viejo my senior year.
Favorite books/movies/music: Books: Rick Riordan books, Alexander Pushkin's tales and maybe "Of Mice and Men" and "Brave New World."
Movies:
"Mulan," "Lilo and Stitch," "Shrek 2," you know, movies I'd actually rewatch again for fun when I'm 40.
Music:
Anything as long as it's not death metal or country (sorry, Idaho)
Favorite school subject:
Countless tears and frustration aside, I actually really enjoyed learning physics with Mrs. White!
Senior quote: "Strive to be the kind of person that can lose all of their successes, accomplishments, awards, medals, and honors, and then look in the mirror and be proud of the person that they see!"
What has been your proudest moment in your school career?
Not really a moment per se. I never did stuff just for the grade or just for the resume/college application. I did stuff that I was genuinely interested in and cared about, and that's something I'm really proud of in a weird sort of way.
What are your plans for after high school?
I decided to attend Johns Hopkins University in Baltimore, Md. I plan to study foreign languages and linguistics and international studies. I'm super excited to study abroad (hopefully more than once) in Europe and Latin America.
What will you miss most about high school?
The awesome lunchroom staff (you would too if you tried Richard's pico de gallo), the friends I won't be seeing on the East Coast and the debate team.
What advice do you have for younger students that will help them excel in their studies?
1. Whatever you do, try to enjoy it. You have to do it either way, so you may as well enjoy the process. 2. Figure out what works for you. Don't constantly compare yourself to others or try to be someone you're not. 3. Make friends!
What is your legacy to your school?
I never started a club or lobbied the Board of Education to change a certain policy. However, if I could choose to be remembered in one way or another, I think I would just hope that people can see my name, and think of a positive experience they had with me.
• • •
The Class of 2020 is filled with stars so bright, even a worldwide pandemic can't overshadow their accomplishments.
This series will highlight the top graduates of North Idaho's high schools. Valedictorians and salutatorians, we salute you!
Recent Headlines
---