Legends of the Paws has delivered 132 dogs to KHS; all have been adopted
by
BILL BULEY
Staff Writer
|
May 13, 2020 1:11 AM
Legends of the Paws has delivered 132 dogs to KHS; all have been adopted
HAYDEN — Marked for death.
But nearly 2,000 miles and three days later, marked for life.
"That's what we do," said Vicky Nelson, development director for the Kootenai Humane Society.
And it's thanks to a partnership between two organizations dedicated to saving pets.
Legends of the Paws is a nonprofit group that rescues dogs at risk for euthanasia and delivers them via ground transportation to approved adopters across the country.
Since Jan. 1, KHS has taken in 132 dogs from Texas shelters — all courtesy of Legends of the Paws.
"If we have the room, we'll take them," Nelson said.
They find them homes, too — all 132 have been adopted.
Good for the dog, good for the person.
Because after an adoption, Nelson hears the stories of joy, happiness and love that result from bringing a pet into a home.
"Truly, it saves a human life as well," she said.
Chyna, for instance, arrived from Texas in January. The seven-year-old pit bull "probably had some troubles early in life," Nelson wrote.
Yet, she was adopted in March and her owner has updated KHS on her status. They are best friends.
"She stole my heart," Nelson wrote.
Cheri Glankler, founder of Legends of the Paws, operates it out of her Garden Valley, Idaho home. She founded it in 2014 and is funded by donations.
"The whole big concern is the dog getting a happily ever after," she said Tuesday.
Before that day comes, though, are tragic stories of dogs marked for death that she has rescued from shelters in the south, primarily Texas. They are dogs that have been abused, neglected, and abandoned.
"We're not talking a small percentage," Glankler said.
She said there's a stark difference between how dogs are treated in the north — like family — and the south, where they are considered commodities.
"We don't treat our dogs like they're treated down there," she said.
Legends of the Paws transports dogs to shelters around the country. It partnered with KHS and Executive Director Debbie Jeffrey late last year.
Dogs transported to KHS are often adopted within days, Glankler said, "because of the wonderful people in the north.
"Their lives are saved," she said.
Legends of the Paws pays transportation costs while KHS covers boarding food and medical needs, such as spay and neuter, vaccinations and microchipping.
She said Chyna was "emaciated" when they got her. She was moved to KHS — a nearly 2,000-mile, two-and-a-half-day trip through New Mexico, Utah and up through Idaho — and adopted by a veteran, who has bonded with her.
"It's just so rewarding," Glankler said.
But there is a price.
It can run more than $3,000 to ship a group of kenneled dogs to a shelter. Glankler said she has paid upward of $4,000 a month to foster dogs. Many that Legends rescues need medical care.
"I can't let a dog go," said Glankler, who is retired and has been involved in pet rescues for three decades. "If I can find a way, I'll do it."
Legends will call places like KHS every month or so and say it has three dogs, 10 dogs, maybe 20 — all with one thing in common: Their time is running out and they need a shelter to take them in, now.
"How many can you take?" it asks
The answer, said Nelson: As many as possible.
They come in all shapes and sizes and ages and breeds. KHS has taken as many as 35 at one time. Often, there is no history about the dog. Nothing about its behavior or temperament or how it relates to other dogs. While most are healthy, some are not well when they arrive and need medical help.
"We don't know a lot about them," Nelson said.
But they take them, knowing this: They will find them a home.
"More will come," Nelson said.
KHS adopts out about 2,200 dogs and cats each year. It currently has two dogs from Texas, a four-year-old black pit bull and a five-year-old retriever/lab.
With the coronavirus travel restrictions, KHS has not been able to accept dogs from Texas since mid-March. That may change by June or even this month.
"Hopefully, they can start up again and bring us more dogs," Nelson said.
Which means more dogs getting a second chance at life in North Idaho. "You know they're in a good place once they get there," Glankler said.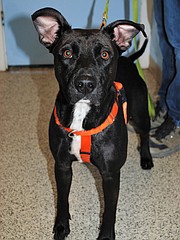 Recent Headlines
---