Little's rebound plan leaves yard sales room to negotiate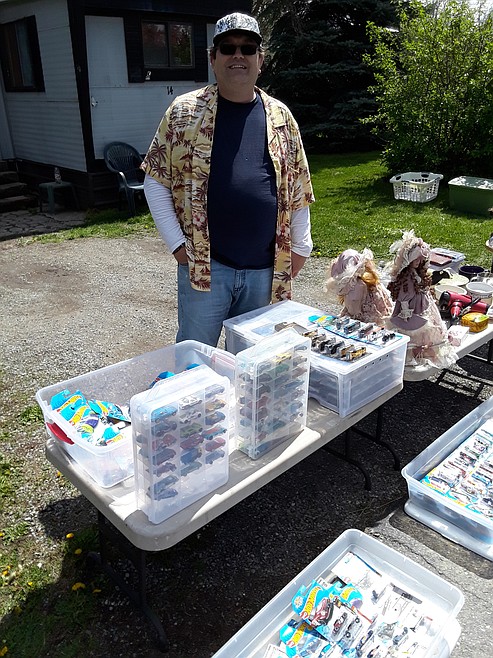 Michael Johnson of Athol said he double-checked with the city before getting permission to hold his yard sale. Johnson is selling some of his possessions to pay a few bills and help cover the cost of his wife's cremation. The yard sale runs through Sunday. "We're just doing what we can to survive right now," he said.
CRAIG NORTHRUP/Press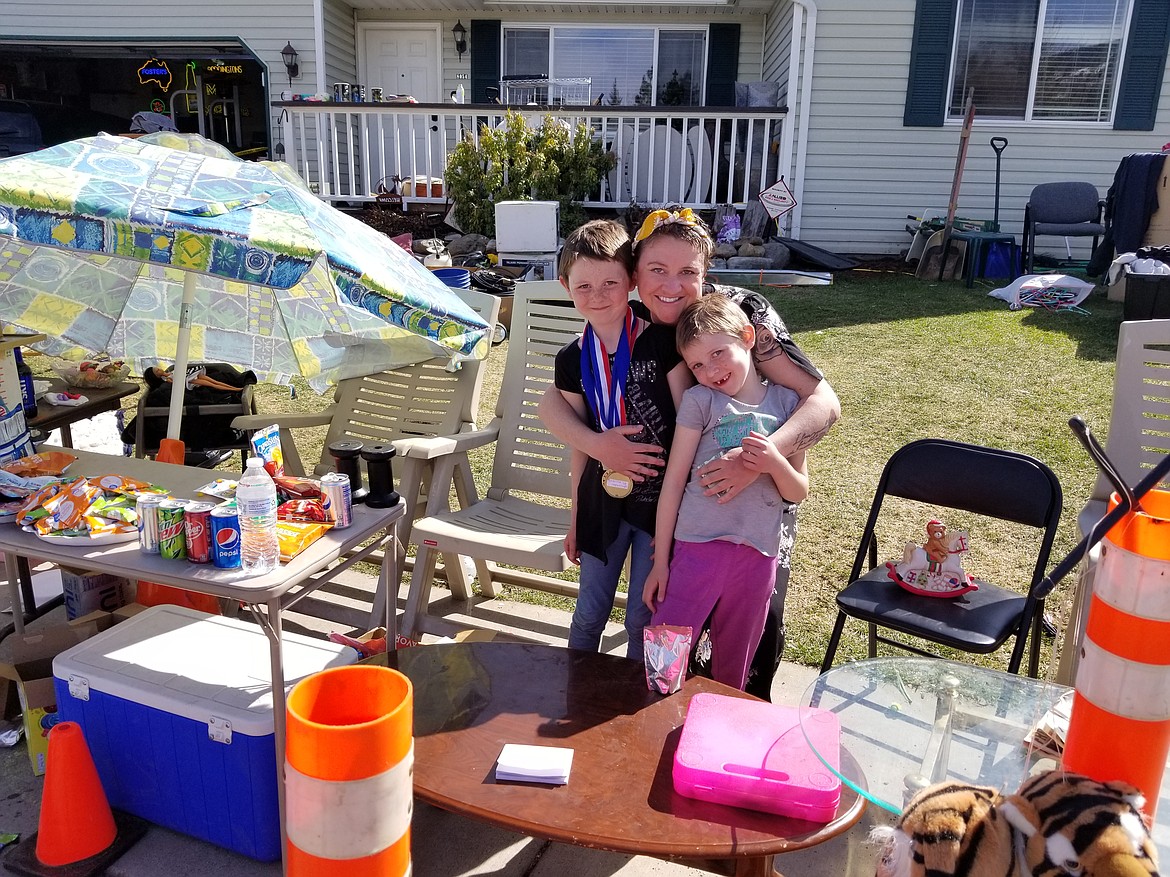 Christa Thompson with two of her six children April 17. The Rathdrum resident was issued a citation for violating Governor Brad Little's stay-home order that day after holding a yard sale. (PRESS File Photo)
Previous
Next
by
CRAIG NORTHRUP
Staff Writer
|
May 12, 2020 1:15 AM
As Idaho gradually opens its businesses over the course of the next five weeks, an industry largely forgotten in Gov. Brad Little's coronavirus rebound plan has been greenlighted by some local jurisdictions but halted by others, creating confusion and constitutional conversations around the weekend ritual.
Yard sales have been given approval to open for business by some cities within Kootenai County.
The governor's first stage in his four-part re-opening plan declared that most non-essential businesses could re-open as of May 1, provided they meet specific public health requirements. At the same time, the first stage also declared that both public and private gatherings should be avoided, though that has been interpreted as a guideline and not a prohibition.
Conversely, only after stage two begins on Saturday are gatherings of up to 10 people allowed, a limit Little said will be enforced. The 10-person guideline is the metric the city of Athol is using to steer policy.
"We typically don't regulate yard sales," Athol City Clerk Lori Yarbrough said. "We actually just had someone call inquiring about holding a yard sale. We're telling people to adhere to the governor's guidelines, which allow up to 10 people to gather. So as long as people allow 10 people or less, that's OK."
Across the street from Athol's Country Boy Cafe, Michael Johnson stood behind folding tables covered with Hot Wheels, dolls and knick-knacks Friday morning, tending to eager customers for his yard sale, which ran through Sunday.
"I double-checked with the city," he said. "They said it was OK. I have to abide by the rules, but they said it was OK. I think they're looking to see how this goes this weekend, just to make sure it goes all right."
Johnson's right hand firmly grasped his phone, hold music blaring on his speaker. The sandblaster said he's has been laid off for seven weeks and is yet to receive an unemployment benefit. He said he's made this same phone call to the Idaho Department of Labor as many as 60 times a day, usually receiving a busy signal.
"This time, I got through," he said. "I'm not hanging up until I talk to somebody."
As of Friday, Johnson's was the only advertised yard sale on Craigslist in Athol for the weekend. Proceeds will pay for bills and the cremation of his wife, who passed away two weeks prior.
"She told me that if I bought one more Hot Wheel, she'd divorce me," he recalled. "I thought I'd better get rid of them."
A considerably larger Athol sale was to take place this weekend but was canceled out of concern for COVID-19. Every year, the popular townwide yard sale serves as a culmination of a street-to-street, yard-to-yard cleanup project. Organizers have postponed the event until after the summer, a decision Yarbrough said was made out of maintaining general public safety, rather than adhering to a government mandate.
"The city decided it was just best for everybody to wait," she said. "Everybody's going to have a lot of stuff lying around their houses until the fall, though. I know I will."
Kit Hoffer, spokesperson for the city of Post Falls, said yard sales are allowed in city limits.
"People need to follow the health guidelines the governor and Panhandle Health are telling us," Hoff said.
Coeur d'Alene Mayor Steve Widmyer said yard sales will be allowed once Panhandle Health District administrators sign off on the idea.
PHD spokeswoman Katherine Hoyer said that the health district double-checked with the state, and that yard sales can begin on Saturday, the start of stage two. Hoyer stressed yard sale organizers should adhere to public health protocols.
Representatives from Hayden deferred to the Sheriff's Office. Administrators from the Sheriff's Office deferred to the county's Office of Emergency Management. The OEM did not reply to requests for comment.
On Friday afternoon, Marissa Morrison, spokesperson for Gov. Little, released a statement to The Press, stating that yard sales are now permissible.
She said shoppers and sellers should follow social distancing guidelines, remember good hygiene practices and be mindful of crowds.
Rathdrum officials told The Press the city was deferring to Panhandle Health's judgment on the matter.
A Rathdrum resident brought the issue into the spotlight last month after she was cited for holding an April 17 yard sale in violation of Little's then-active stay-home order. Christa Thompson was issued a citation by the Rathdrum Police Department while holding a yard sale of a relative's belongings.
Thompson's hearing at the Kootenai County Courthouse is set for June 23.
"I see it both ways," Christa Thompson said. "I would say, if you are someone who has a problem with a person having a yard sale, then just drive on by. If you do not have a problem, then stop and support those that may need the extra cash for their families."
Thompson's story reached news outlets across the state and around the country. She said she believes holding a yard sale is something that shouldn't be mandated by the state.
"This is our right," she told The Press, "our freedom and our time to make a stand."
Recent Headlines
---