This school is in session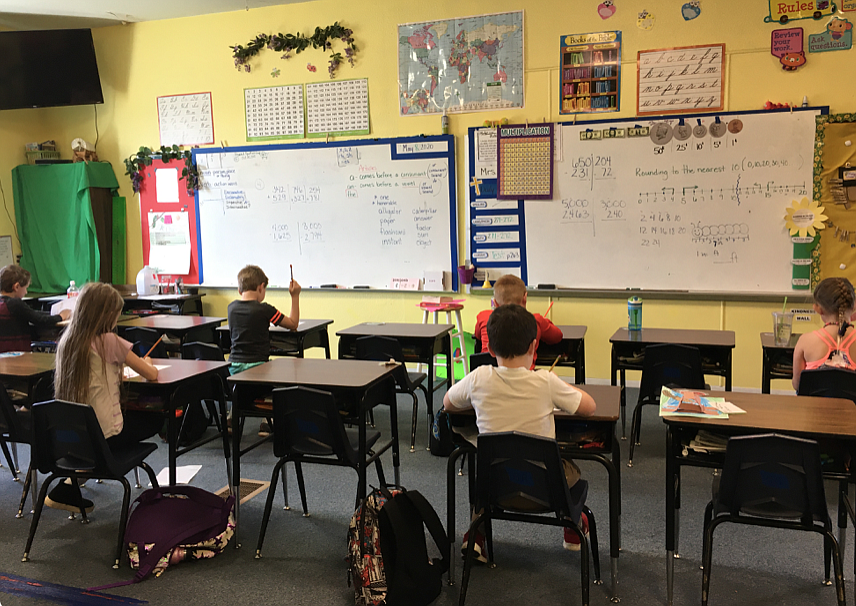 Cornerstone Christian Academy second-graders work on schoolwork at a social distance during their first week back in the classroom after coronavirus closures.
Courtesy photo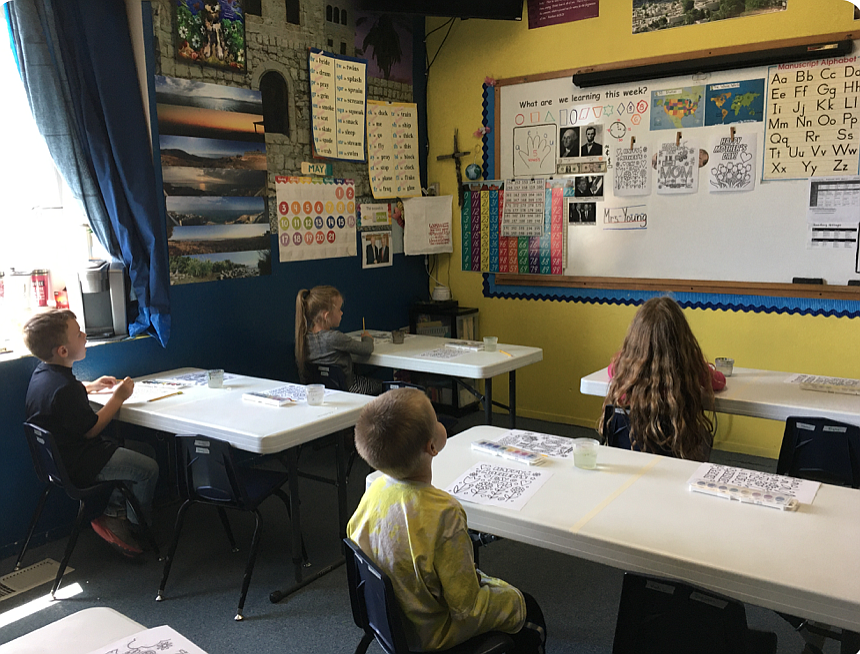 Kindergartners enjoy being back in class at Cornerstone Christian Academy on Friday. The small Post Falls school welcomed its students back this week, holding staggered sessions and keeping to strict health protocols. (Courtesy photo)
Previous
Next
by
DEVIN WEEKS
Staff Writer
|
May 9, 2020 1:09 AM
Cornerstone Christian Academy welcomes students back to class
POST FALLS — A small private Christian school in Post Falls that welcomed students back to the school grounds this week reported a happy return to life as somewhat normal.
"It was great on Monday, the smiles," the Rev. John Young, executive director of Cornerstone Christian Academy, said Friday. "For some of the kids, it was like the first day of school because they haven't seen their friends in four or five weeks."
The academy, which serves as a day care and a school, has shifted from full days to morning and afternoon sessions so its roughly 112 kindergarten-through-sixth-graders are split up and in classrooms of only 10 children or fewer.
"They're cleaning, distancing, staggering desks," Young said, adding that because of the small class sizes and split days, "we found we were in compliance with all the recommendations."
Cornerstone has a lengthy list of mandatory protocols on its website to provide instructions for returning to on-site learning. These include: checking a child's temperature before leaving for school; students and staff members staying home if their temperature is 100 degrees or if they are exhibiting symptoms such as fever, cough or runny nose; social distancing of at least 6 feet between students; suspension of large group activities; hands remaining in pockets in the hallways; no food or item sharing; rigorous hand-washing and cleaning.
Idaho is in stage one of Gov. Brad Little's Idaho Rebounds plan, meaning while gatherings should be avoided, day cares and organized youth activities and camps can open. Earlier this week, Coeur d'Alene and Post Falls school districts announced their students would not return this school year.
"Part of the advantage we have is that we don't have some of the things they have to deal with. I couldn't imagine dealing with a cafeteria or lunchroom," Young said. "They have a lot more they have to (deal) with, and we know that. We're praying they get back there soon."
Beginning with Idaho Rebounds phase three, which starts May 30 if Idaho doesn't see a spike in COVID-19 cases, gatherings of 10 to 50 people will once again be allowed as long as precautionary measures are followed.
"The only thing we're not being compliant with is we're still taking hugs. That's the only thing," Young said. "I measure my days by the hugs from the kids. We're not going to not take hugs."
Cornerstone mom and teacher's aide Sandy Mueller said she loves that the school was able to figure out how to adapt to Centers for Disease Control guidelines and open again.
"This school has been a tremendous blessing to my family," she said. "(My husband) Joe and I plan to have all our kids there for as long as they can."
Cornerstone is a year-round school that usually takes one or two weeks off a month, so adapting to online learning and having an extended break didn't upset the school's curriculum, Young explained.
"When (coronavirus) landed, we were able to adjust much easier," he said.
With staggered days, students are still completing some work online, but getting used to following the new procedures as they settle back into being together.
"It's a heart mend having the kids come back. And that reattachment with loved ones. We're a family. Not only the kids, but to see the parents," Young said. "The smiles and the hugs the kids get to have, it's good. It's healing."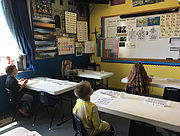 Recent Headlines
---