THE FRONT ROW WITH JASON ELLIOTT: His knee buckled, but Lakeland wrestler Quimby did not
In 2019, Ryan Quimby was on top of the world as it were, winning at the Reno Worlds wrestling tournament in May of that year.
It was only a few short months later, that his world — which revolved around wrestling — was shaken.
QUIMBY WAS at a training camp last July for the Freestyle/Greco-Roman national tournament when he suffered a torn meniscus in his left knee, putting a sudden end to his summer wrestling program.
"I went to throw a kid and my knee just gave out on me," Quimby said. "At the time, I was pretty upset for a while and wasn't sure what was going to happen next. I hadn't seen my doctor and it just swelled up on me. I stayed at the camp, but couldn't practice and after that just went home to see the doctor."
Once he arrived home, Quimby learned he'd suffered a partial tear. At the time, his senior year of wrestling at Lakeland High was in doubt.
"My doctor told me I shouldn't wrestle," Quimby said. "And if I did, I'd have a month before the state tournament when I came back."
While he was nervous about the decision at first, Quimby started the season on time, competing in the Inland Empire Classic Dec. 13-14 at Central Valley High.
"I just braced it up and wrestled," Quimby said. "I was super nervous, but excited to get going."
That tournament was the start of a season Quimby, wrestling at 160 pounds, won't soon forget.
"My knee buckled in my first match at Central Valley and I had to forfeit out of the tournament," Quimby said. "I'd torn my graft a few days before (Dec. 4) in the Green and Gold dual (how Lakeland determined the varsity lineup), so I wasn't sure how to go about it because there was nothing there in my knee. I tried to go out and wrestle the way I always did, but had to think about everything I was doing. It just changed a lot of things."
Unfortunately, Quimby missed Tri-State, the Sierra Nevada Classic in Reno as well as the Rollie Lane Invitational in Nampa, three of the biggest wrestling tournaments Lakeland participates in.
He returned eventually at the North Idaho Rumble at Coeur d'Alene High in late January, finishing fifth. In a consolation semifinal, Quimby lost to Timberlake's Ethan Miller 11-3.
"When I came back, I was so out of shape," Quimby said. "At the Rumble, I got beat by a bunch of guys, but when I wrestled them again, I beat them the second time. Once I got my conditioning back, I had what I needed to do down mentally."
That included a rematch with Miller during Lakeland's senior night dual against Timberlake on Feb. 11.
"The first 30 seconds, he took a shot and was going to finish it," Quimby said. "I threw all my weight and did a chip whip and posted on my bad leg and my knee popped out. My dad (Dave) came out on the mat and after a few seconds told me I had 30 seconds of injury time left, so I strapped my knee up again."
After trailing in that match 2-0 to Miller, Quimby came back to win the match by pin, also giving Lakeland the dual win over its district rival.
"I was really excited when the match was over," Quimby said. "I was super nervous because he pinned me at the Rumble and I wasn't sure what to expect. My conditioning had changed a lot. I was in better shape and able to keep up with him. Afterward, it was a feeling of relief. I kind of felt like an underdog and came back at the end of the match."
At the time, Miller was the top-ranked wrestler at 160 pounds in 3A, while Quimby was fourth in 4A.
"He ended up winning state and I think the rankings kind of got into my head," Quimby said. "I just found it hard to get the confidence back in my leg. I lost a lot of close matches because of it and they were matches I should have won."
AT THE state 4A tournament, Quimby advanced to the championship match at 160. It almost didn't happen.
"My first match, I beat my kid really easily," Quimby said. "I just had to win twice to get to the second day, then wrestled a kid from Kuna and tweaked my knee again. After I did it the first time (in July), my knee just locked up and swelled up and I couldn't wrestle the next day. At state, I didn't do it quite as hard. I was just happy to be done and weighed in for the next day so I could eat whatever I wanted."
It was Quimby's third trip to the semifinals in his four years at Lakeland. Quimby finished state runner-up at 145 in 2019 and third at 138 in 2018.
"With the semis, it was the first match in the morning, which is usually my roughest because I wasn't all the way awake," Quimby said. "The kid from Shelley (Taylor Balmforth) is a big, strong kid and was way bigger than me. I went out and he took me down, but I threw him on his back and tilted him to his back, held a lead and won 7-5."
In the finals, Quimby lost to Century's Easton Millward 7-4 to finish runner-up.
"I had a lot of nerves going into it because I knew it was going to be my last match," Quimby said. "I got scared because my knee buckled and I couldn't move as well as I had been. I wasn't thinking while I was out there and going as hard as I could have. I think if I would have wrestled a little smarter, I could have won the match."
Finishing second, especially with all he'd been through, wasn't something to be upset about.
"He overcame everything that troubled him," Lakeland coach Rob Edelblute said. "There was no quit in that kid. At state, he just dominated into the finals. And that kid he wrestled in the finals, it would have been a different thing if Ryan was 100 percent."
"Coach Edelblute has been coaching me for a long time," Quimby said. "I don't think he expected me to get through it. A lot of the coaches were proud after the season because they weren't sure I was going to make it through. After that Central Valley tournament, I was mad and upset. But I just kept going to practice and figured it out."
AND WHILE some might have walked away due to injury, that never crossed Quimby's mind.
"I didn't even think about it," Quimby said. "I just wanted my senior year, because I missed out on playing football. I was going to play this year, but missed out due to my knee. There was no way I was going to miss out on my final year of wrestling. I was wrestling four months post-op. I just missed it and didn't want to miss anymore. I set a bunch of goals, and the only one that I didn't meet was winning a state title. But I'm on the Wall of Fame in the wrestling room for placing three or more times at a large tournament. I wouldn't have made it if I didn't wrestle this year."
"It felt like if we showed doubt as coaches, he'd doubt himself," Edelblute said. "He's dreamed of wrestling his entire life and just getting to state this year was huge. Most people would have quit, or made an excuse to quit. But Ryan didn't quit working. He just overcame those obstacles and solidified his name on the Wall of Fame. And he's pretty happy about that."
As for the future, Quimby will get rid of his crutches again today after being on them since surgery at the end of the wrestling season.
"I'm excited to get back to wrestling," Quimby said. "I couldn't do half the warmup we normally do in the wrestling room this year because with no ACL, I didn't have any stability in my knee."
And he'll continue his wrestling career eventually at North Idaho College, alongside fellow Lakeland High product Larry Johnson.
"They're going to give me a redshirt year," Quimby said. "I think Larry was talking to the coach about me, and they've been talking with me for a while. I didn't have an official signing because of the coronavirus pandemic, but I'm going to go there."
It was some advice from Johnson — who suffered a torn ACL during his freshman year at NIC — that kept Quimby going.
"He'd talk to me about my confidence and would always text me something about wrestling," Quimby said. "He'd tell me to keep my head up and keep going. I've wrestled with Larry my entire life. He's kind of a big brother figure."
Jason Elliott is a sports writer for The Press. He can be reached by email at jelliott@cdapress.com. Follow him on Twitter @JECdAPress.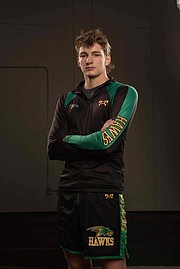 Recent Headlines
---