Donna Joyce (Quist) Dickie, 88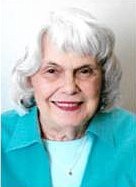 Donna Joyce (Quist) Dickie, 88, died on Tuesday, April 28, 2020, contented, with her daughter at her side. She was under Sanford Hospice care at Cornerstone Residence in Kelliher, Minn., for the last several months.
A memorial service will be held in Bemidji, Minn., at a later date. Arrangements are with the Cease Family Funeral Home in Bemidji.
She was born Sept. 22, 1931, in Jamestown, N.Y., and schooled in Fredonia in upstate N.Y., where family roots were deep. She lived in a three-generation home with her parents, Arwood and Gladys (Smith) Quist, and her grandmother, Rosina (Clark) Smith, where she learned many precious life and faith lessons during the Great Depression and World War II, forming the backdrop of her childhood and character.
In her youth, she hung by her knees in trees, ran faster than the boys, raced her bike all over town and began a lifetime of singing in choir. She graduated from high school in 1949 and left on an adventure to attend college at Michigan State. Soon after arriving, she met her beloved Pete. After graduating with a degree in elementary education in 1953, Donna and Pete married, became parents of two children that Donna said were gifts, and shared life's happy, ordinary, and difficult roads together as loving partners. They were longtime residents of Hibbing, Minn., and spent retirement years traveling, then settling in Post Falls, Idaho, for a decade before moving back to Minnesota to be near family. Pete died in 2013.
Donna continued to stretch and grow throughout her life as she poured herself into family and living values of contributing to her community, neighbors and church in so many ways they could not all be listed here. Even though she considered herself a shy person, when she saw a need or the right thing to do, she stepped up quickly to do what she could. She noticed and reached out to people of all ages who were often overlooked. She quietly, yet intentionally smashed through stereotypes and generations by pairing teens in the junior high church youth group to regularly visit and serve disabled elderly neighbors. She made weekly calls and special visits to homebound people for decades.
She lived life being the church. She cherished her family and long-standing friendships, Bible study and PEO. She actively continued to pursue little joys in life: chocolate and coffee; birds, flowers and dogs; music, drawing and writing poetry; watching children grow. She loved to dance. She felt deeply, cultivating gratitude and joy. She was grateful for people who helped or remembered her in times of need. Donna said any good she did, love she showed, was because Jesus loved her first. She wished sincerely for others to "pass it on" and said it often.
She is survived by her son, Robert Dickie (Cindy Parsons); daughter, Cynthia Schulze (Warren); grandchildren Kevin, Brian and Erin Dickie, Katherine and Samuel Schulze; niece, Deb Neville and nephew, Rick Berger; and cousins and dear friends.
Condolences may be left at ceasefuneralhome.com.
Recent Headlines
---