Using precautions, Cherry Hill BMX track to open Saturday
COEUR d'ALENE — Delayed a bit by the coronavirus pandemic, Cherry Hill BMX has announced it will start its BMX racing series on Saturday at its Cherry Hill Park track — with precautions.
The Cherry Hill racing series usually starts in April, but was unable to due to Idaho Gov. Brad Little's "stay-home" guidelines.
Some of those guidelines have since been relaxed, and the group said it is following all of Little's recently announced Stage 1 protocol for youth activities.
"We have several protocols in place to keep everyone safe including social distancing, a hand sanitizing station and we have a huge area so families can spread out," said Tim Wheeler, volunteer and board member for the Cherry Hill BMX track.
BMX racing is a type of off-road bicycle racing.
Riders as young as age 1 and as old as 65 ride the track, Wheeler said.
On Saturday, registration will be from 10 a.m. to noon at the track, with racing to follow.
Normally, some 50 riders would compete on a typical racing day at Cherry Hill, but that number will probably be lower because of the Washington racers unable to compete at this time, Wheeler said.
A typical day's racing consists of three different classes — novice, intermediate and expert — with riders paired with others of the same age group for races.
Their are three motos per race.
Due to the current Stage 1 protocols in place, no out-of-state riders are allowed at this time. Riders will be asked to provide ID. Riders are asked to bring their own helmets, as the track will not be loaning helmets during this time.
Loaner bikes, however, will be cleaned and available, the track said. Riders will need to wear a long-sleeved shirt, pants and a full face helmet. Concessions will not be sold at this time.
In addition to hosting competitive races, the Cherry Hill BMX track is also family friendly, Wheeler said, with anyone — from kids on strider bikes to fathers, mothers and grandparents — riding the track.
The Cherry Hill BMX season usually runs through October or November, depending on the weather. Cherry Hill hosts state qualifier races and regional gold cup qualifiers as well as the Race for Life, which raises money for the local Leukemia & Lymphoma Society.
Cherry Hill also hosts an Olympic day to honor our BMX Olympians (everyone races for free that day), and puts on a Bob Warnicke race that raises money for BMX scholarships.
"We recently have made improvements to the track, like asphalting the turns and finish line and a path up the hill to the starting gate," Wheeler said.
Information: Cherry Hill BMX on Facebook or Instagram; Tim Wheeler at 209-499-4832; or Terrance Northington, track operator at 208-660-7547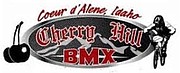 Recent Headlines
---