THE CHEAP SEATS with STEVE CAMERON: Money will bring sports back — eventually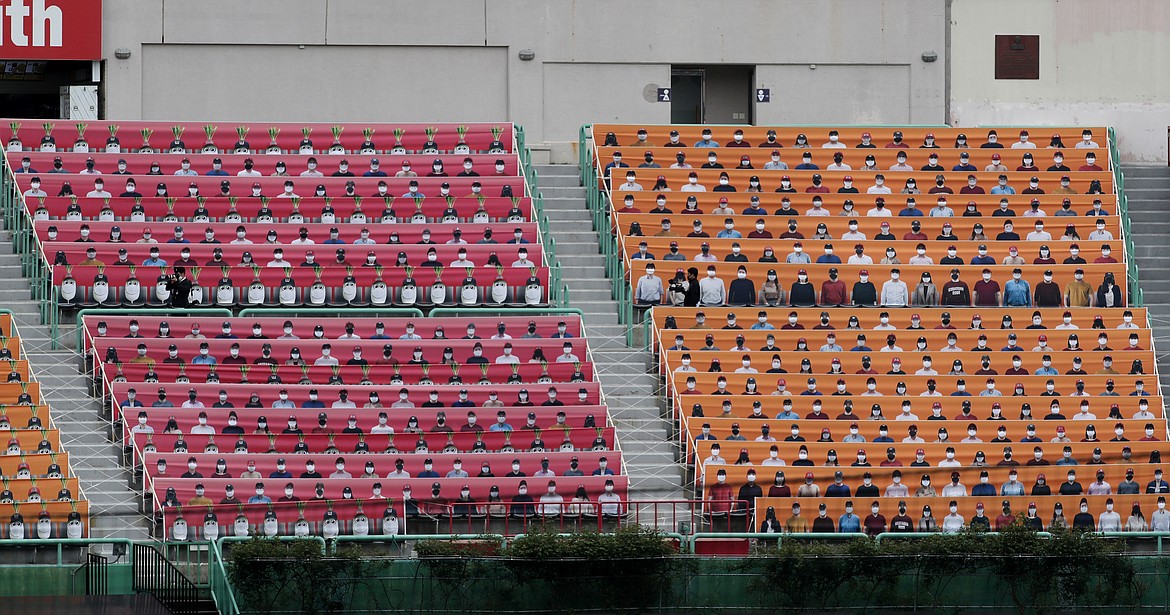 The Korea Baseball Organization opened its season earlier this week in front of empty seats — unless you count the seats covered with pictures of fans.
LEE JIN-MAN/Associated Press
We're going to do things a little differently today.
Basically, this will be your version of the Cheap Seats.
I'm going to try answering all (well, some) of the many questions I've let stack up in the "Respond" file.
First of all, though, I need to say thanks to everyone who's written — with questions, comments, or just to say hi.
I've always made it a policy to get back to readers who are kind enough to write, but…
The coronavirus has made it awfully tough.
Oh, I've still got time and a laptop, but there are LOTS of emails, and most address the same puzzle one way or another.
So, forgive me if you don't get a personal answer to your questions.
I'll try to wade through the issues today, because I'm hoping the same thing you are…
That we can get back to watching live sports as soon as possible.
And I don't mean Korean baseball.
THE MAJORITY of you have gotten in touch with a version of the same question…
When will we see sports again?
I'm wondering right along with you, but from the sources I have and information I can grab, maybe we can make the horizon a little clearer.
Let's go in chronological order…
Major League Baseball wants desperately to stage some sort of season, preferably beginning in June.
Even with no fans involved, MLB execs are willing to try almost anything to play maybe a hundred games.
The latest rumor making the rounds concerns abandoning Arizona and Florida (it would be just too doggone hot) and playing games in each team's home stadium.
To pull that off, MLB would break clubs into three divisions by geography — basically, to limit travel.
The key to everything will be testing for the virus, and whether or not it can be done routinely.
At stake is a large chunk of TV money — reason enough to get players, umpires and everyone else in place.
Now that I think of it, we'll have our own version of Korean baseball.
Rosters would be expanded if MLB goes ahead, but the minor leagues — and players who really need development — would have to be abandoned.
Young and growing teams (like the Mariners) probably will suffer the most from a short season.
But at least we'd have baseball.
I'm still not entirely convinced MLB can pull this off, by the way.
It's so soon.
Now, football…
The NFL might get a late start, but the Seahawks and their brethren definitely are going to play this fall.
You hear talk about competing without fans — since the league has a massive TV deal — but I'm not entirely sure NFL owners won't try for some extra revenue.
Miami already has floated the idea of playing with a stadium one-quarter full, and fans given plenty of "social distancing" space.
But the bottom line, yes…
I'd bet that we have an NFL season.
AS FOR Gonzaga hoops, Wazzu football and basketball…
It's pretty clear: There cannot be college sports unless universities have students back on campus.
Once again, though, there is a staggering amount of money involved, and college administrators want to limit the financial damage.
Washington State's athletic department is deep in the red, so you can bet AD Pat Chun is praying for a vaccine.
Or something.
Both Texas and Texas A&M — schools with huge campuses and more than 100,000 students combined — have said they intend to conduct a normal fall semester.
Students on campus, not online.
The Zags perhaps have a better chance to conduct a semi-normal season (again, likely without too many fans) since basketball could start as late as mid-December, if necessary.
All these scenarios assume that COVID-19 remains with us, but that cases and fatalities are down.
Better yet, rare.
If you're still wondering about sports as the months go by, remember to follow the money.
There's too much at stake to abandon things completely.
It feels a little grubby, but…
It's the truth.
Email: scameron@cdapress.com
Steve Cameron's "Cheap Seats" columns appear in The Press on Wednesdays and Fridays. "Moments, Memories and Madness," his reminiscences from several decades as a sports journalist, runs each Sunday.
Steve also writes Zags Tracker, a commentary on Gonzaga basketball, once per month during the offseason.
Recent Headlines
---