Sheriff's Blotter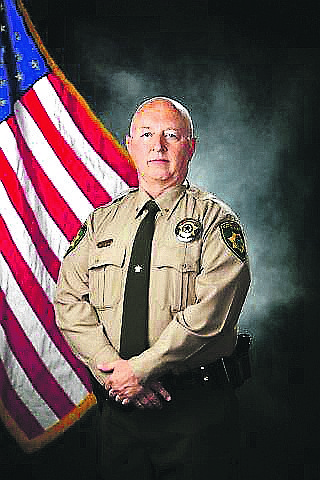 Notable calls
for the day!
05-06-2020
• Community Services Officer responded to E. Highway 54 for a reported burglary. Upon arrival he contacted the R/P and learned the front screen door to his storage unit was damaged but the main door had no damage and there was no forced entry and the door was still secured. The unit was checked and nothing was missing. A Malicious Injury to Property report was completed. 20-16399
• Deputies responded N Collins Rd for a Welfare Check of the children. Upon their arrival they contacted a parent and her two children. They found their welfare was good and no further concerns at this time. 20-16309
• Garwood Elementary requested a Deputy complete Welfare Checks on two of their student. The Deputy made contact with both of the student and they were fine.
• Deputies responded to Walmart for a detained shoplifter. A female was observed scanning items through self-checkout, however, she was not scanning all the items. She also had items concealed in her purse. The female admitted to bringing in a bag "to hide" the stolen items in. Walmart asset protection advised they have a couple other cases with this female from March and April as well that they reported today. She was arrested for burglary and cited for petit theft on the other cases. 20-16445/20-16453/20-16461
• Deputies responded to Spirit Lake to assist Spirit Lake PD on a domestic. 20-16449
• Deputies responded to the area of N. Beck Rd. for a trespassing complaint. A neighbor to the property called in and advised unknown people were on the property and they knew their neighbor was out of town. Contact was made with the parties. An FI was completed. 20-16456
• A Deputy stopped a vehicle on Government Way and Honeysuckle after observing the vehicle traveling 56 MPH in a posted 25 MPH zone. Contact was made with the driver, who exhibited the symptoms of extreme intoxication. The driver failed the SFST's and provided breath samples of .260/.246. He was arrested for excessive DUI. An open container of alcohol was also located in the vehicle and he was charged with open container as well. 20-16462
• Deputies responded to N. Lyvel Ave. in Bayview for a verbal domestic. Units arrived on scene to learn that the male half was intoxicated and the female half was not home as she drives truck. There was an argument over the phone. An FI was completed. 20-16464
• Deputies responded to Highland Dr and Star Garnet Rd. for an injury accident. A male was observed crashing his UTV into a tree. It was possible the driver was intoxicated when the accident happened however while he was at home he consumed more alcohol so a DUI investigation was unable to be completed. 20-16467
• A Deputy stopped a vehicle on Seltice and McGuire. She contacted a female driver who exhibited symptoms of intoxication. She failed SFST's and was placed into custody for DUI drugs. A search of the vehicle revealed methamphetamine, marijuana and paraphernalia. The driver was charged the drug crimes as well. 20-16476
• Deputies responded to the Casino for a report of a found heroin. It was reported by Casino Security that they witnessed a male, drop a small amount of heroin on the casino floor. The male was contacted in the parking lot where he admitted to possessing the drug and dropping it. He was arrested for possession of heroin. 20-16509
• Deputies responded to Baldy Way for a trespassing. A male was on the front porch of the neighbor's residence saying he was scared. It appeared the male was high when he was contacted and stated he was hearing things inside his residence, and ran to the neighbor's for help. It was determined that the male was suffering from his delusions and there was no threat. He was taken back home. 20-16518
• Deputies responded to E Mctavish Lane for a domestic dispute. A male was reported to have battered his wife with their children present. This stemmed from his desire to "cuddle" with his estranged wife. His wife wished to pursue charges and place him under citizen's arrest. 20-16517
Recent Headlines
---