THE FRONT ROW with MARK NELKE: Lake City's Ashlynn Allen misses softball and school — and perhaps not in that order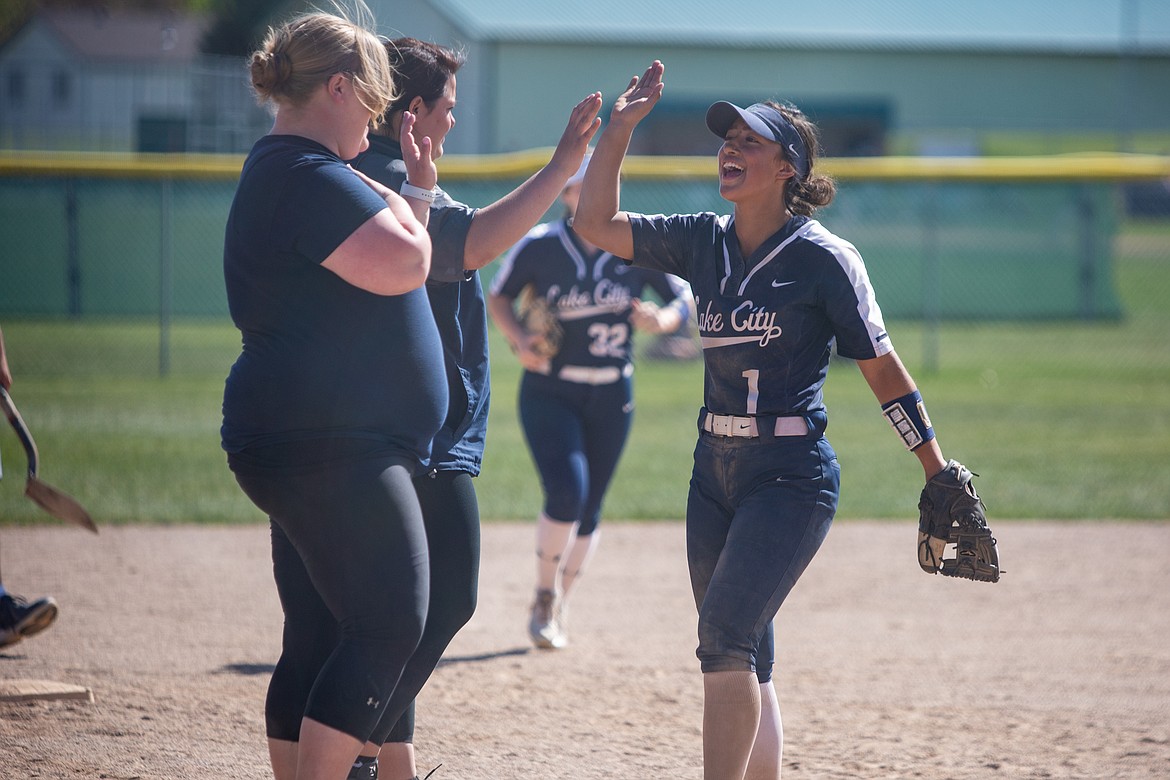 Lake City's Ashlynn Allen gets high-fives from assistant coaches Janey Ortega, left, and Amanda Krier after the Timberwolves won the 5A Region 1 championship last season.
Photo by CHERYL NICHOLS PHOTOGRAPHY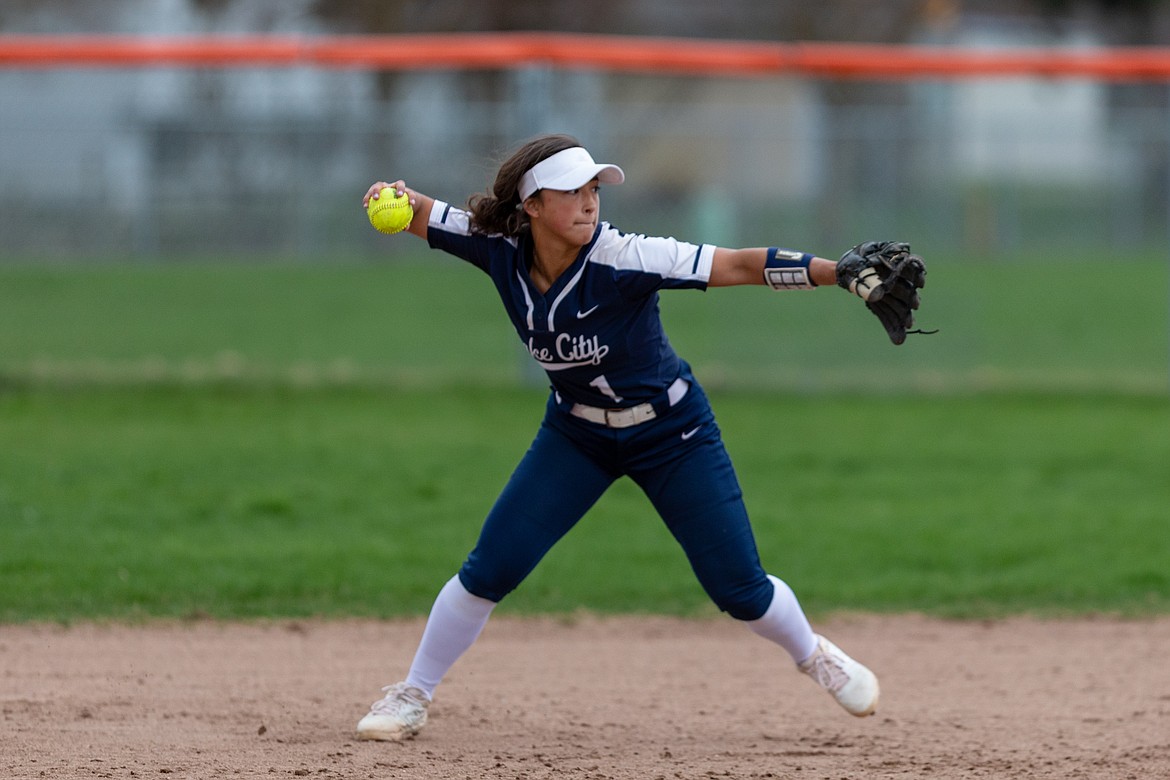 Lake City High senior Ashlynn Allen moved to shortstop last season after playing in left field her first two seasons with the Timberwolves.
Photo by CHERYL NICHOLS PHOTOGRAPHY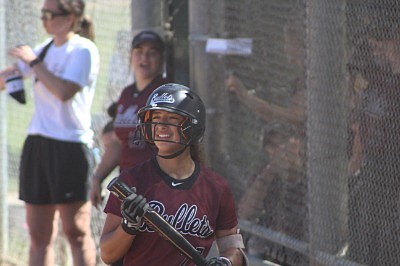 Ashlynn Allen with the Northwest Bullets, a Portland-based club softball team.
Courtesy photo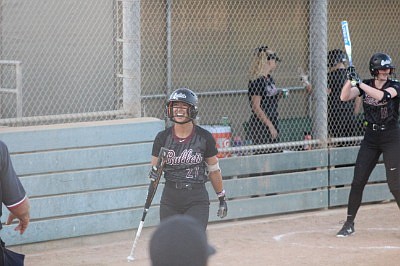 Courtesy photo Ashlynn Allen with the Northwest Bullets, a Portland-based club softball team.
Previous
Next
Growing up in Athol, Lake City High senior softball standout Ashlynn Allen didn't get any preferential treatment from her older brothers.
Not while playing "21," or "HORSE," on the basketball half-court built at the family house.
Not while playing baseball in the yard.
"We could be playing Wii sports and it would be competitive," Allen recalled.
Austin Allen played football, basketball and baseball at Timberlake High, graduating in 2014.
Barry Allen played football and basketball and wrestled at Timberlake.
Ashlynn was the little sister in name only.
"I think they forgot I was a little sister," she said. "There was definitely a point where I had to toughen up or go inside, and I didn't want to go inside."
These days, only the coronavirus pandemic is keeping Ashlynn Allen inside — and only for part of the day.
Allen, who hit eight home runs last year for a Lake City softball team which took an undefeated record into the state 5A tournament, was looking forward to being one of four senior leaders on this year's Timberwolf squad, before heading off to UTEP, where last fall she signed a letter of intent to play softball.
After starting in left field her first two seasons at Lake City, Allen moved to shortstop as a junior and was set to play there again this spring.
"Ashlynn is just an absolute competitor," said Jesse Lenz, in his sixth season as Lake City softball coach. "She will compete at anything we do — when we're competing in drills, competing in hacky sack, anything. She wants to win. She will put in the time, and the work."
LAKE CITY headed into this softball season looking to replace seven seniors from a team that lost just once last season — in the semifinals of a rain-shortened state tournament, ending the Timberwolves' season in a tie for third place.
Allen said she was looking forward to the growth this year's team could make, and the impact she could have.
She remembered the last few practices being really good ones, including what turned out to be the final one on Friday, March 13.
The next day, they team was told spring sports practices and games, including Lake City's season opener the following Tuesday, were being suspended.
The T-Wolves held out hope their season would resume at some point. But on April 17, the Idaho High School Activities Association officially canceled the remainder of the spring sports season in Idaho.
"No one ever knew that was going to be our last practice," Allen said.
Allen kind of had an inkling of what was coming. Teammates on her club softball team, the Portland-based Northwest Bullets, as well as members of her recruiting class at UTEP, were sharing stories of the impending cancellation of spring sports in their states.
Still ...
"It sucks, obviously," Ashlynn said. "No one wants to miss out of their senior season. You spend 12 years in school to have this one year that you're going to remember forever. And you don't even get to hit some of the milestones you want to, like senior night ...
"It sucks, and it was something I was super looking forward to, because half of these girls I'll probably never see again, or play with ever again."
Lenz hurt for all four Lake City seniors — Allen, Lacey Lemburg, Ashley Garza and Amanda Curry.
"Those four have given so much to the program," he said. "They're my third group that I've seen all the way through as head coach. There's an emptiness, and I can't imagine. Because I can come back next year, and it breaks my heart we couldn't get the closure to their high school softball career."
School has been closed since mid-March as well, meaning not only are Allen and her teammates not getting together on the softball field, they're not bumping into each other in the halls of Lake City High.
"Honestly, and this is going to sound crazy, because I never would have thought I would have said this before, but I honestly think I miss school the most," Allen said. "Just having that social interaction every day that you take for granted. ... you never did get to say goodbye to some of the teachers that you'll probably never see again. I just miss being around people that I've spent my last four years with."
On a typical "school" day, Allen says she starts on Google Classroom, doing some schoolwork. The father of one of her friends owns his own gym, so she's able to lift and do agility and cardio work. Then it's off to one of the softball fields at Ramsey Park, where she'll hit off a tee, go fetch the balls and hit again. Sometimes one of her brothers will come with her, and play soft toss, and hit grounders and fly balls to her.
Her club team gave her a sensor, slightly bigger than a quarter, which she slips over the nob of her bat. It keeps track of how many times a day she swings the bat, and it provides analytics on her swing — swing path, attack angle, exit velocity, bat speed, etc. — and also sends that info to her club coaches in Portland.
"I like it, because it keeps everyone accountable," Allen said. "But at the same time, that little thing is so annoying to charge, and download ... It's almost like I'd like to just do the work on my own and have no one know."
BORN AND raised in North Idaho, Allen lived in Athol before moving to Coeur d'Alene just before she began eighth grade.
Her first couple of years, Lenz said they toyed with making Allen a left-handed slap hitter, to take advantage of her speed. She was a switch-hitter at the time, but as she got stronger and the ball kept flying out of the yard, those plans changed and she became strictly a right-handed hitter.
Ashlynn was spotted by UTEP coaches at the ASA nationals in Huntington, Beach, Calif., last year. She spoke with the Miner coaches there, and took an official visit in August.
She also had offers from Cal State-Bakersfield and Portland State, and also visited Bakersfield. But she said UTEP checked all the boxes.
"I had a list of five things that I wanted," Allen said. "I wanted hot weather, year round. I wanted far away from home. I wanted a competitive team. I wanted diversity, and I wanted a good kinesiology program. And they had everything I wanted."
UTEP was 5-17, 1-2 in Conference USA this season when play was suspended in March, then canceled.
After college, Allen plans to be either a strength and conditioning coach for a college or pro team, or go into physical therapy.
Ashlynn's parents were both athletes at Lakeside High in Plummer-Worley. Her dad, Michael Allen Jr., played football, basketball and baseball, graduating in 1998. He was on Lakeside's boys basketball state title team in '97. Her mom, Ruth Brand, competed in volleyball, basketball, softball and track, graduating in 1996.
"In my family everything's kind of competitive. We all want to win," Ashlynn said. "100 percent think it helped me, because you have to be mentally tough as much as you have to be physically tough."
UTEP recruited her as a utility player — meaning she could wind up in the outfield or infield, or catcher in El Paso. Until a few years ago, Allen played several years at catcher with the North Idaho Xtreme, until that program disbanded and she ended up with the Bullets.
On her club team, she plays left field, center field, shortstop and second base, so switching from outfield to infield at Lake City was no big deal.
"I'm going to miss that kid," Lenz said. "She's a great kid, she has a great work ethic, and she's going to be a face we're going to have to replace, which is not going to be easy."
Mark Nelke is sports editor of The Press. He can be reached via email at mnelke@cdapress.com. Follow him on Twitter@CdAPressSports.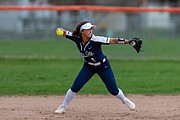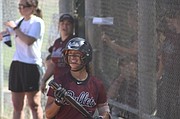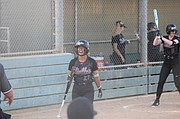 Recent Headlines
---