STEVE CAMERON BLOG Wearing common sense in pandemic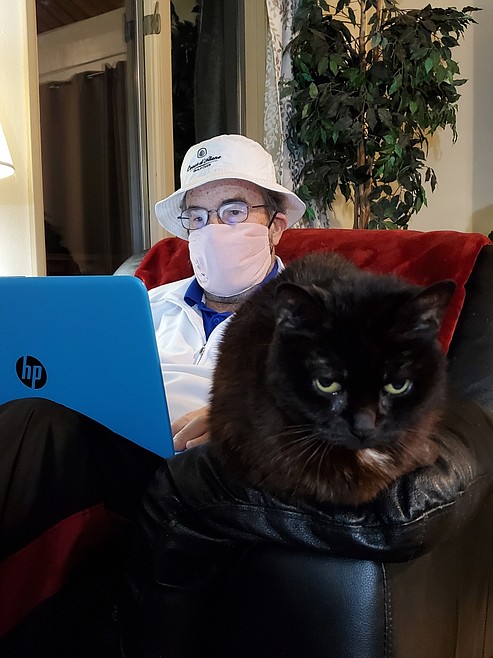 Still here.
Just wondering: Are you wearing a mask when you go out in public?
Since I know thousands of people will see this blog, I already can guess the answer, which is...
Maybe.
There are folks who will have no part of wearing masks – either because they feel it's their constitutional right, or because they simply believe it's unnecessary given the very few COVID-19 cases in Kootenai County (and all of North Idaho, for that matter).
On the other hand, there are plenty of people who do wear masks when in public places, perhaps out of societal obligation.
Or simply to protect themselves.
I should note here that only a medical N95 mask can give you maximum defense against any virus.
Cloth face coverings will help, obviously, but they aren't totally foolproof if you're thinking of your own safety.
It's also important to note that Gov. Brad Little's order reopening the state in four phases does not SPECIFICALLY require wearing masks, although it's pretty clear that practicing all logical preventative measures will help get Idaho back on its feet economically.
Simple math: The fewer cases in the state, the easier it will be to resume "normal" life.
By the way, the notion of challenging the governor's order on constitutional grounds took a hit Wednesday, when the U.S. Supreme Court finally heard a coronavirus challenge, and refused to lift a lockdown order put in place by Pennsylvania Gov. Tom Wolf.
So, the Supreme Court has ruled that individual governors DO have the right to shut down businesses, or whatever else they deem necessary for the health and safety of their state's residents.
True libertarians will object to that ruling, which is their right.
Back to the idea of masks...
Yes, I wear one when in public, and I don't let strangers (delivery people, etc.) into my home without masks.
No, I don't feel the same way about being outside.
Even though we're still practicing "social distancing" at our local golf course, I suspect the possibility of infection in that setting – or in parks, on sidewalks and so forth – is very, very low.
My own decision isn't based on anything from the governor, the Supreme Court or any other ruling body.
It's about common sense, I guess.
Perhaps just a touch of fear, too.
I don't want the damn coronavirus, and in case I get it but remain asymptomatic, I wouldn't ever want to give the thing to anyone else.
Simple as that.
Make no mistake, however. I'm taking the virus seriously.
Even though it has done almost no damage in this neck of the woods, the death toll in Nez Perce County is a scary 18 – and that's not exactly a million miles from here.
I have to travel out of state for a back procedure soon, and as hot and sweaty as I might get, I'll still wear an N95 mask in the airport, and on my flights.
Am I overreacting?
Possibly.
But I'd rather err on the side of caution than take any needless chances.
By the way, there soon may be restaurants and retail establishments open – and requiring patrons to wear masks.
Potential customers who don't want to use masks will have to skip those places.
Fair enough.
Masks, unlike other safety measures like seat belts, are not a matter of law.
And I'm not going to judge anyone.
***
Oh, before I sign off for today, I need to note that Tuesday's blog – a true timeline of my father's life (and mine) – was inspired by a social media item I received from my partner, Melissa.
If you wrote the original item and posted it somewhere, please accept…
A bow of gratitude.
"Breathe In. Breathe Out. Move On." --Jimmy Buffett
-----------------------------
You're invited to join Steve's blog. Toss in any thought or opinion, as long as it doesn't get us sued.
The blog appears Tuesday, Thursday and Saturday online at cdapress.com.
It runs Wednesday, Friday and Sunday in The Press print editions.
Email: scameron@cdapress.com
Facebook: Steve Cameron
Recent Headlines
---