NORTHWEST NOTES: May 7, 2020
Lake City High
runner Gordon
signs with
Lewis-Clark State
Carter Gordon will be a Warrior in the fall after signing to become a member of the Lewis-Clark State cross country team, coach Mike Collins announced on Wednesday.
"We are excited to have Carter in the program," Collins said. "He made a last minute decision to even go to college, so he really wasn't on our radar until he reached out to us. He has some real good tools that we hope to apply to his cross country running. Our sprints coach was actually looking at him as a long sprinter due to his strong times on the 200 and 400, but we think that based on his cross country times he may be a lot like one of our cross country and track All-Americans, Clayton VanDyke."
Gordon competed at Lake City High School in the 200-meter dash, 400, 800, relays and distance events as well as cross country. His personal best time in the 200 is 22.45 seconds, and he clocked a 50.25 in the 400. On the cross country course, Gordon ran the 5k in 16:23.
He was Lake City's Runner of the Year all four years in cross country and earned the award in track in 2019. He was the cross country team captain in 2019 and qualified for state in cross country and track six out of seven times. He only missed out once due to illness.
As a freshman, Gordon helped Lake City's 4x400m relay team to a 5A District title and a sixth-place finish at State. He finished second in the 400 at state twice and won the 800 in 2019. The team also won the 4x400m relay at state with Gordon as the anchor in 2019.
Gordon is a member of the National Honor Society and served as the ASB Treasurer as a senior. He was the Junior Class Vice President and Sophomore Class President.
"He was really good speed and leg turnover with the capability to run long," Collins added. "His skill set will undoubtedly make the team better this fall. Carter is also a great student and great kid. He is a complete package for us."
Post Falls
product Huber
earns Freshman honors
Braydon Huber, a 157-pound redshirt freshman from Post Falls High, was named University of Mary Male Freshman Athlete of the Year for the 2019-20 season, the school announced.
Huber finished the season 27-5 and was named an National Wrestling Coaches Association All-American at the end of the season.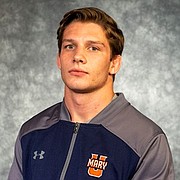 Recent Headlines
---