Another Dworshak bass record but this one isn't a keeper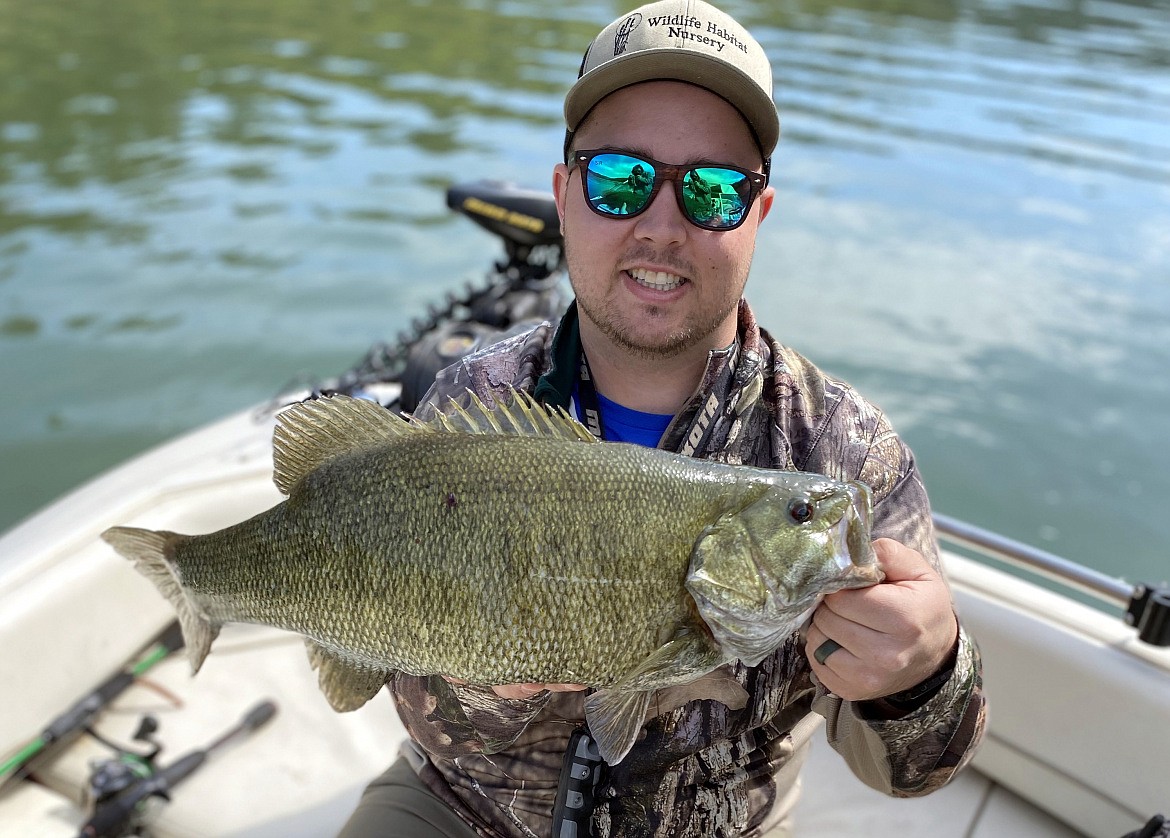 Dustin Shepherd with a 22.75-inch smallmouth bass, caught Saturday at Dworshak Reservoir. The fish is a new Idaho catch-and-release record.
Photo courtesy of DUSTIN SHEPHERD
by
RALPH BARTHOLDT
Staff Writer
|
May 7, 2020 1:00 AM
A Lewiston man is the latest title holder of the state catch-and-release record for smallmouth bass.
Dustin Shepherd caught a 22 ¾ inch smallmouth Saturday at Dworshak Reservoir, exceeding the 2018 record, which was a 22-inch smallmouth caught by Rick Poedtke in the Pend Oreille River. Poedtke caught his record fish in early May near Sandpoint while fly fishing. His fish beat the previous 21-inch record smallmouth caught a year earlier in Lake Coeur d'Alene.
Two hours south of Coeur d'Alene, Dworshak Reservoir has developed a reputation for producing large smallmouth bass. The lake's abundant juvenile kokanee population provides the food that makes smallmouths grow, according to Idaho Fish and Game.
The reservoir just north of Orofino is a well-known bassing destination and boasts the state's certified weight record smallmouth, a 9.72-pound bass caught by Dan Steigers in 2006. Before hooking the nearly 10-pound smallmouth in late fall, Steigers already held the previous certified weight record smallmouth. His earlier fish weighed 8 ½ pounds and was caught in 1995 in the same reservoir.
Steigers, of Juliaetta, used a plastic bait called a "Sweet Beaver," to catch his state record bass that he weighed at 10 pounds, 4 ounces on his hand scale before taking it to a certified scale for the official weight.
Although Steigers' fish were caught in the fall, a lot of anglers consider spring to be the best time to bust smallies. Smallmouth bass feed aggressively as water warms into the 50-degree zone in the spring, offering a good chance to hook big smallmouths.
"As the summer arrives and bass finish spawning, smallmouth can be harder to catch as they retreat to deep water, looking for cooler temperatures," Martin Koenig of Fish and Game said. In the fall the bass move back into shallower water to feed aggressively.
Four years ago in April, 18-year-old Quinten Kelly of Lewiston caught and released a 9½-pound smallmouth in Dworshak, near Dent Bridge. The fish measured 24 1/2 inches long and had a 20-inch girth. Kelly's fish was just shy of Steigers' record. He used a Rapala jointed shad rap.
No word on what Shepherd used to catch his 2020 catch-and-release record bass.
Smallmouth bass in Idaho typically take five years to grow 12 inches. A fish over 22 inches could be 10 to 15 years old, according to Fish and Game.
Blake Becker, who owns and operates Becker Tackle, Coeur d'Alene's bass shop, said spring is a fine time for big bass, and the warmer weather is a perk.
"It's typical for most bass, especially our northern strain to spawn in May," Becker said. "They are headed for shallow, warm water and it makes them a little easier to find. Plus you can rock the flip flops, which is a bonus."
Recent Headlines
---