With warmer weather, more are starting to use skate park, despite signs, fencing; city says it's given warnings
by
BILL BULEY
Staff Writer
|
May 6, 2020 1:15 AM
With warmer weather, more are starting to use skate park, despite signs, fencing; city says it's given warnings
COEUR d'ALENE — The Coeur d'Alene skate park was swarming with action on a sunny Tuesday afternoon.
Kids and young adults whipped around on skateboards, scooters and bikes, ripping off jumps, flying around turns and dipping down into the bowl and popping back out.
Some wore helmets, some went shirtless. When they took breaks, they sat and chatted on the bleachers, others on the grass. Drivers passing by on Northwest Boulevard glanced over to check out the good times going on.
One of the skaters, Jake Hines, said it was his understanding that the park opened again on May 1, what with so many people there using it. He said it was good to be back for the first time in a month.
"This place is basically my home," he said. "I've got a huge family here, a lot of friends. It's good to be able to see everyone again. I'm very happy about that."
Indeed, it was a picture-perfect day and exactly why the skate park is there, to keep young people active and healthy and provide a safe place to hang out. There was only one problem: The orange mesh netting around the park, and a few signs, indicated the park was closed.
Because it was.
It has been since the city's skate parks and playgrounds were shut down more than a month ago in response to the coronavirus.
Tuesday, though, many of the skaters told The Press that despite the fencing around the park, they thought it was OK to be there. One even ventured that the city just had not yet gotten around to removing all the closed signs, adding that some signs were gone.
"It feels awesome to be here," said Mike Davis, saying he hadn't used the park for six weeks.
A friend, Chris, added that he was "feeling great" about skateboarding again.
City officials said they are aware the skate park is being used, despite the rules against it.
Bill Greenwood, director of Parks and Recreation, said Code Enforcement has been issuing warnings to skaters, educating them on the skate park's closure and dispersing the crowd. Once officers leave, however, the skaters return.
No citations have yet been issued.
It's a problem city administrator Troy Tymesen said is a byproduct of boredom, confinement and sunshine.
"It's natural that people want to get outside in this weather," Tymesen said. "But it's important everybody remains safe and healthy."
Levi Bonnell was glad to have the chance to glide on his skateboard and see familiar faces again.
"It's good to get out of the house," he said.
Brenner Wilde said with the skate park's closure, he's been skating in the streets more often. So when he heard the park was open, he headed there Tuesday.
"It's good not having to ride all over town," he said.
Friend Jared Jones nodded in agreement. He likes the park for its many different ramps, ledges and stairs.
He and others spoke of practicing "gnarly" flips and spins and grinds, and the thrill of soaring in and out of the bowl.
"It's good to be back," he said.
Zach Tritle said he uses the Post Falls skate park but prefers Coeur d'Alene's.
"It's bigger and there's more jumps," he said.
The skate park and other park facilities are scheduled to re-open May 16, when stage two of Gov. Brad Little's rebound plan takes effect.
• • •
Press reporter Craig Northrup contributed to this report.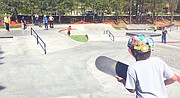 Recent Headlines
---