THE CHEAP SEATS with STEVE CAMERON: Judge does what no soccer foe managed
We'll use this metaphor just once, then retire it for good.
Last Friday in Los Angeles, the U.S. Soccer Federation bent a screamer into the upper corner of the net against its own women's national team.
OK, specifically it was U.S. District Court judge R. Gary Klausner who managed something no soccer team managed in the World Cups of 2015 or 2019.
The judge handed the USWNT a crushing defeat — or so it appears on the surface.
Judge Klausner ruled that the monetary portion of a class action suit charging gender discrimination that had been brought by the women's team — ironically covering those exact same years, from 2015-19 — should be summarily dismissed.
The best women's team in the world had asked for $66.7 million in back pay, essentially bringing it up to par with the U.S. Men's National Team (which filed a brief in support of the women).
Klausner allowed other portions of the suit to proceed, such as the women's complaints about unequal travel accommodations, lodging, coaching, staffing, training and several other items.
But the money?
Nope, said Klausner.
YES, THERE were some fairly loud reactions to the judge's decision, with fans calling it a blow to women's sports and gender equity overall.
Critics have looked at the ruling (Klauser noted that the women's team actually earned more revenue than the men in that specified time), and said, "That's fake math."
Indeed, the women did earn a shade more as a group — the USWNT played 111 games during the time period, earning $24.5 million, an average of $220,747 per game.
Meanwhile, the USMNT had played 87 games and earned less money, $18.5 million for an average of $212,639 per game.
The reason for the outburst was that the women, having won two World Cups without a loss, had played the absolute maximum number of matches and earned every penny of bonus money available.
The men, meanwhile, failed to make the field for the 2018 World Cup after a disgraceful qualifying performance that included a final defeat to soccer minnow Trinidad & Tobago.
If the men had even made it to the World Cup and lost every group game, they would have earned far more than the women.
If they'd reached the knockout stage (as in their two previous World Cups), their pay would have skyrocketed past their female counterparts.
Yes, that all looks sexist as hell.
However, Klausner's decision was based primarily on the individual (and very different) collective bargaining agreements struck by the men and women with U.S. Soccer.
Translation: "This is what you willfully bargained to get, ladies."
Legally, his decision may have been correct, but...
The optics were terrible.
PERHAPS, THOUGH, there may actually be some good news that could come out of years of acrimony between the federation and the USWNT.
For one thing, some demeaning language in the federation's lawsuit defense — basically saying that women had less ability than men and that their games weren't as important — was removed about the time in March when a former USWNT player, Cindy Barlow Cone, took over as head of U.S. Soccer.
Cone replaced Carlos Cordeiro, who had taken a scorched-earth policy toward the lawsuit, a strategy that angered players, fans, media partners and big-dollar sponsors.
Cone and the federation wisely did not celebrate Klausner's decision.
Instead, Cone had another message to all those popular stars of the women's team, the ones whose 2019 World Cup title match against the Netherlands drew the highest TV ratings ever for women's soccer.
"Settling this dispute is only the first step, but the next step is a long process," Cone said. "I think a lot of damage has been done, and I think we are going to have to rebuild that trust and rebuild the relationship.
"And it's not going to happen overnight. It's going to take a lot of effort and time and energy from the U.S. Soccer side to rebuild that trust, not only with our U.S. women's national team players, but with our fans and everyone engaged in the sport."
That sounds like what the players want — even more than back pay.
"The federation needs to send an ongoing message to women and girls everywhere, that things like training facilities, coaching and encouragement to succeed on an equal level will be there," suggested U.S. star Megan Rapinoe.
"Maybe we're finally headed in that direction."
Hopefully.
We need to be.
Email: scameron@cdapress.com
Steve Cameron's "Cheap Seats" columns appear in The Press on Wednesdays and Fridays. "Moments, Memories and Madness," his reminiscences from several decades as a sports journalist, runs each Sunday.
Steve also writes Zags Tracker, a commentary on Gonzaga basketball, once per month during the offseason.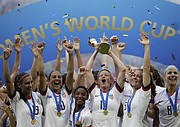 Recent Headlines
---